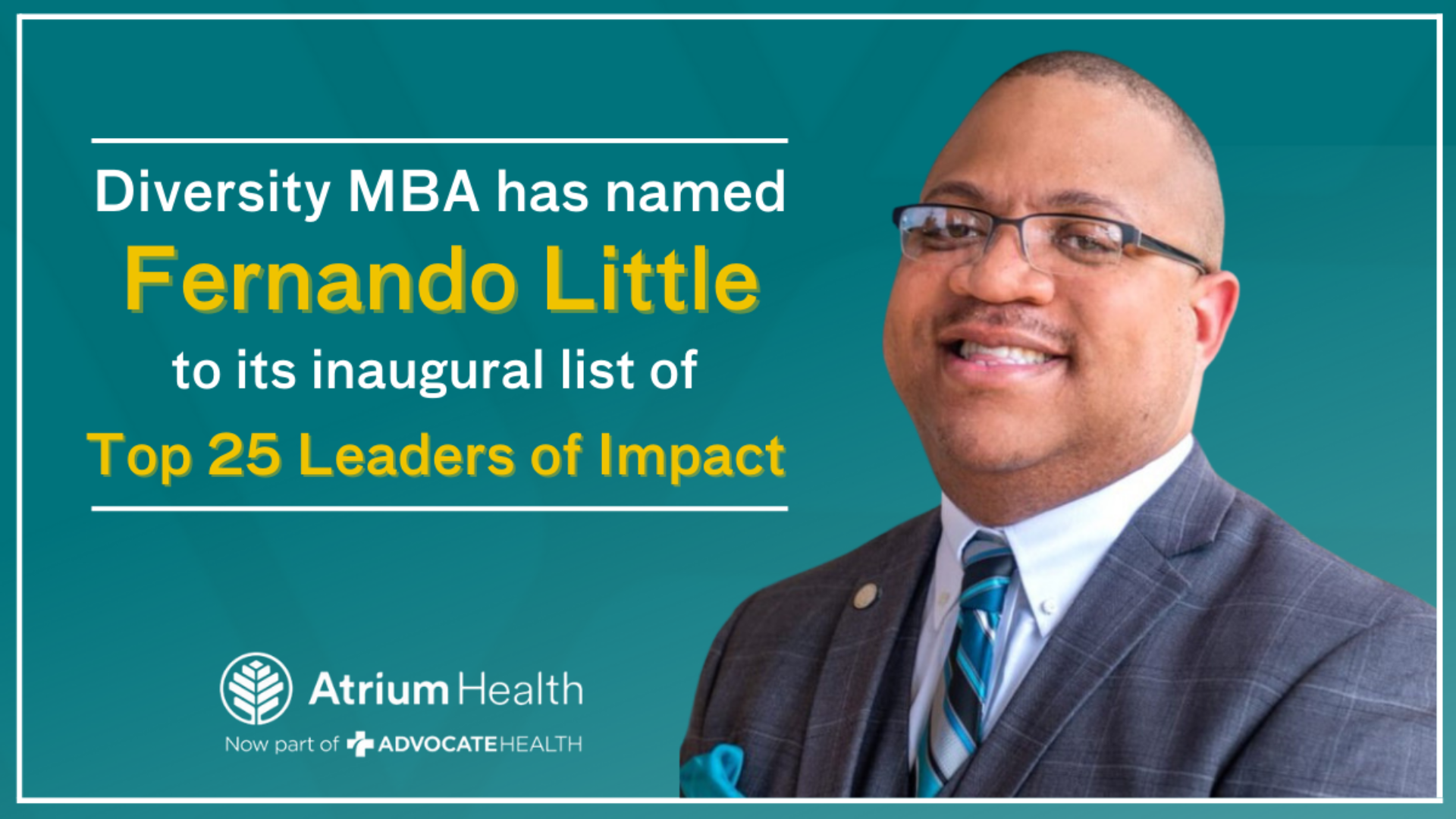 Atrium Health Vice President, Chief Diversity Officer Receives "Outstanding Leadership & Diversity Impact Award"
04.27.2023
Atrium Health News |
Diversity & Inclusion
Fernando Little named to Diversity MBA Magazine's inaugural list of national leaders
CHARLOTTE, N.C., April 27, 2023 – Atrium Health Vice President and Chief Diversity Officer Fernando Little has been named to Diversity MBA Magazine's first-ever "Top 25 Outstanding Leadership and Diversity Impact Awards."
According to the publication, "This award was designed to recognize the incredible work, and impact of the leaders whose longevity, consistency, dedication and discipline in driving change have inspired others and made a difference in their organizations and communities. These leaders possess a sharp vision, are courageous, have integrity, honesty, humility and focus. Moreover, these leaders intentionally mentor, sponsor and help people reach their goals and achieve their next levels. In part, they consistently contribute to the success of others while making significant business impact.
"In today's volatile environment that has trauma spilling over into the workplace, companies are forced to acknowledge race relation issues and conflicting attitudes among their employees," said Pam McElvane, CEO of Diversity MBA Media. "Bold leadership is required from today's leaders to drive necessary change that sustains cultures of inclusion and belonging."
Little leads collaboration in operations and academic programs across the Atrium Health footprint. He works to foster diversity, equity, inclusion, culturally competent care, inclusive purchasing and language access for all patients, teammates and communities. His work also includes developing, implementing and monitoring programs and processes to sustain an inclusive culture across the enterprise. Little also recently launched the organization's first Center for Supplier Diversity and Entrepreneurship designed to offer business development and acceleration strategies to minority-owned, women-owned, and veteran-owned businesses with the bold goal of driving economic mobility in our most vulnerable communities through meaningful employment and reducing the racial wealth gap.
"I am honored to have been included on this distinguished list," said Little. "Celebrating diversity in our workplace is at the heart of everything we do to create a space where all belong – working towards a mission that prioritizes health, hope and healing for all."
Little has worked for Atrium Health for 14 years and in healthcare nearly 20 years. He has led teammate engagement action plans resulting in statistically significant improvements at both Atrium Health and Mission Health, in Asheville, North Carolina, where he previously worked. To further equity in health and health care, he helped design and implement Atrium Health's Demographic Data Wall – a health disparities dashboard used to identify and monitor gaps in care and outcomes.
He holds a bachelor's degree in business administration from Appalachian State University and a master's in organizational leadership from Pfeiffer University. Little was also recently recognized as one of the "Top 100 Diversity Officers in 2021" by U.S. National Diversity Council and was also recognized by Becker's Hospital Review as a "Top 40 Diversity & Inclusion Executive to Know."
Atrium Health was named the number one company for women and diverse managers by Diversity MBA last year.
---
About Atrium Health
Atrium Healthis a nationally recognized leader in shaping health outcomes through innovative research, education and compassionate patient care. Based in Charlotte, North Carolina, Atrium Health is part of Advocate Health, the fifth-largest nonprofit health system in the United States, which was created from the combination with Advocate Aurora Health. A recognized leader in experiential medical education and groundbreaking research, Wake Forest University School of Medicine is its academic core. Atrium Health is renowned for its top-ranked pediatric, cancer and heart care, as well as organ transplants, burn treatments and specialized musculoskeletal programs Atrium Health is also a leading-edge innovator in virtual care and mobile medicine, providing care close to home and in the home. Ranked nationally among U.S. News & World Report's Best Hospitals in eight pediatric specialties and for rehabilitation, Atrium Health has also received the American Hospital Association's Quest for Quality Prize and its 2021 Carolyn Boone Lewis Equity of Care Award, as well as the 2020 Centers for Medicare & Medicaid Services Health Equity Award for its efforts to reduce racial and ethnic disparities in care. With a commitment to every community it serves, Atrium Health seeks to improve health, elevate hope and advance healing – for all, providing $2.46 billion last year in free and uncompensated care and other community benefits.
About Advocate Health
Advocate Health is the fifth-largest nonprofit integrated health system in the United States – created from the combination of Advocate Aurora Health and Atrium Health. Providing care under the names Advocate Health Care in Illinois, Atrium Health in the Carolinas, Georgia and Alabama, and Aurora Health Care in Wisconsin, Advocate Health is a national leader in clinical innovation, health outcomes, consumer experience and value-based care, with Wake Forest University School of Medicine serving as the academic core of the enterprise. Headquartered in Charlotte, North Carolina, Advocate Health serves nearly 6 million patients and is engaged in hundreds of clinical trials and research studies. It is nationally recognized for its expertise in cardiology, neurosciences, oncology, pediatrics and rehabilitation, as well as organ transplants, burn treatments and specialized musculoskeletal programs. Advocate Health employs nearly 150,000 team members across 67 hospitals and over 1,000 care locations and offers one of the nation's largest graduate medical education programs with over 2,000 residents and fellows across more than 200 programs. Committed to equitable care for all, Advocate Health provides nearly $5 billion in annual community benefits.