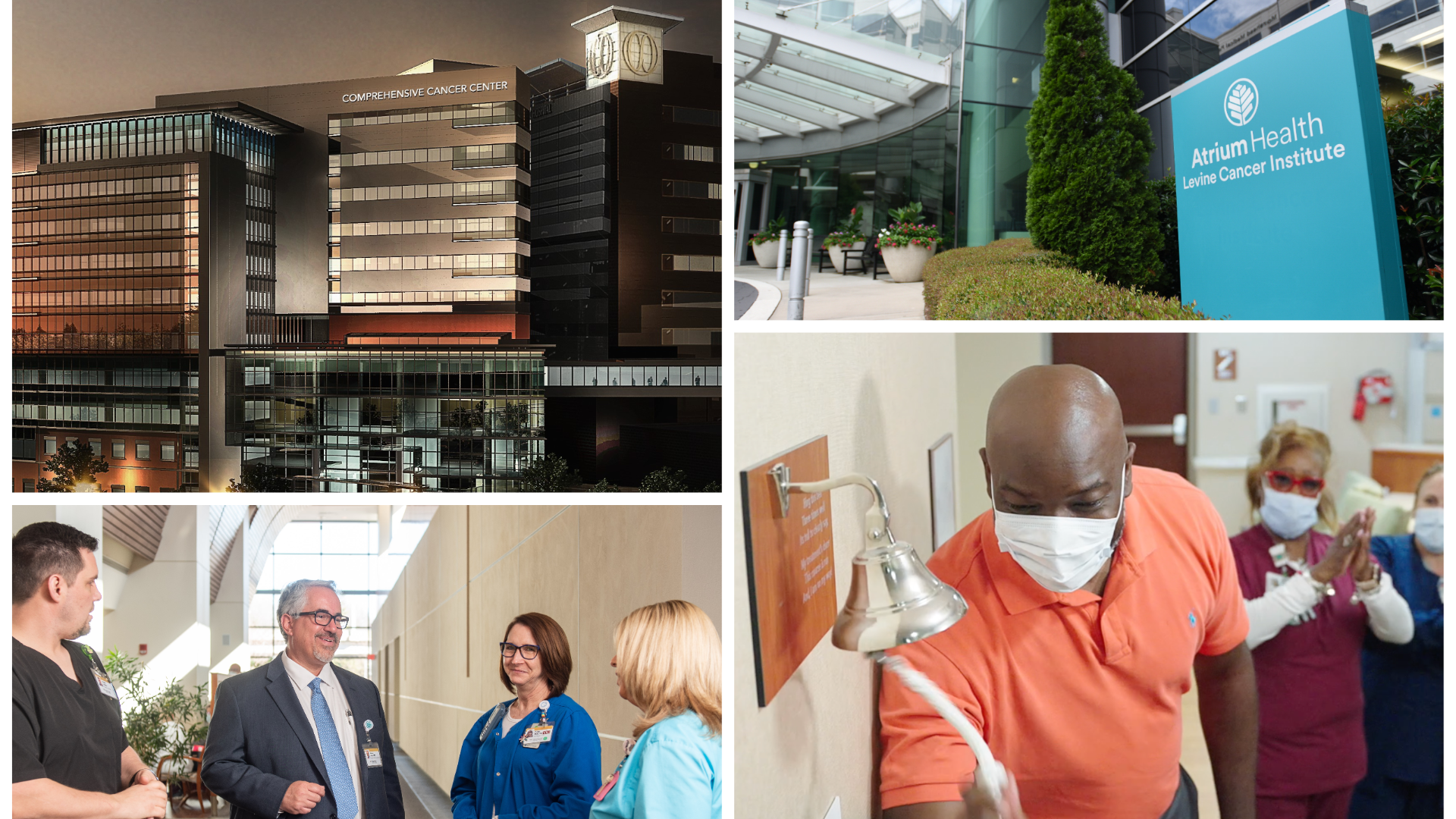 The Leon Levine Foundation Invests $7.5 Million to Transform Cancer Care in the Carolinas
06.19.2023
Atrium Health News |
Levine Cancer Institute
Gift to help advance research, bring new treatment options to Atrium Health
CHARLOTTE, N.C., June 19, 2023 – One of the nation's leading cancer programs is the recipient of a $7.5 million gift designed to advance research and bring the latest cancer innovations in precision medicine to the Carolinas. The donation to Atrium Health Foundation's Giving Hope campaign comes from Sandra and the late Leon Levine through The Leon Levine Foundation, benefiting Atrium Health Levine Cancer Institute.
In addition to funding research and education for all of Atrium Health's cancer programs, the gift will support the new radiation therapy facility, currently under construction in Charlotte near Atrium Health Carolinas Medical Center. The new facility will house Levine Cancer Institute's most technically advanced services, including gamma knife radiosurgery and the Carolinas' first proton beam therapy.
To recognize the Levine's commitment – which brings their lifetime collective contributions to Atrium Health to over $80 million – all Atrium Health cancer services in the Carolinas will now be aligned under one unifying name: Atrium Health Levine Cancer.
"The Leon Levine Foundation has been instrumental in the advancement of care for so many North Carolinians – no matter their race, ethnicity or background," said Ken Haynes, president of the Southeast region of Advocate Health, of which Atrium Health is a part. "Today, we bring together the brightest minds at two nationally recognized cancer centers – Levine Cancer Institute and Atrium Health Wake Forest Baptist Comprehensive Cancer Center – so we can more effectively collaborate and better serve patients from all walks of life. Atrium Health Levine Cancer has and forever will be synonymous with world-class care."
Together, the two programs that now comprise Atrium Health Levine Cancer represent the largest cancer program in the Carolinas and one of the largest programs in the Southeast. Their combination means more than 440 providers and 3,000 teammates across 78 practices and at 28 locations will care for more than 35,000 new patients each year. These patients will have access to the most novel therapies and robust survivorship and cancer rehabilitation programs.
"When we made our gift to support the first Levine Cancer Institute facility, which opened in 2012, our vision was to help change the course of cancer care in the Carolinas," said Sandra Levine.
Levine's husband, Leon, was the founder and chairman of Family Dollar. Leon Levine passed away in April, leaving a tremendous and lasting legacy in the Carolinas, significantly in the health care community.
"We felt strongly that everyone should have access to the most current treatment options, close to home," added Levine. "Now, after a decade, we have witnessed tremendous progress as Atrium Health consistently pursues and achieves excellence in cancer research and patient care."
The newly integrated Atrium Health Levine Cancer will be fueled by the only National Cancer Institute (NCI)-designated comprehensive cancer center in Western North Carolina, Atrium Health Wake Forest Baptist's Comprehensive Cancer Center. The Winston-Salem based center is one of just 54 in the country with such a designation and is ranked in the top 5%, nationwide.
"We are stronger together, and we know the integration of our cancer programs will lead to even better care for the patients we serve," said Dr. Julie Ann Freischlag, executive vice president and chief academic officer of Advocate Health, who also serves as CEO of Atrium Health Wake Forest Baptist and executive vice president for health affairs at Wake Forest University. "In addition, our scientists, faculty and students at Wake Forest University School of Medicine, the academic core of Advocate Health, will be able to expand their groundbreaking research, foster an even greater collaboration between teams, provide more opportunities for clinical trials and enhance medical education for the next generation of health care leaders."
"Together, our team at Atrium Health Levine Cancer will prevent, detect, treat and help more patients survive cancer," said Dr. Ruben Mesa, president of Atrium Health Levine Cancer and executive director of Atrium Health Wake Forest Baptist's Comprehensive Cancer Center. "We will make life-saving research discoveries and reduce health disparities in the Carolinas and across the country."
"We are deeply grateful for Sandra and Leon Levine's leadership and their confidence in our mission to provide the best and most equitable health care experience for our patients," added Mesa. "They inspire others in the communities we serve to support our vision and are making a lasting impact to improve lives for generations to come."
---
About Atrium Health Foundation
Founded in 1959, Atrium Health Foundation is one of the largest charitable foundations in Charlotte. As the point of contact for all contributions benefiting Atrium Health in the Charlotte region, the Foundation inspires transformational giving to improve health, elevate hope, and advance healing – for ALL. Through its current Giving Hope Campaign, Atrium Health Foundation is supporting Atrium Health's efforts to create the learning health system of the future by building healthy communities, outstanding education programs, preeminent research, and exemplary facilities.

About Atrium Health
Atrium Health is a nationally recognized leader in shaping health outcomes through innovative research, education and compassionate patient care. Based in Charlotte, North Carolina, Atrium Health is part of Advocate Health, the fifth-largest nonprofit health system in the United States, which was created from the combination with Advocate Aurora Health. A recognized leader in experiential medical education and groundbreaking research, Wake Forest University School of Medicine is its academic core. Atrium Health is renowned for its top-ranked pediatric, cancer and heart care, as well as organ transplants, burn treatments and specialized musculoskeletal programs Atrium Health is also a leading-edge innovator in virtual care and mobile medicine, providing care close to home and in the home. Ranked nationally among U.S. News & World Report's Best Hospitals in eight pediatric specialties and for rehabilitation, Atrium Health has also received the American Hospital Association's Quest for Quality Prize and its 2021 Carolyn Boone Lewis Equity of Care Award, as well as the 2020 Centers for Medicare & Medicaid Services Health Equity Award for its efforts to reduce racial and ethnic disparities in care. With a commitment to every community it serves, Atrium Health seeks to improve health, elevate hope and advance healing – for all, providing $2.46 billion last year in free and uncompensated care and other community benefits.
About Advocate Health
Advocate Health is the fifth-largest nonprofit integrated health system in the United States – created from the combination of Advocate Aurora Health and Atrium Health. Providing care under the names Advocate Health Care in Illinois, Atrium Health in the Carolinas, Georgia and Alabama, and Aurora Health Care in Wisconsin, Advocate Health is a national leader in clinical innovation, health outcomes, consumer experience and value-based care, with Wake Forest University School of Medicine serving as the academic core of the enterprise. Headquartered in Charlotte, North Carolina, Advocate Health serves nearly 6 million patients and is engaged in hundreds of clinical trials and research studies. It is nationally recognized for its expertise in cardiology, neurosciences, oncology, pediatrics and rehabilitation, as well as organ transplants, burn treatments and specialized musculoskeletal programs. Advocate Health employs nearly 150,000 team members across 67 hospitals and over 1,000 care locations and offers one of the nation's largest graduate medical education programs with over 2,000 residents and fellows across more than 200 programs. Committed to equitable care for all, Advocate Health provides nearly $5 billion in annual community benefits.