Atrium Health is now part of Advocate Health, the third largest nonprofit health system in the country, but at home in Charlotte, North Carolina, its care delivery remains strong, growing – and the best in the region.
That was the message Advocate Health Southeast Region President Ken D. Haynes sent to the Atrium Health Board of Commissioners at its third quarter board meeting in September. Haynes gave updates on several high-profile projects across the Charlotte area – including Charlotte's innovation district, The Pearl.
Growing to Meet Growing Demand
"We are so excited to announce that core building and shell topping out on The Pearl is on schedule for the end of October," Haynes said, a key moment in construction of the mixed-use development that will feature education, retail and other amenities available to the entire community – plus living space set aside for affordable housing – all anchored by Wake Forest University School of Medicine Charlotte.
And just weeks ago, Siemens Healthineers joined with Atrium Health to enhance cutting-edge surgical training as the health system's first strategic partner with IRCAD North America, a wholly owned subsidiary of Atrium Health, which will have its research and experiential training center at The Pearl, serving as its sole North American headquarters.
Haynes also told the board that advisory councils for The Pearl and surrounding innovation district have been formed and are convening for the first time – yet another sign of major progress on a major project that will literally and figuratively change the landscape of Charlotte.
Across the Queen City, Atrium Health continues to break new ground (again, literally and figuratively) on initiatives that will help improve the health of a community that continues to grow. In fact, the Charlotte Regional Business Alliance reports that the number of people moving to the area recently climbed to its highest level in more than a decade.
For one of those initiatives, Haynes shared that, "thanks to the continued generosity of the Levine family, we will once again transform cancer care in the Southeast. A $7.5 million gift from Sandra and our late friend Leon Levine through The Leon Levine Foundation will help us to advance research and bring the latest cancer innovations in precision medicine to the Carolinas, which is why we are so excited that all Atrium Health cancer services in the Carolinas will now be aligned under one unifying name: Atrium Health Levine Cancer."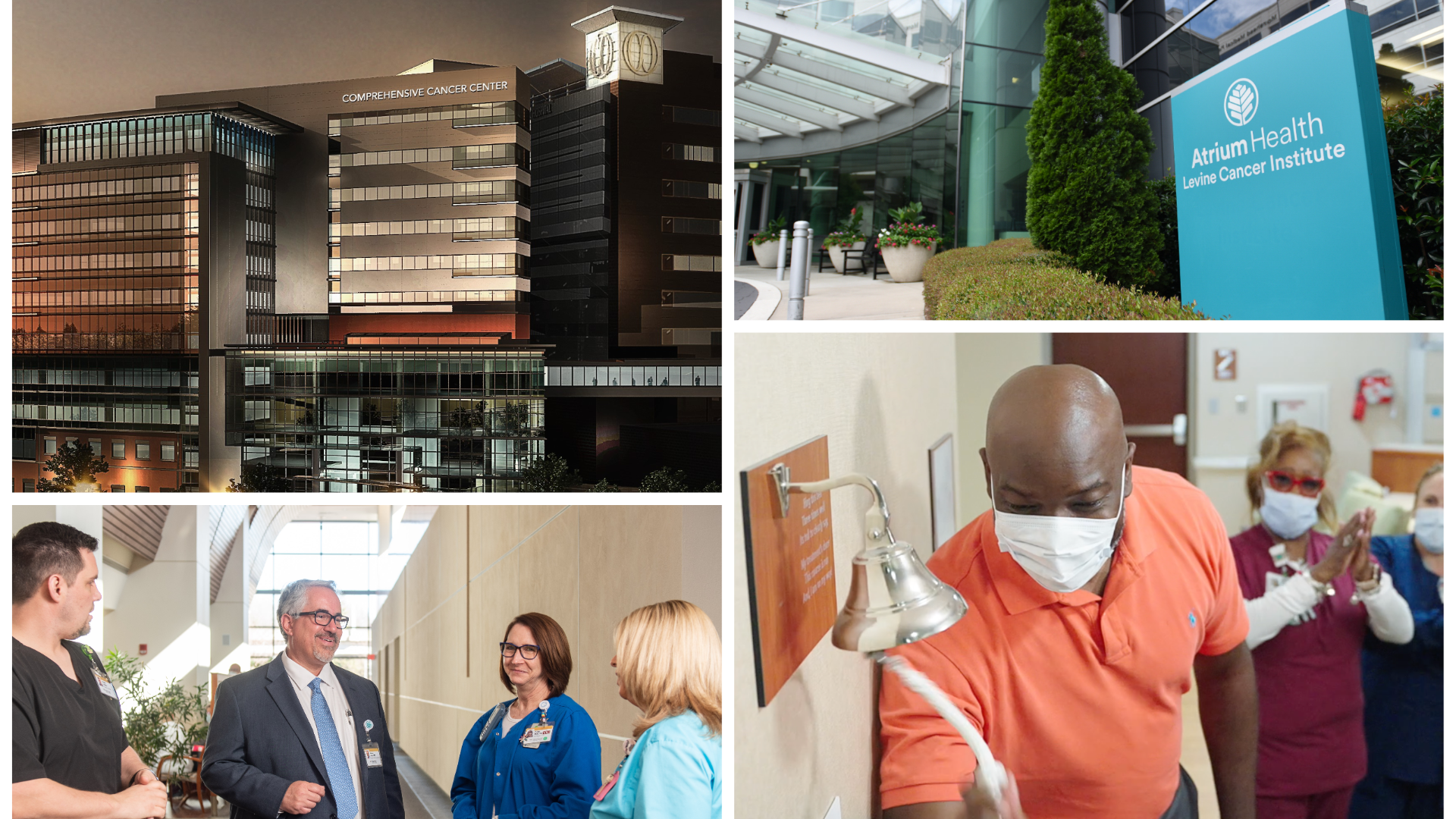 The Leon Levine Foundation invests $7.5 Million to transform cancer care in the Carolinas, which will now be aligned under the name Atrium Health Levine Cancer.
The gift will fund research and education for all of Atrium Health's cancer programs, as well as support the new radiation therapy facility currently under construction near Atrium Health Carolinas Medical Center. The new facility will house Levine Cancer Institute's most technically advanced services, including gamma knife radiosurgery and the Carolinas' first proton beam therapy.
Meanwhile, inside Atrium Health Medical Center Plaza, Haynes told the board how the newly opened Torrey Hemby Center for Cancer and Blood Disorders is giving pediatric patients access to the latest treatment options, patient programs and medical technology.
Haynes also told the board about more growth on the campus of Carolinas Medical Center, where the organization recently broke that will open in 20
27 as part of an ongoing re-design and upgrade of Atrium Health's facilities and capabilities at the site. But uptown Charlotte isn't the only place Atrium Health is expanding to meet the growing needs of the community.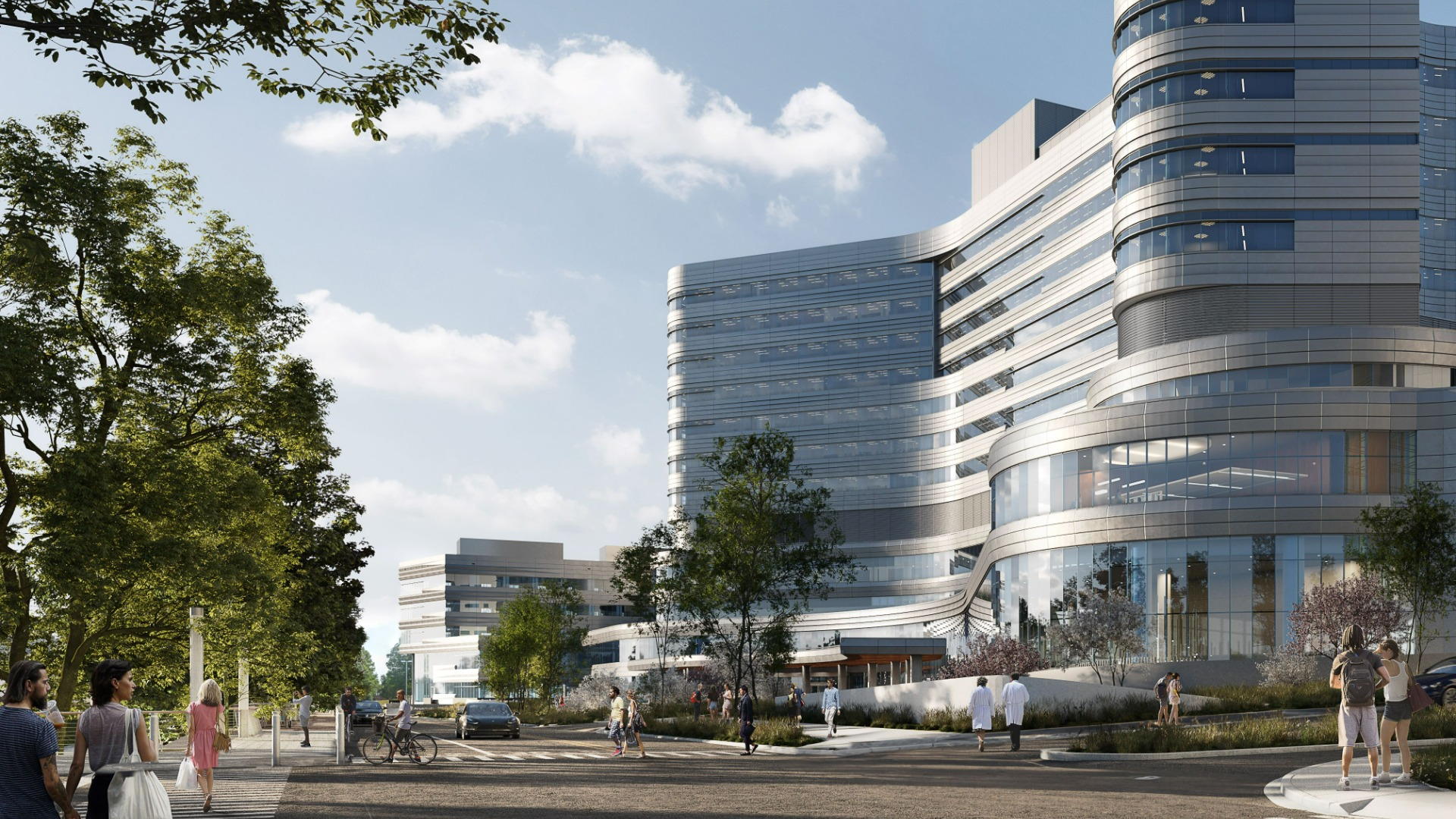 Atrium Health broke ground recently on a new advanced care facility at Atrium Health Carolinas Medical Center (left) as well as on its next hospital, Atrium Health Lake Norman (right).
"We are thrilled to have broken ground on our newest state-of-the-art hospital in Cornelius," Haynes said. "Atrium Health Lake Norman will provide the highest quality care to residents in the Lake Norman area, ensuring we are even better poised to have a profound impact on the community by providing care for all who need it."
The new hospital is expected to open its doors to patients in 2025 and to create approximately 280 new jobs.
Developing a Strong Nursing Workforce
Across the nation, health systems are working to build the best possible nursing workforce. Atrium Health is no different – how could it be? But that's the exact question being asked by nurse leaders, including Advocate Health Executive Vice President and Chief Nursing Officer Mary Beth Kingston: What can we do differently to develop a strong nursing workforce?
At Atrium Health, the development of a strong, excellent nursing team begins with new nurse graduates and continues throughout a nurses' career. At the board's first quarter meeting of the year in February, Kingston shared how Atrium Health had created a nursing pipeline through partnerships with educational organizations. At the September board meeting, Kingston showed off some prime examples of that work, announcing that 21 schools of nursing are placing pre-licensure nursing students across the greater Charlotte market of Atrium Health this fall, as well as eight nursing schools who are sending students to Atrium Health Navicent and nine schools sending students to Atrium Health Floyd this year. With an additional 18 nursing schools sending students to Atrium Health Wake Forest Baptist, that's nearly 60 nursing schools who are sending students to Atrium Health. Across Advocate Health, that number is nearly double.
And apparently, Atrium Health is the place to work if you're a nurse. Kingston proudly told the board how 20 Atrium Health nurses had been named to the North Carolina Great 100.
"One out of five nurses on this year's Great 100 list are from Atrium Health and we couldn't be prouder of what that says not only about these incredible nurses who are being recognized by their peers for this honor, but about all nurses across our organization," said Kingston.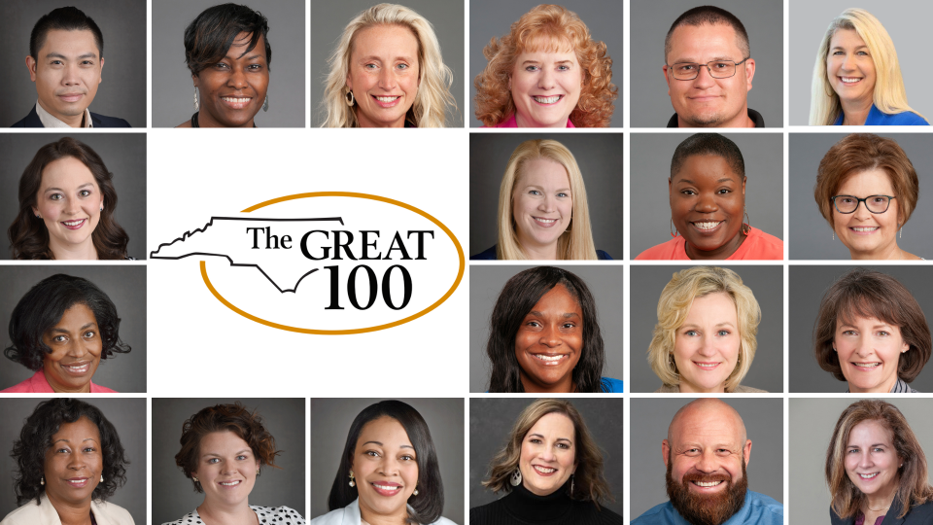 Twenty Atrium Health nurses were named to the Great 100's annual list
Kingston also told the board that Atrium Health Carolinas Medical Center and its outpatient clinics, as well as Atrium Health Levine Children's Hospital, Atrium Health Levine Cancer Institute and Atrium Health Mercy, have again achieved Magnet redesignation from the American Nurses Credentialing Center's Magnet Recognition Program®. Magnet status is the highest national honor for professional nursing practice and distinguishes health care organizations that meet rigorous standards for nursing excellence. Carolinas Medical Center is one of 12 Magnet-designated hospitals across Advocate Health.

"Our repeated achievement of this designation highlights the continued pursuit of nursing excellence and delivering the best care for our patients and our community," Kingston said.
The Best Care in Charlotte – and Beyond
As Kingston, and then Haynes, continued to list accomplishments of their teams, it became clear for the board that Atrium Health, now part of Advocate Health, is certainly committed to its goal of providing the best care – for all.
Haynes told the board that U.S. News & World Report has recognized 32 Advocate Health system hospitals among the nation's very best.
"That's almost half of our hospitals across our entire enterprise," Haynes said. "And it's a prime example of the level of excellence that our teams deliver for all every single day."
Within that recognition, U.S. News & World Report ranked Atrium Health Carolinas Rehabilitation at No. 9 on the "Best Hospitals for Rehabilitation" list, putting it among the top 1% of rehabilitation hospitals in the nation, as well as being the highest-ranking rehabilitation hospital in the Southeast and the only ranked hospital in the Charlotte region. The World Health Organization (WHO) also just granted Carolinas Rehabilitation membership into the inaugural class of the World Rehabilitation Alliance (WRA) – the only rehabilitation hospital in the U.S. to be granted membership into this alliance.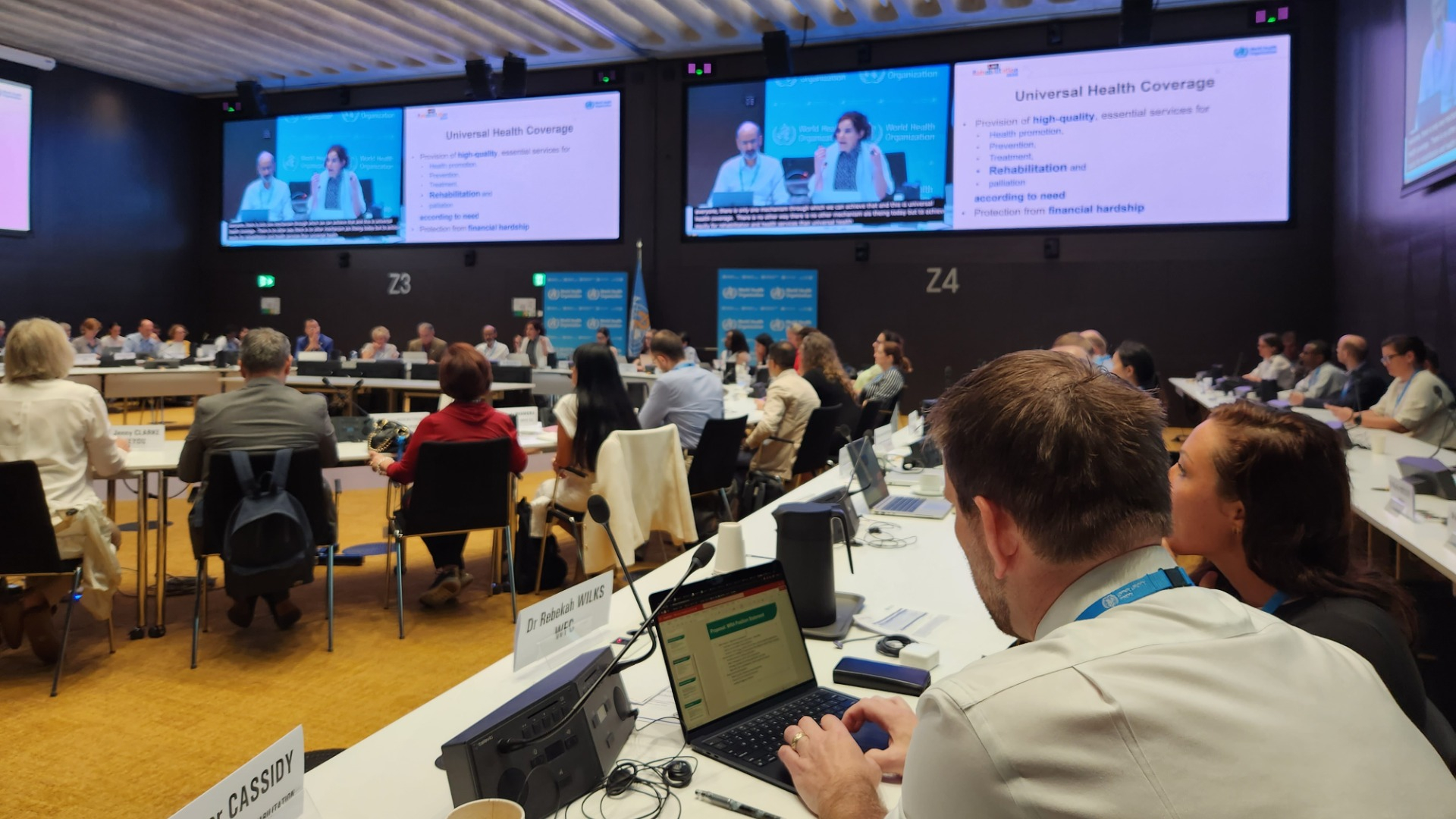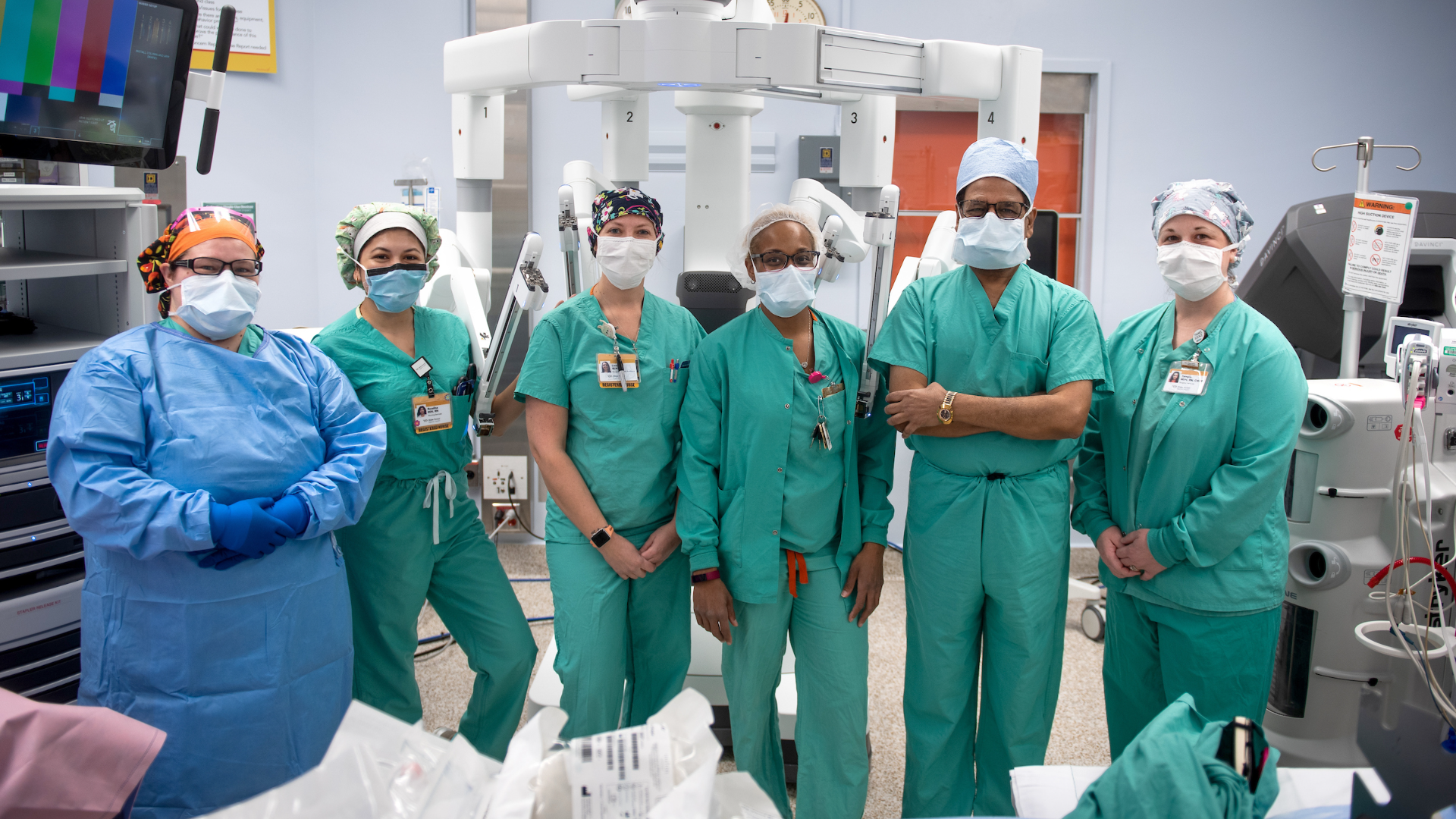 (Left) Carolinas Rehabilitation was granted membership into WHO's World Rehabilitation Alliance; (Right) Atrium Health was honored with multiple awards for championing diversity
Among the other accolades Haynes noted, Atrium Health was named to Forbes "Best Employers for Diversity" 2023 list as well as Parity.org's list of "Best Companies for Women to Advance®" and "Best Companies for People of Color to Advance™."
Kingston also shared that the emergency department at Carolinas Medical Center was honored with the Emergency Nurse Association's Lantern Award. Emergency departments share stories highlighting their commitment to care and the initiatives to improve nursing staff's well-being as part of the application process. The Carolinas Medical Center adult emergency department was one of just 53 emergency departments around the world to receive the Lantern Award this year – and the only one in North or South Carolina. It's also one of two Advocate Health emergency departments to make the list.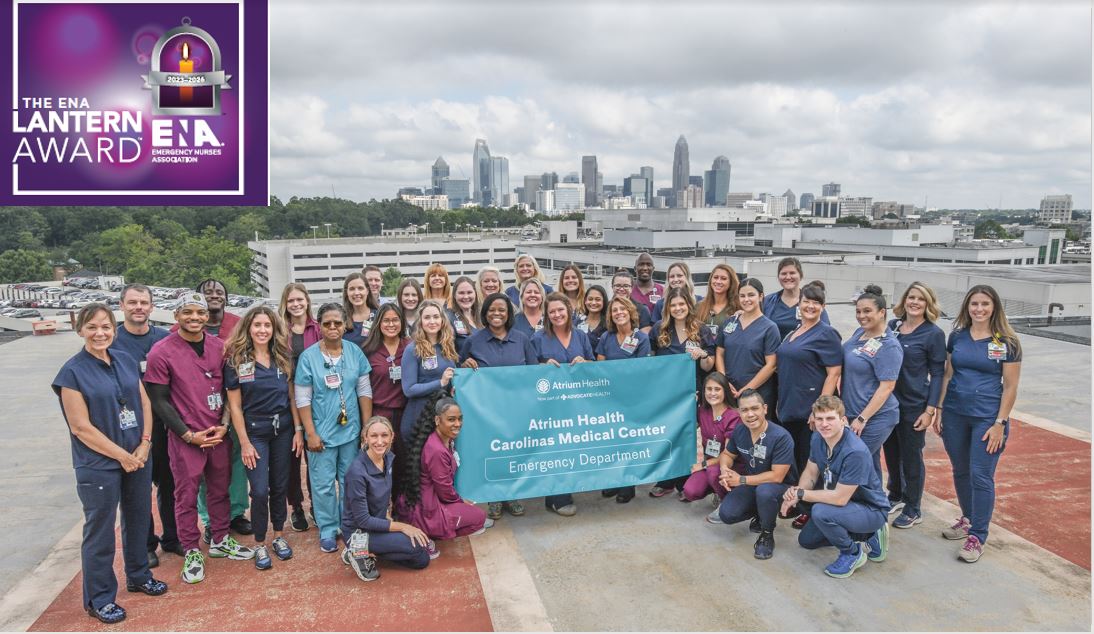 The emergency department at Carolinas Medical Center was one of just 53 across the country to receive the ENA's Lantern Award
U.S. News & World Report also recognized Carolinas Medical Center as the "Best Hospital" in the Charlotte metro region for the seventh consecutive year.
Meanwhile, as integration into the new Advocate Health continues, Haynes told the board how the new health system is continuing its work a focused goal of making its combined communities healthier.
"We know that by coming together, we are stronger and better able to weather the storms that the entire health care sector is facing," Haynes said. "Our integration work is really something to celebrate, as we have more than 1,200 initiatives and ideas making up our Advocate Health integration plan."
Haynes announced the launch of discovery with 12 clinical teams who are meeting to develop relationships and leverage best practices as it relates to care pathways, clinical outcomes, access, experience and community outreach.
"'Together we are' and 'together, we can' are the main themes we're focused on," Haynes said. "This is an approach uniquely developed by our Advocate Health teams and one we're especially proud of."
Charlotte is a city that's growing rapidly. And with rapid growth comes rapid demand. With a focus on growing its existing workforce, expanding its state-of-the-art facilities and advancing technology and innovation in the medical field, Atrium Health is ready to meet that demand and provide the best care in Charlotte – and beyond.