Our 3-year ACGME-accredited program is designed to train leading physicians, academics and researchers in the field of hematology and oncology. Fellows will be immersed in the multidisciplinary care of oncologic and hematologic diseases, learning how to offer optimal, state-of-the-art care and management of patients in the outpatient setting, as well as applying the latest advancements in the field. Upon successful completion of the fellowship program, graduates will be board-eligible for medical oncology and hematology.
Program Curriculum
Our innovative 3-year program explores all aspects of hematology and oncology, exposing fellows to extensive clinical and research opportunities.

Throughout the curriculum, fellows will have half-day continuity clinic experience with escalating levels of responsibility in the management of patients. Fellows will have a core lecture series held weekly during the fellowship. There are Multidisciplinary Tumor Boards each week, in which fellows are expected to be active participants.

Also, each month there will be a fellow-run journal club, a hematopathology conference where the fellows present on patients and topics of interest, and a president's conference led by the president of LCI with the fellows covering various patients and general topics of interest. Fellows will find a flexible curriculum designed to support their career aspirations, whether in patient care or research.
Rotations
A basic breakdown of activities by year is as follows:
Year 1:
1 month of a unique month-long introductory course to Hematology/Oncology
4 months of outpatient oncology and; 2 months of outpatient hematology
4 months of inpatient hematology (including 2 months of consults transplant and cellular service and 2 months of consults) and 1 month of inpatient oncology
Year 2:
2 months of inpatient hematology (including 1 month of consult), and 1 month of inpatient oncology
1 month of outpatient hematology and; 2 months of outpatient multidisciplinary oncology
1 month of research
5 months of elective time (research or clinical), determined in conjunction with program directors
Year 3:
1 month of supportive oncology
1 to -3 months of community and VA- based care
9 to -10 months of elective time (research or clinical), determined in conjunction with program directors
During year 3, fellows planning to pursue a career in clinical medicine will have the option to complete additional disease-specific and multidisciplinary clinical rotations, which are organized in disease-specific and multidisciplinary rotations..

During the elective time, fellows may pursue research for up to 15 months. Thus, fellows may have up to 16 months of protected research time (aside from continuity clinic), if deemed appropriate and necessary after discussion with the program directors and research mentor. If their research project has been completed, and especially if fellows plan to pursue careers in clinical medicine, they may continue with further clinical rotations, which are organized in disease-specific and multidisciplinary rotations.

A distinct element of the LCI Hematology and /Medical Oncology fellowship program is the emphasis on multidisciplinary care of patients with malignancies, as demonstrated in the second-year multidisciplinary rotations in thoracic and breast cancers. During these rotations, fellows will primarily rotate with medical oncologists, but will also learn from surgeons, radiation oncologists, and other appropriate specialists, such as pulmonologists and genetic counselors. Fellows may participate in similar rotations in other malignancies during the elective time.
Rotations and Electives
Inpatient Experience
Inpatient Malignant Hematology Service (includes Transplant and Cellular Service)
Inpatient Hematology Consult Service
Inpatient Oncology Consult Service
Outpatient Clinical Rotations and Electives
Medical Oncology
Breast Medical Oncology
Gastrointestinal Medical Oncology
Genitourinary Medical Oncology
Gynecological Oncology
Head and Neck Medical Oncology
Melanoma and Immunotherapy Medical Oncology
Neuro-Oncology
Thoracic Medical Oncology
Sacoma Medical Oncology
Community Oncology
Malignant Hematology
Leukemia and Marrow Failure
Lymphoma
Plasma Cell Disorders
BMT
Non-Malignant Hematology
Benign Hematology
Hemophilia Treatment Center
Sickle Cell Program
Multidisciplinary Electives
Supportive Oncology, including:

Palliative medicine
Genetics
Geriatric clinic
Psychology and psychiatry
Integrative medicine
Cardio-oncology
Survivorship

Radiation Oncology
Surgical Oncology
Salary and Benefits
In addition to the many educational and career benefits of the Hematology & and Oncology Fellowship program, residents will receive financial benefits as well.


Living in Charlotte
The Charlotte region, like our fellowship program, offers a world-class city experience with a tight knit community feeling. The greater Charlotte area boasts a variety of restaurants, breweries and one of the nation's premier international airports. Nestled between the mountains and beaches, Charlotte-area residents can take a short drive and easily enjoy a day trip or relaxing weekend away from city life. The mix of dining options, outdoor experiences and professional sports is the perfect way for residents to seek out culture and make friends in the region. You'll find the perfect home here during your fellowship.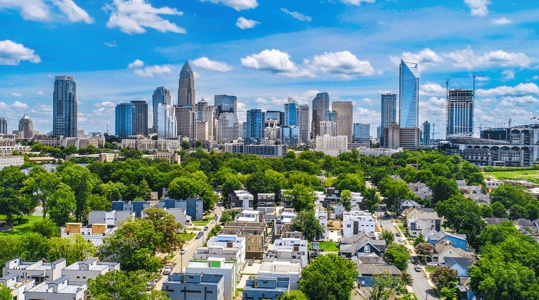 Application Criteria
Applications are accepted from participants in the National Resident Matching Program (NRMP) through the Electronic Residency Application Service (ERAS).