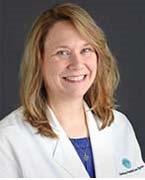 Suzette Caudle, MD
Designated Institutional Official
Welcome! Atrium Health's, Carolinas Medical Center Graduate Medical Education programs date back to 1963 as Charlotte Memorial Hospital. The programs have since grown to include 300+ residents and fellows in 40 programs. The faculty now includes 377 physicians. As one of five teaching hospitals in North Carolina, Carolinas Medical Center is an exciting place for future primary care physicians and medical sub-specialists. CMC currently conducts residency programs in 12 medical and dental specialties and fellowships in 26 subspecialties.
Carolinas Medical Center is an 874-bed tertiary care center and the core component of Atrium Health, a not-for-profit, multifaceted, vertically integrated healthcare system. As the largest healthcare system in the Carolinas, Atrium Health offers a wide variety of health and human services to residents and fellows of both North and South Carolina and operates on three guiding principles:
To provide the best possible patient care
To share our knowledge and experience in medical education
To learn through research
Atrium Health has partnered with the University of North Carolina (UNC) School of Medicine to designate Carolinas Medical Center (CMC) as the university's Charlotte campus. CMC is one of only five designated academic medical centers in North Carolina. These programs reside within the Division of Medical Education, which is dedicated to the continuum of professional education and the development of excellent healthcare providers.
In addition to updated facilities, sophisticated technology, and advanced basic science and clinical research offerings, CMC is also committed to providing the highest standard of care for all who need it, regardless of status or financial ability.
Designated "Charlotte's Most Preferred Hospital" for 14 years by the National Research Corporation, CMC serves as a major referral center for eight surrounding counties.
Charlotte area sports franchises and facilities – the Carolina Panthers, the Charlotte Knights and Charlotte Motor Speedway – have all selected Carolinas Medical Center as the official healthcare provider for their players, staff and their families.
The Graduate Medical Education (GME) office is here to assist trainees and programs with the institutional oversight required by the ACGME but also allows the individual program directors' autonomy.
Our graduate medical education programs include:
Residencies - Medical and Dental