Important Update!
It is now official that Atrium Health and Wake Forest Baptist have merged and that part of this merger will be the establishment of the first medical school in Charlotte. We are thrilled to be on the forefront of establishing a new medical school and are excited about the academic possibilities this will create for our faculty and residents.
See here for more details.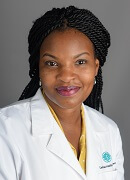 Message from our Program Director
Lynneice Bowen, MD
Director of Residency Education
Welcome to the Sandra and Leon Levine Adult Psychiatry Residency Program at Atrium Health - Carolinas Medical Center!
Humans are amazing. Our minds are a source of incredible potential. We can create and perceive beauty, solve problems, use written communication, delay gratification, demonstrate altruism, seek meaning and connection to something larger than ourselves. One in eight people in our world live with a mental disorder that impairs their abilities to fulfill their life roles. As psychiatrists we have a key role to play in the diagnosis and treatment of mental illness, but also in the promotion of mental health. The World Health Organization defines mental health a state of mental well-being that enables people to cope with the stresses of life, realize their abilities, learn well and work well, and contribute to their community.
Our training environment is a special and unique place. We are fortunate to attract residents and faculty who believe in our mission and the mission of Atrium Health, "to improve health, elevate hope and advance healing – for all." Whether you see yourself as future Psychopharmacologist, Interventionalist, Hospitalist, or Generalist, we offer the opportunity to train in an organization that strives to develop a transformative, clinically integrated, and sustainable system of high-quality, patient- and family- centered care. If you are someone who enjoys working one-on-one with an attending or being in a small seminar for didactic learning but also wants to have a vast range of clinical experience, then we are the program for you. We are looking for people who are curious and eager to learn all aspects of psychiatry and take the next steps in honing their unique talents and aptitudes for the role they will fill in promoting recovery and health in the community.
We look forward to meeting all who are interested in our program!
With a nationally and internationally-renowned team of physicians in psychiatry who serve as faculty, our residents have access to a breadth of experience and knowledge in the program. See the full list of physicians and their specialties here.
Program Curriculum
---
Our residents train in an environment of self-motivated, inclusive professionals who are committed to providing exceptional behavioral health care to all of their patients. In the program, residents will train with faculty in a wide range of behavioral health presentations with the goal of treating patients with empathy and modern psychiatry techniques. Residents may also participate in educating our communities about mental illness and substance use disorders, encouraging early mental health screenings and wellness. Clinically, our residents benefit from training in a large healthcare system and have unique experiences in the following:
Telepsychiatry
Behavioral Health Integration
First Break Psychosis Program
Assertive Community Treatment Team
Private Practice
Brain Stimulation (ECT/TMS)
Addiction with Waiver Training
Behavioral Health Residential Program
Application Criteria
---
The following is a list of requirements for our program:
Completed Application through ERAS
National Resident Match Program (NRMP) number
Personal Statement
Three current letters of recommendation (within the year)
USMLE and/or COMLEX transcripts - (must pass Step 1 and Step 2 CK and CS on first attempt)
USA Citizenship, Permanent Resident status or J-1 or H1B Visa only
6 months of U.S. clinical experience
ECFMG certificate (IMGs only)
Our program's own supplemental application
Our recruitment committee will evaluate each completed application.
Learn more
Helpful Links
---