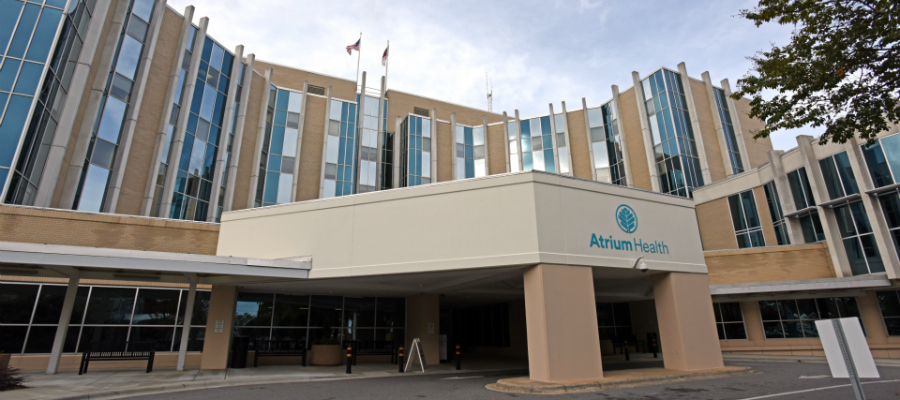 Cleveland's Commitment Hasn't Changed in 95 years
12.18.2018
Atrium Health News |
Cancer Care |
Levine Cancer Institute |
Heart Health |
Sanger Heart & Vascular Institute |
Neuroscience
The name change from Carolinas HealthCare System Cleveland to Atrium Health Cleveland is just one of many milestones Karen Crawford, RN, has observed during 42 years in Shelby.
Graduating from Gardner-Webb University's nursing program in 1976, she started her career at a time when nurses were expected to stand up and give their chair to a physician whenever a physician entered the room. Also, if nurses were caught without their bandage scissors, they could lose their nursing pins for a week.
"We've come a long way since those days of white clinic shoes and white clinic dresses," she says with a grin. "Things like that wouldn't happen today!"
Crawford has also seen "monumental improvements" in patient care during her four-decades of service. First and foremost, she says, are changes in patient comfort and privacy. When Crawford started, four-bed suites were the norm; now, all patients have private rooms. She also notes a tremendous reduction in recovery times due to advanced equipment such as laparoscopes and robotics.
"When I started, if you needed even routine surgery, you'd be admitted a day in advance and stay seven to 10 days afterward. Now, we do lab work on an outpatient basis, and of course many surgical procedures as well."
Other big changes relate to the patient census. Crawford started work as the only RN on a floor of 52 patients. "Our biggest unit has only 32 beds now," she adds, "and the nurse-to-patient ratio is much better. It has to be, because hospital care today is reserved for the sickest of patients."
Dotty Leatherwood is another "long timer" who has seen a lot of change. A veteran of many administrative roles over 38 years, including unofficial historian, Leatherwood recounts one curious statistic from the early days of Shelby Hospital, which opened in 1923.
"A so-called 'ward bed' in those days cost $2.50 a day, while private rooms were available at the premium rate of $3 a day. The hospital also started its own school of nursing just two years after opening, to ensure nurses were trained and ready to serve the community."
When Leatherwood started in 1980, most physicians had internal medicine credentials. "They had to try to be all things to all people," she recalls. "But everyone recognized the need to recruit more specialists, so that we could better meet community needs both short-term and long-term."
Leatherwood remembers one gentleman from an outside firm who was hired specifically to recruit specialists. He ended up begging off the job, claiming the task was impossible. "We took it on ourselves," says Leatherwood, "and we built up a much better mix of services. There have always been great doctors attracted to the quality of life that we can offer."
She acknowledges, however, that healthcare today is so highly specialized that connection to a larger system like Atrium Health has become vital.
"The advent of telemedicine has indeed been a game changer," says Brian Gwyn, president of Atrium Health Cleveland and Atrium Health Kings Mountain. "We can keep patients close to home who -- in the old days -- would have had to travel to a major urban center for care.
"We've been especially successful recruiting physicians from Atrium's best-known service lines, such as Atrium Health's Levine Cancer Institute, Atrium Health's Levine Children's Hospital, Atrium Health's Sanger Heart & Vascular Institute and the Neurosciences Institute. Atrium has also made a significant difference in our ability to promote preventive health and enhance our services in primary care, emergency medicine, acute and post-acute care.
"All across the board," he says, "our affiliation with Atrium has provided remarkable benefits. Our employees have greater resources and expertise available to them on a daily basis. We excel at patient-centered care. And we see much better collaboration among our physicians in a true team-oriented environment."
Timeline of Key Events at Atrium Health Cleveland
1923: Shelby Hospital opens.
1945: Shelby Hospital is taken over by Cleveland County.
1957: Shelby Hospital changes name to Cleveland Memorial Hospital.
1994: Management services agreement is signed with Carolinas HealthCare System.
1996: Cleveland Memorial Hospital changes its name to Cleveland Regional Medical Center (CRMC).
1997: Carolinas HealthCare System leases the hospital property from Cleveland County and assumes operation of CRMC.
2003: Kings Mountain Hospital is consolidated into CRMC. The combined system is renamed Cleveland County HealthCare System.
2013: Cleveland County conveys hospital property to Carolinas HealthCare System.
2015: Cleveland County HealthCare System is merged into Carolinas HealthCare System, and both hospitals are renamed, one as Carolinas HealthCare System Cleveland and one as Carolinas HealthCare System Kings Mountain
2018: Carolinas HealthCare System changes its name to Atrium Health, and both hospitals are renamed as Atrium Health Cleveland and Atrium Health Kings Mountain