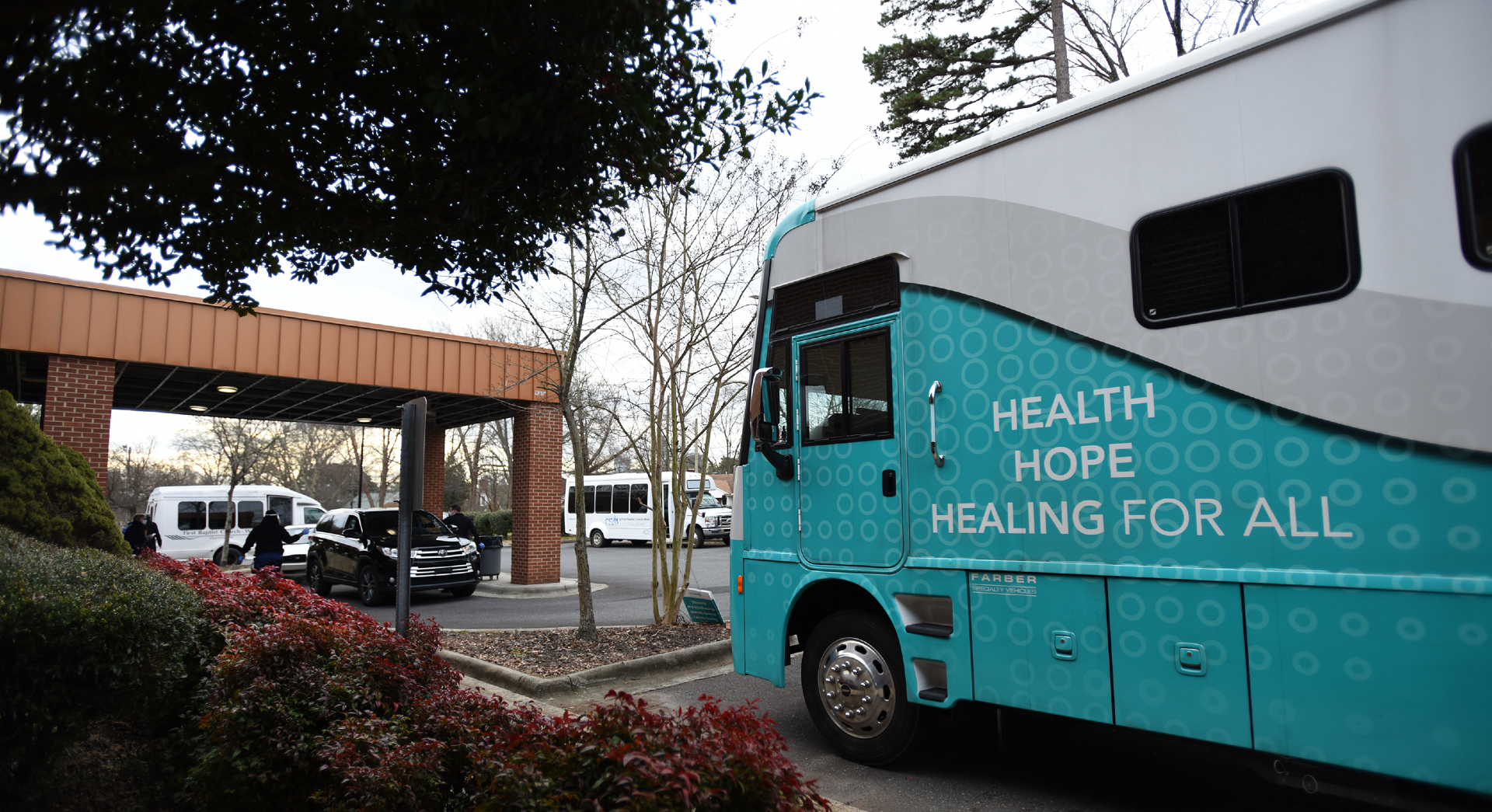 Atrium Health Launches "Community Immunity For All" Collaborative to Vaccinate Underserved Communities
01.21.2021
Atrium Health News
Local organizations to partner with Atrium Health to ensure 'Community Immunity For All'
CHARLOTTE, N.C., Jan.21, 2021 – Atrium Health has announced a new collaborative, "Community Immunity For All" in an effort to vaccinate underserved communities and those most disproportionately affected by the coronavirus disease. The "Community Immunity For All" collaborative has a united goal to acknowledge the history of health injustice in communities of color, listen to and collaborate with partner organizations, and educate and support individuals in making informed decisions to best protect their health and well-being. Atrium Health is coordinating on-site vaccination events in partnership with local organizations reaching African American and Hispanic communities to ensure equity in access to safe, effective and FDA-approved COVID-19 vaccines.
"We have all witnessed firsthand the suffering that has occurred in vulnerable communities that don't have access to life saving care. And our message is quite simple and clear – we see you, and we are here for you," said Eugene A. Woods, president and CEO of Atrium Health. "That is why I am deeply appreciative of how we are working hand-in-hand with Governor Cooper and his team, the faith community and business leaders to reach out to underserved populations and communities of color. This new collaborative builds upon our exciting, public-private partnership with Honeywell, Tepper Sports and Entertainment, and Charlotte Motor Speedway that will support 1 million vaccinations by July 4 – providing yet another way for us to bring health, hope and healing FOR ALL."
"'Community Immunity For All' is the kind of collaboration that is needed to ensure equitable access to the vaccine and stop this pandemic," said Secretary Dr. Mandy Cohen, North Carolina Department of Health and Human Services. "Everyone needs a spot to take their shot – a spot that is trusted and accessible."
Key local partners of the "Community Immunity For All" collaborative include: First Baptist Church-West, CN Jenkins Memorial Presbyterian Church, Rockwell AME Zion Church, the Latino Faith and Health Coalition, Forest Hill Church, Our Lady of Guadalupe Catholic Church, St. John Neumann Catholic Church, Iglesia Bautista Camino de Salvación, St. Andrews United Methodist Church, El Buen Samaritano, First Baptist Church in Huntersville, Iglesia Cristiana Puerto Nuevo, our BRIDGE for KIDS, Negocios Hispanos de Charlotte and the Latin American Coalition.
With the support of this growing list of community partners, "Community Immunity For All" will eliminate barriers to receiving the COVID-19 vaccine, including holding vaccination events at community partner host sites, providing support with appointment scheduling and transportation, and ensuring culturally responsive vaccine education and resources for community members.
"COVID-19 has had a devastating effect upon our community and country," said Dr. Ricky A. Woods, senior minister of First Baptist Church-West. "First Baptist Church-West is honored to have partnered with Atrium Health to make vaccines available to a community that has been disproportionately impacted by COVID-19 in Mecklenburg County. The church is not just a healing place for the soul but a place of healing for all the ills that affect us."
The "Community Immunity For All" collaborative will incorporate Atrium Health's existing "Para Tu Salud" efforts that began early in the pandemic to educate and inform Hispanic communities on how to stay safe and healthy. Through "Para Tu Salud," Atrium Health has convened roundtable discussions with community organizations and coalitions to bridge services and resources to meet the needs of our Hispanic community and established a dedicated Spanish Coronavirus webpage with information, resources and a free-risk assessment.
"Atrium Health, in conjunction with our organization Negocios Hispanos de Charlotte, continue to work together with volunteers from our institution in order to deliver masks for children and adults in the Hispanic community," said José Herrera, president of Negocios Hispanos de Charlotte and Progreso Hispano News. "We look forward to continue working together to collaborate and facilitate the process of COVID-19 vaccinations. By helping business owners door-to-door, their employees and their families through Progreso Hispano News and Progreso Hispano digital television, together we help to ensure they are informed about healthcare during the COVID-19 pandemic."
Committed to caring for all, Atrium Health is protecting the health and well-being of all our minority and underserved communities through existing and new efforts:
Expanding

a nationally-leading innovative

mobile COVID-19 testing

model

to

provide vaccinations in addition to

COVID-19 testing

in

underserved

communities

.

Launch

ing

a

COVID-19 Vaccine

Community

Ambassador program to engage diverse Atrium Health teammates and community members who have received the vaccine to educate, inform and support others considering

getting

the vaccine.

Host

ing

Courageous Conversations virtual panels

led by

Atrium Health's Office of Diversity, Equity & Inclusion

with clinical experts and Atrium Health teammates to

explore concerns about the vaccine, dispel mistruths and review the science

.

Built a robust data infrastructure to track and monitor for health disparities

and testing

in real-time

, now inclusive of vaccination needs

among the underserved and communities of color

.

Expanded

grassroots communication outreach to trusted community leaders, organizations and clergy to help share critical COVID-19

vaccine

-related informatio

n.
Getting a COVID-19 vaccine is the best way for people to protect themselves, their families and their community. As larger portions of the population are vaccinated, the whole community becomes better protected. More information about Atrium Health's vaccination plans for the public, including frequently asked questions and scheduling a vaccine appointment, can be found at AtriumHealth.org/COVID19Vaccine.  
---
About Atrium Health
Atrium Health is a nationally recognized leader in shaping health outcomes through innovative research, education and compassionate patient care. Atrium Health is an integrated, nonprofit health system with more than 70,000 teammates serving patients at 42 hospitals and more than 1,500 care locations. It provides care under the Wake Forest Baptist Health name in the Winston-Salem, North Carolina, region and Atrium Health Navicent in Georgia. Atrium Health is renowned for its top-ranked pediatric, cancer and heart care, as well as organ transplants, burn treatments and specialized musculoskeletal programs. A recognized leader in experiential medical education and groundbreaking research, Wake Forest School of Medicine is the academic core of the enterprise, including Wake Forest Innovations, which is advancing new medical technologies and biomedical discoveries. Atrium Health is also a leading-edge innovator in virtual care and mobile medicine, providing care close to home and in the home. Ranked among U.S. News & World Report's Best Hospitals for cancer treatment and in eight pediatric specialties, Atrium Health has also received the American Hospital Association's Quest for Quality Prize and was the recipient of the 2020 Centers for Medicare & Medicaid Services Health Equity Award for its efforts to reduce racial and ethnic disparities in care. With a commitment to every community it serves, Atrium Health seeks to improve health, elevate hope and advance healing – for all, providing more than $2 billion per year in free and uncompensated care and other community benefits.