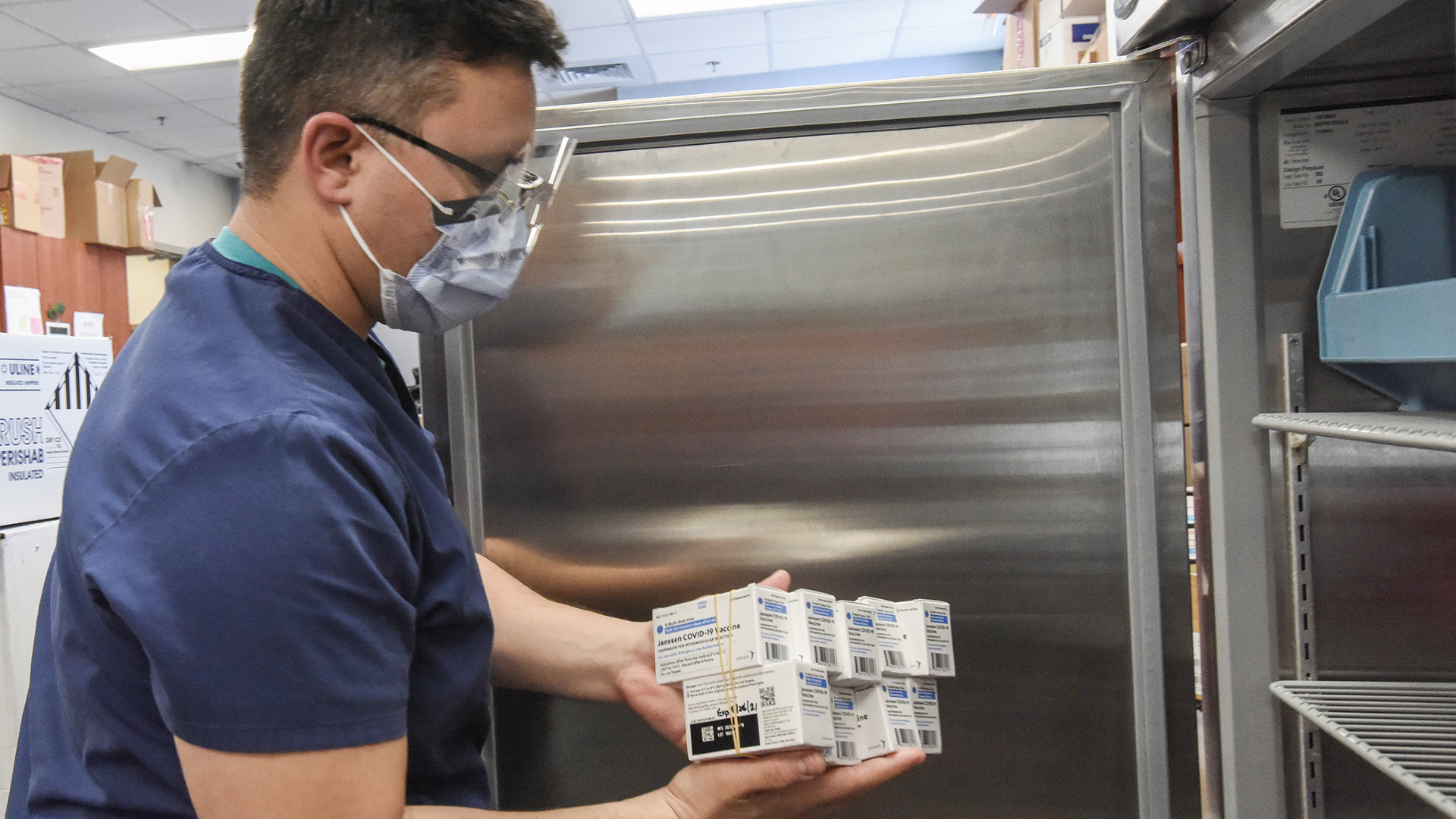 Atrium Health Receives First Shipment of Johnson & Johnson COVID-19 Vaccine
03.08.2021
Atrium Health News
The newly approved one-shot vaccine is a crucial option to vaccinate adults in the community
CHARLOTTE, N.C., March 8, 2021 – The first 6,000 doses of the Johnson & Johnson vaccine arrived at Atrium Health today, adding to the enterprise's supply of safe and effective COVID-19 vaccine options. The vaccine is the latest COVID-19 vaccine to receive an emergency use authorization from the U.S. Food and Drug Administration (FDA). With a third FDA-approved vaccine now available, Atrium Health can vaccinate even more people as the state of North Carolina expands eligibility to Group 3. Atrium Health has announced a goal in administering 1 million COVID-19 vaccinations by July 4, 2021.
Johnson & Johnson's one-dose regimen offers logistical advantages for vaccination efforts. It simplifies the storage process, compared to the other two approved vaccines, and only one appointment is needed to become fully vaccinated and protected. The Johnson & Johnson vaccine, similar to the Pfizer-BioNTech and Moderna vaccines, is shown to be effective in preventing COVID-19 hospitalizations, moderate-to-severe illness and deaths. The Johnson & Johnson vaccine will give additional sites access to an FDA-approved COVID-19 vaccine because it can be kept in a regular refrigerator, making it easier to store.
"Having access to another vaccine will create opportunities to increase the amount of vaccination sites and enable more people to get vaccinated sooner," said Dr. Gary Little, senior vice president and chief medical officer for the Greater Charlotte Region of Atrium Health. "The more vaccines we administer will also help stop the spread of COVID-19 and get us closer to community immunity, which will ultimately allow us to get back to the people and places we love."
Atrium Health, Novant Health, and the Mecklenburg County Health Department collaborated on a special request to the state that would allow them more opportunities to provide a safe and effective vaccine to day care, preK-12 teachers and staff. With the initial 6,000 doses of the Johnson & Johnson vaccine that Atrium Health received, educators will be targeted first, followed by other eligible groups as supply permits.
"We are developing plans to determine when and where it makes the most sense for us to administer the newest vaccine option," said Little. "It offers additional flexibility for those who may have challenges with coming back to receive a second dose at a set time."
Johnson & Johnson's single-dose vaccine appears to fare better against troublesome COVID-19 variants than initially reported. Data shared by the FDA provides evidence that the vaccine prevents serious illness despite the emergence of resistant variants, including those that first surfaced in South Africa and Latin America and have since led to confirmed cases in the United States. The vaccine efficacy rate held across Black/African American, white/Caucasian, Hispanic and/or Latinx, Asian and Native American trial participants.
The Johnson & Johnson vaccine is appropriate for all those who meet the current eligibility criteria, including frontline essential workers. Potential side effects include soreness at the injection site, and the possibility of temporary ailments such as headache, fatigue and nausea.
Atrium Health is following recommendations from the Centers for Disease Control and Prevention (CDC) and the state of North Carolina to prioritize distribution. As of today, the Atrium Health enterprise has administered an estimated 260,000 vaccinations to its teammates and community members across the Carolinas and Georgia, in areas served by Atrium Health, Atrium Health Navicent and Wake Forest Baptist Health. These results include multiple, successful mass vaccination events, such as the ones held at Charlotte Motor Speedway and Bank of America Stadium, as well as weekly drive-up and ambulatory clinics held at locations across the enterprise.
The Community Immunity for All initiative brought the addition of a roving vaccine clinic to underserved communities that allowed for the vaccination of more than 7,000 community members at over 20 community host sites, including a variety of churches and organizations that serve African American and Hispanic populations. Additional mass vaccination clinics and pop-up events are in progress and expected to be open to all eligible community members later this month.
As vaccinations are continuing across the country, medical experts at Atrium Health caution against complacency in preventing the spread of the virus. It remains essential that everyone wear a mask when they are outside of their home and around others, that social distance of six feet be maintained at all times and to wash hands frequently – even for those who have been fully vaccinated. These methods will continue to be the best, first line of defense against the spread of COVID-19 until sufficient numbers of the population, as a whole, have been vaccinated.
Getting a COVID-19 vaccine is the best way for people to protect themselves, their families and their community. As larger portions of the population are vaccinated, the whole community becomes better protected. More information about Atrium Health's vaccination plans for the public, including frequently asked questions and scheduling vaccine appointments, can be found at AtriumHealth.org/COVID19Vaccine.  
Atrium Health's COVID-19 Resource Center has the latest updates and helpful resources such as:
COVID-19 vaccine appointments

COVID-19 testing and care options

Latest COVID-19 developments
---
About Atrium Health
Atrium Health is a nationally recognized leader in shaping health outcomes through innovative research, education and compassionate patient care. Atrium Health is an integrated, nonprofit health system with more than 70,000 teammates serving patients at 42 hospitals and more than 1,500 care locations. It provides care under the Wake Forest Baptist Health name in the Winston-Salem, North Carolina, region and Navicent Health in Georgia. Atrium Health is renowned for its top-ranked pediatric, cancer and heart care, as well as organ transplants, burn treatments and specialized musculoskeletal programs. A recognized leader in experiential medical education and groundbreaking research, Wake Forest School of Medicine is the academic core of the enterprise, including Wake Forest Innovations, which is advancing new medical technologies and biomedical discoveries. Atrium Health is also a leading-edge innovator in virtual care and mobile medicine, providing care close to home and in the home. Ranked among U.S. News & World Report's Best Hospitals for cancer treatment and in eight pediatric specialties, Atrium Health has also received the American Hospital Association's Quest for Quality Prize and was the recipient of the 2020 Centers for Medicare & Medicaid Services Health Equity Award for its efforts to reduce racial and ethnic disparities in care. With a commitment to every community it serves, Atrium Health seeks to improve health, elevate hope and advance healing – for all, providing more than $2 billion per year in free and uncompensated care and other community benefits.