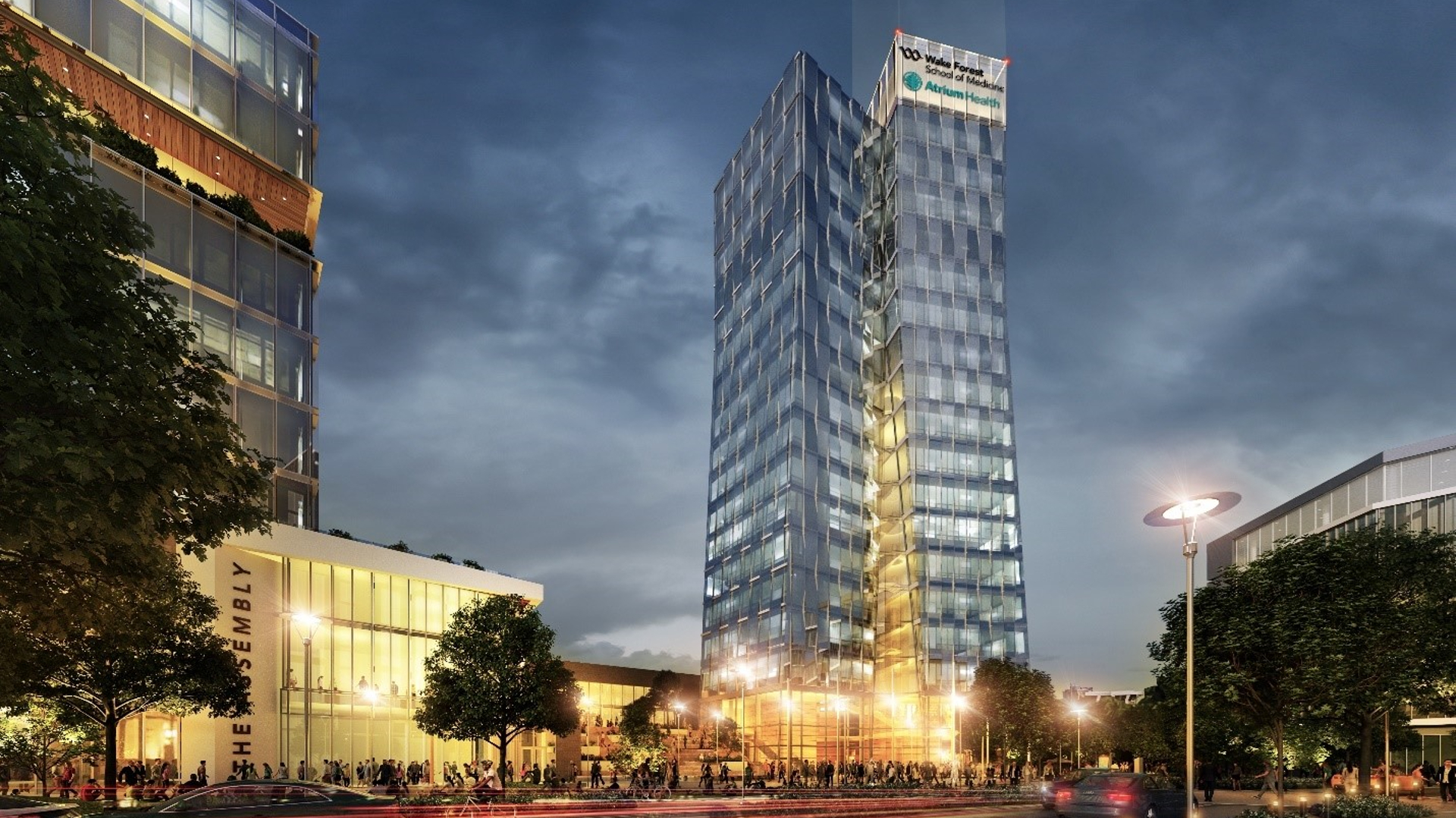 Leading the Way into the Future, Again
02.08.2022
Atrium Health News
At this point, nearly everyone you know has in some way been impacted by COVID-19, particularly as the rapidly spreading omicron variant extends its reach across the country. But with the right tools and the right support, Atrium Health is continuing to thrive, while breaking new ground and continuously setting the standard for COVID-Safe care.
That was the picture painted by Atrium Health President and CEO Eugene A. Woods as he addressed the Charlotte Mecklenburg Hospital Authority Board of Commissioners at its first meeting of the year Tuesday, February 8, 2022.
And Atrium Health is already looking into the future – way into the future. Woods shared the vision for the health system's highly anticipated Innovation District that includes a 'talent pipeline' that engages students from elementary school through college.
"Starting in elementary school, middle school, high school and college, we are mapping out plans for each stage," Woods explained.
The idea: Give kids opportunities earlier and see how far they can go.
"Imagine a kid in elementary school coming to our site at the new medical school and seeing robotics," Woods said. "We're trying to spur imagination at that age. This is the long game we're in."
Once fully constructed, Atrium Health expects the Innovation District to create nearly 12,000 total jobs on site and around it. Woods said 30-40% of them aren't expected to require a bachelor's degree. But perhaps more importantly, innovation jobs are expected to provide a 15% higher entry level wage than other entry level jobs in the area.
Atrium Health is also supporting Johnson C. Smith University in developing its pre-med program, including committing more than $3 million to support curriculum development, pipeline building and scholarships as well as health care solutions for JCSU students. Atrium Health is also actively developing talent connections with UNC Charlotte, Davidson College and Queens University.
Long game indeed.
Meanwhile, in the midst of the biggest game any of us has ever played, Woods acknowledged how the omicron variant has yet again changed the game, nearly two years after the World Health Organization declared COVID-19 a pandemic.
"Each wave [of COVID-19] has had its own particular challenges, new learnings and issues to solve for – and frankly, stresses on teammates," Woods said. "While there has been a 50% drop in new cases, unfortunately COVID-19 deaths are still high."

He also shared that this week, Atrium Health discharged its 26,000th COVID-19 patient.
"We're hopeful there won't be a fifth or sixth wave," Woods said. "The way to prevent that obviously is what we've talked about – vaccines and boosters."
He also detailed how treatments have changed since the start of the pandemic.
Previously the only available treatments had to be given through an IV at the hospital or specialized urgent care. Now, there are treatment options that can be taken orally.
Meanwhile, Atrium Health continues to be a leader in COVID-19 research. Woods told the board that Atrium Health teams in Charlotte and at Atrium Health Wake Forest Baptist are using genomic sequencing to investigate what variants are circulating in our area, providing valuable information to inform clinical practice as well as opportunities for collaborative research.
Woods described how the speed with which the omicron surge came on, combined with its higher rate of transmissibility, led to record hospitalizations as well as more infections among health care workers. That, of course, has led to challenges in staffing and hospital operations, but Atrium Health continues working to bring support for its teammates.
Just this month, Atrium Health received support from the U.S. Department of Health and Human Services, which deployed a 16-person National Disaster Medical System team to Atrium Health Pineville.
Woods explained the need for assistance at Atrium Health Pineville saying, "…in Pineville specifically, we're experiencing significant surges. We not only obviously care for North Carolinians, but the folks that live in South Carolina trust us with their care as well."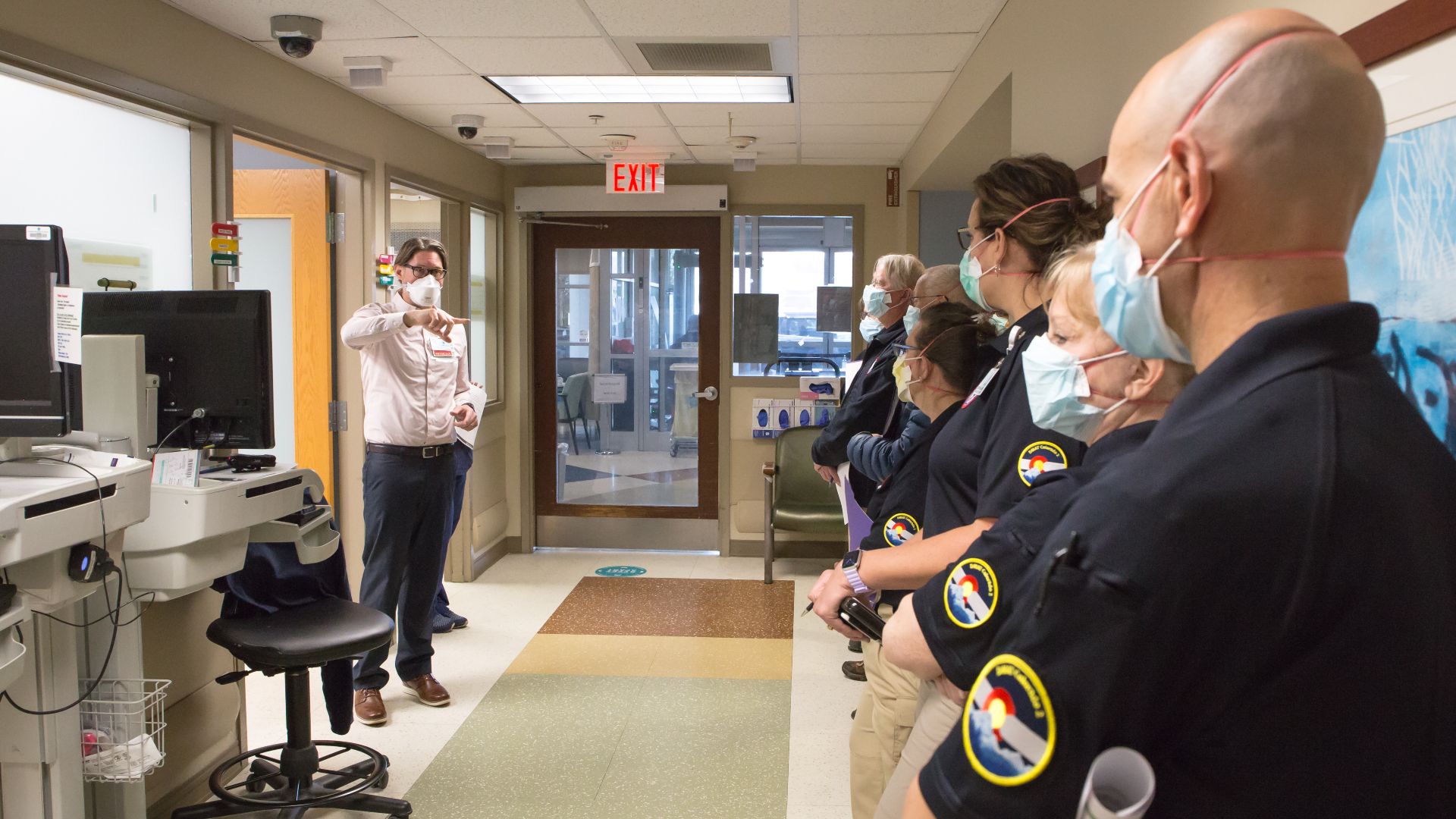 Members of the National Disaster Medical System (NDMS) report for duty to provide short-term surge support for teammates at Atrium Health Pineville.
Much of that faith is in the hands of nurses at Atrium Health, a profession that was recently listed as the most trusted profession for the 20th year in a row.
"Each and every nurse across Atrium Health has shown, and continues to show, tremendous perseverance, strength and bravery," said Maureen Swick, Atrium Health enterprise SVP of nursing and pharmacy.
Swick told the board about the steps being taken to adapt to the high demand for nurses nationwide, while reinforcing the need to redesign care models, increase nursing school enrollments and retain nurses.
"Atrium Health was more prepared than ever for this latest surge because of our nurses," Swick explained. "Now we have to make sure we retain them so that we, as a system, are ready for the next surge."
Swick described efforts underway including pay incentives for filling critical shifts and creating sustainable nursing care models to help meet the needs of patients. These sustainable models include the award-winning Virtual Nurse Observation Program and a Team Nursing Concept, which uses paramedics, licensed practical nurses and support staff in new ways. Additionally, Atrium Health's "Runner Program," which gives non-clinical teammates the chance to help in a clinical setting, has already filled nearly 1,500 shifts so far this year.
It's that continued innovation and excellence that has allowed Atrium Health to continue growing in the midst of the pandemic. In the Charlotte region, the health system conducted 7.2% more physician visits in 2021 compared to 2020.
Atrium Health is also expanding access to care across the southeast, with the opening of several new facilities. In December, Atrium Health Pineville opened the newly constructed Palmetto Tower and began treating patients while the health system's newest medical office building, Atrium Health Birkdale Landing Medical Plaza began providing the Lake Norman area with convenient primary care access and a walk-in urgent care open seven days a week. Just last month, Atrium Health opened a brand-new emergency department in Mountain Island and last week, strengthened its commitment to community with the opening of a new community care location, Archdale Family Medicine. In addition to providing care for all ages, this new location will offer onsite social work services, financial assistance and translational services.
Later this month, Atrium Health Union West will celebrate its long awaited grand opening. Located in the outer corridor of I-485, in a fast-growing area, Woods said Atrium Health Union West is "the first comprehensive new hospital that Atrium Health has opened in a couple of decades" and will serve Stallings, Indian Trail, Matthews and other areas of western Union County.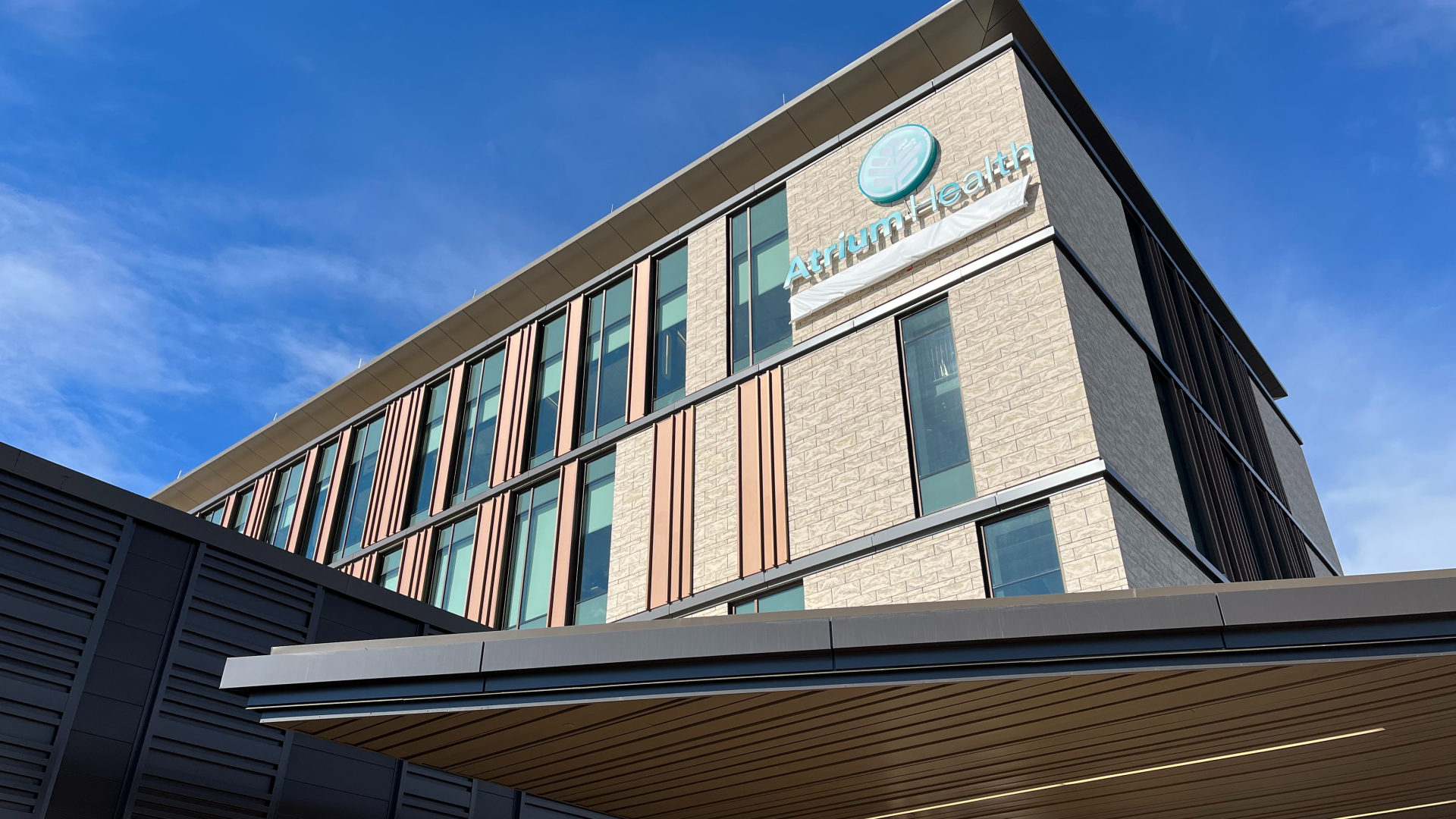 Atrium Health Union West will celebrate a virtual grand opening this week and is scheduled to open to the public February 23.
The approximately 150,000 square foot hospital facility will feature 40 patient beds, three operating rooms that are 30% larger than any in the system – including the only breast surgery center in Union County, 10 emergency department beds and women's care. It's the first additional acute care hospital built by Atrium Health since the addition of Atrium Health University City in 1985.
Even as the number of COVID-19 cases begin to fall, showing perhaps a break in the omicron surge, Atrium Health hasn't changed its speed. The health system is continuing to lead the way forward, perhaps, to the brightest days ahead. But regardless, Atrium Health's successes throughout the pandemic prove the health system is more ready than ever to handle whatever comes next.