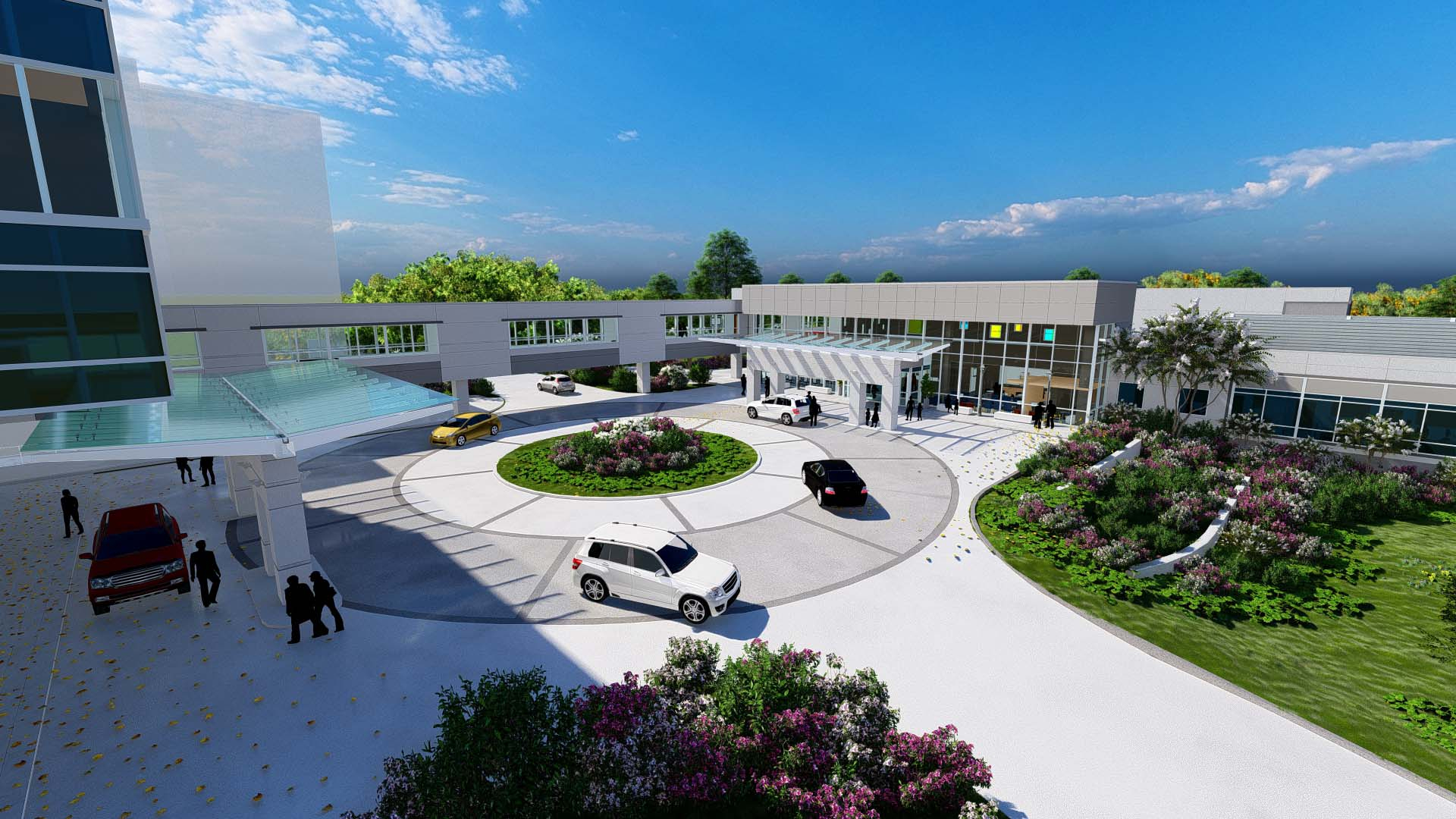 Atrium Health Breaks Ground on New Radiation Therapy Facility
03.10.2022
Atrium Health News |
Levine Cancer Institute |
Levine Children's
Opening in 2023, the facility will bring two new, innovative radiation treatments to the area
CHARLOTTE, N.C., March 10, 2022 – Atrium Health is breaking ground on a state-of-the-art facility that will bring two advanced radiation therapies to children and adult patients with complex tumors. The facility will be a $69 million investment into the local community, as it becomes the first site to offer these treatment options in the Charlotte area. It will be constructed on Atrium Health's midtown campus and around the corner from the soon-to-be-built Wake Forest School of Medicine – Charlotte and "The Pearl" innovation district.
The two treatments are proton beam therapy, a form of highly precise radiation therapy, and gamma knife radiosurgery, a non-invasive treatment for brain lesions. In this building, specialists will collaborate from across Atrium Health Levine Cancer Institute, Atrium Health Levine Children's, Atrium Health Neurosciences Institute and more – to bring the power and precision of the most sophisticated forms of radiation treatment to patients. With the addition of these new technologies, coupled with the expertise of the medical teams, Atrium Health will continue to be a global destination health care site.
"Levine Cancer Institute is building upon the momentum we've already set in motion to become one of the nation's leading cancer centers, continuously connecting patients with cutting-edge treatments, research and all the supportive care needed alongside a cancer diagnosis," said Dr. Derek Raghavan, president of Levine Cancer Institute. "We are incredibly grateful for the continuous support of our local community, including The Leon Levine Foundation, for their generosity and confidence in us that allows us to live out our united vision of creating the best healthcare experience for our patients."
Standard radiation therapy is effective and has seen great innovations in recent decades, but it can deliver radiation to healthy areas around the tumor it targets. When a tumor grows in the brain, lung, eye, head or neck, radiation can pose a risk to critical tissue nearby. That's why proton beam therapy can offer large advantages in these complex tumors, as well as tumors in children.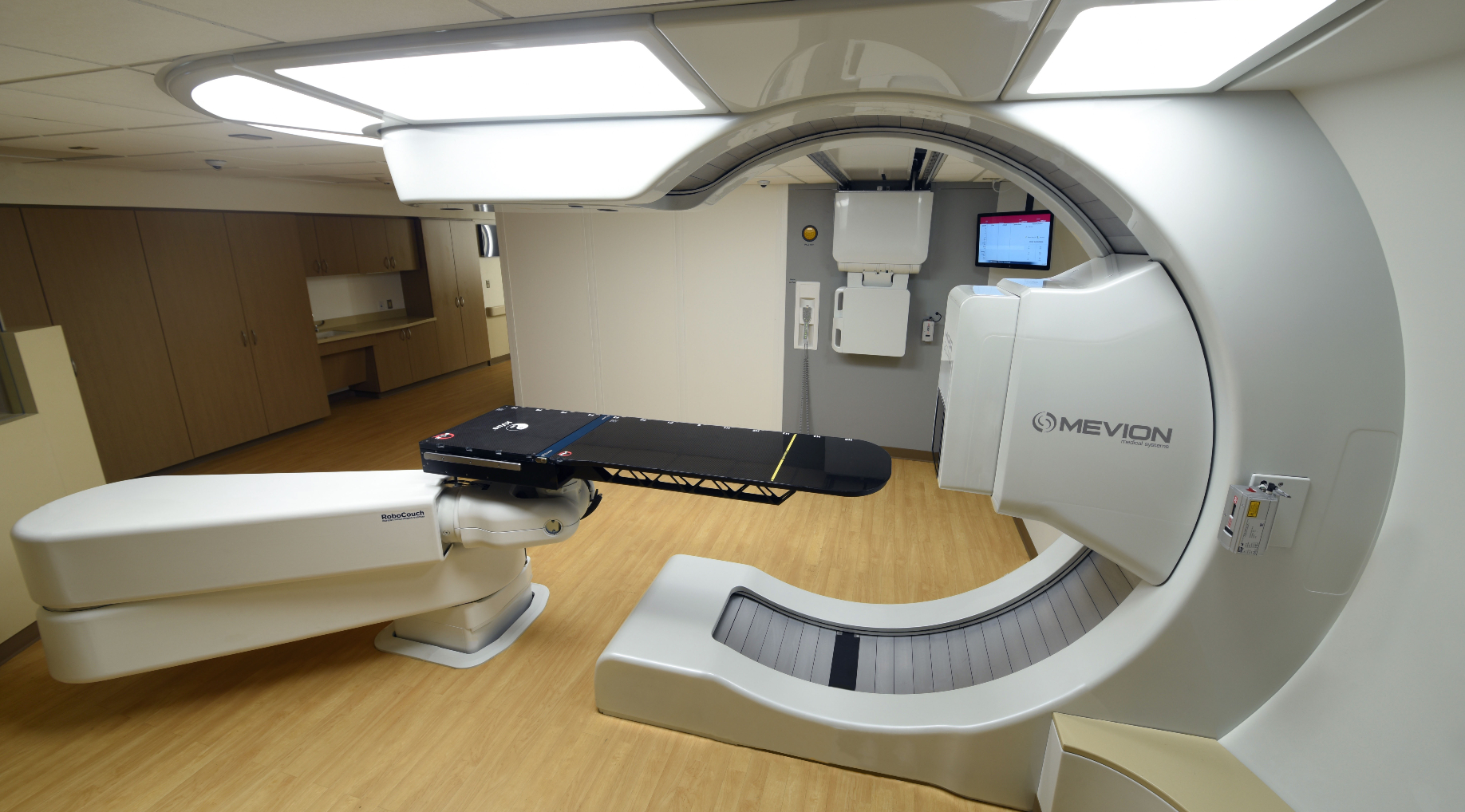 Proton beam therapy
Proton beam therapy targets radiation precisely to the tumor, leaving the areas around it unharmed. It's been used clinically for more than 60 years and has been proven to be safe, effective and to improve quality of life. It's not widely available, however, due to the expertise, expense and space it requires. By providing this powerful treatment here, adults and children will not have to travel out of state to receive lifesaving proton therapy care. When Atrium Health's new building opens, it will be the only center of its kind between Washington, D.C., and Atlanta, and one of just 38 proton beam therapy sites in the country.
In addition to proton beam therapy, the facility will also have gamma knife radiosurgery – unique technology that targets brain lesions that are difficult to treat through surgery or radiation due to their location. Like proton therapy, gamma knife radiosurgery delivers targeted radiation with extreme precision, leaving very few effects on the tissue around it. It is done entirely as an outpatient procedure and doesn't require an incision or general anesthesia. While it can treat other conditions of the brain, gamma knife radiosurgery's most common use is for brain metastases.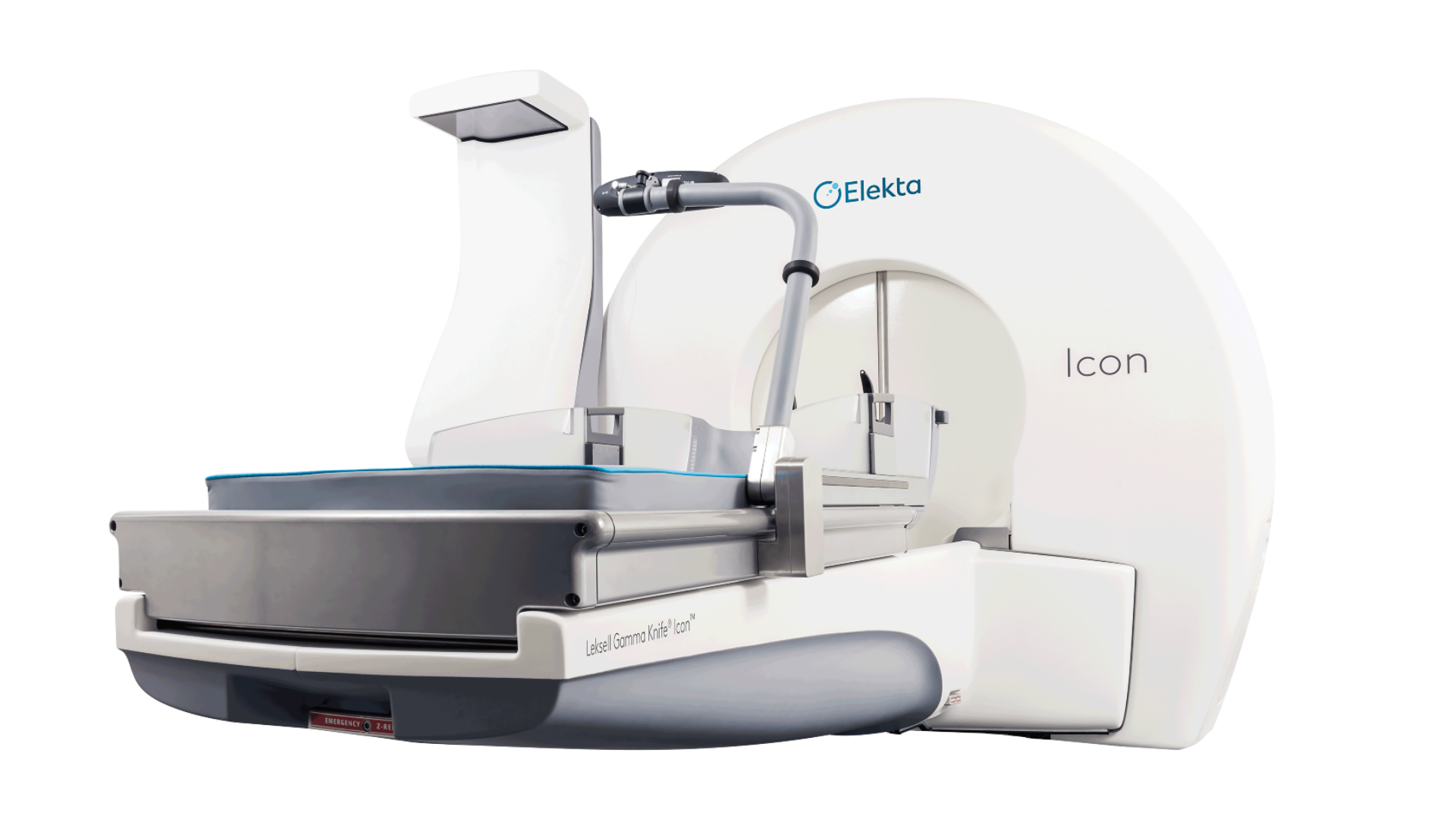 Gamma knife therapy
"We have pioneered a technique of using radiation prior to the surgical resection of brain metastases with excellent outcomes," said Dr. Stuart Burri, chairman of radiation oncology at Levine Cancer Institute. "The gamma knife will allow us to do this even more, which is a huge positive. We are at the forefront of advancing brain metastasis management in the country and this will be another tool to help our patients with complex lesions of the brain receive the most effective treatment possible."
Levine Cancer Institute and the Neurosciences Institute will collaborate closely to create an efficient and thorough patient experience throughout the gamma knife radiosurgery process – as they have for years.
"We've been committed to this collaboration for more than 20 years," said Dr. Anthony Asher, president of the Neurosciences Institute and surgical director of the neuro-oncology program at Levine Cancer Institute. "Our standard of care is to treat every patient from a multidisciplinary perspective to make sure that all reasonable options are considered."
The shared space will also foster continued research collaboration. Burri and Asher will be co-principal investigators on a national cooperative group clinical trial that will open in 2023 that will advance the use of gamma knife radiosurgery. The trial will enroll patients from across the country.
During construction of the facility, radiation oncologists will receive specialized training in proton beam therapy and gamma knife radiosurgery. In addition, Atrium Health will hire specialized physicists to join the staff in this work. The center is expected to open in 2023, with gamma knife radiosurgery beginning mid-year and proton beam therapy beginning later that year.
About Atrium Health
Atrium Health is a nationally recognized leader in shaping health outcomes through innovative research, education and compassionate patient care. Based in Charlotte, North Carolina, Atrium Health is an integrated, nonprofit health system with more than 70,000 teammates serving patients at 40 hospitals and more than 1,400 care locations. It provides care under the Atrium Health Wake Forest Baptist name in the Winston-Salem, North Carolina, region, as well as Atrium Health Navicent and Atrium Health Floyd in Georgia and Alabama. Atrium Health is renowned for its top-ranked pediatric, cancer and heart care, as well as organ transplants, burn treatments and specialized musculoskeletal programs. A recognized leader in experiential medical education and groundbreaking research, Wake Forest University School of Medicine is the academic core of the enterprise, including Wake Forest Innovations, which is advancing new medical technologies and biomedical discoveries. Atrium Health is also a leading-edge innovator in virtual care and mobile medicine, providing care close to home and in the home. Ranked nationally among U.S. News & World Report's Best Hospitals in eight pediatric specialties and for rehabilitation, Atrium Health has also received the American Hospital Association's Quest for Quality Prize and its 2021 Carolyn Boone Lewis Equity of Care Award, as well as the 2020 Centers for Medicare & Medicaid Services Health Equity Award for its efforts to reduce racial and ethnic disparities in care. With a commitment to every community it serves, Atrium Health seeks to improve health, elevate hope and advance healing – for all, providing more than $2 billion per year in free and uncompensated care and other community benefits.