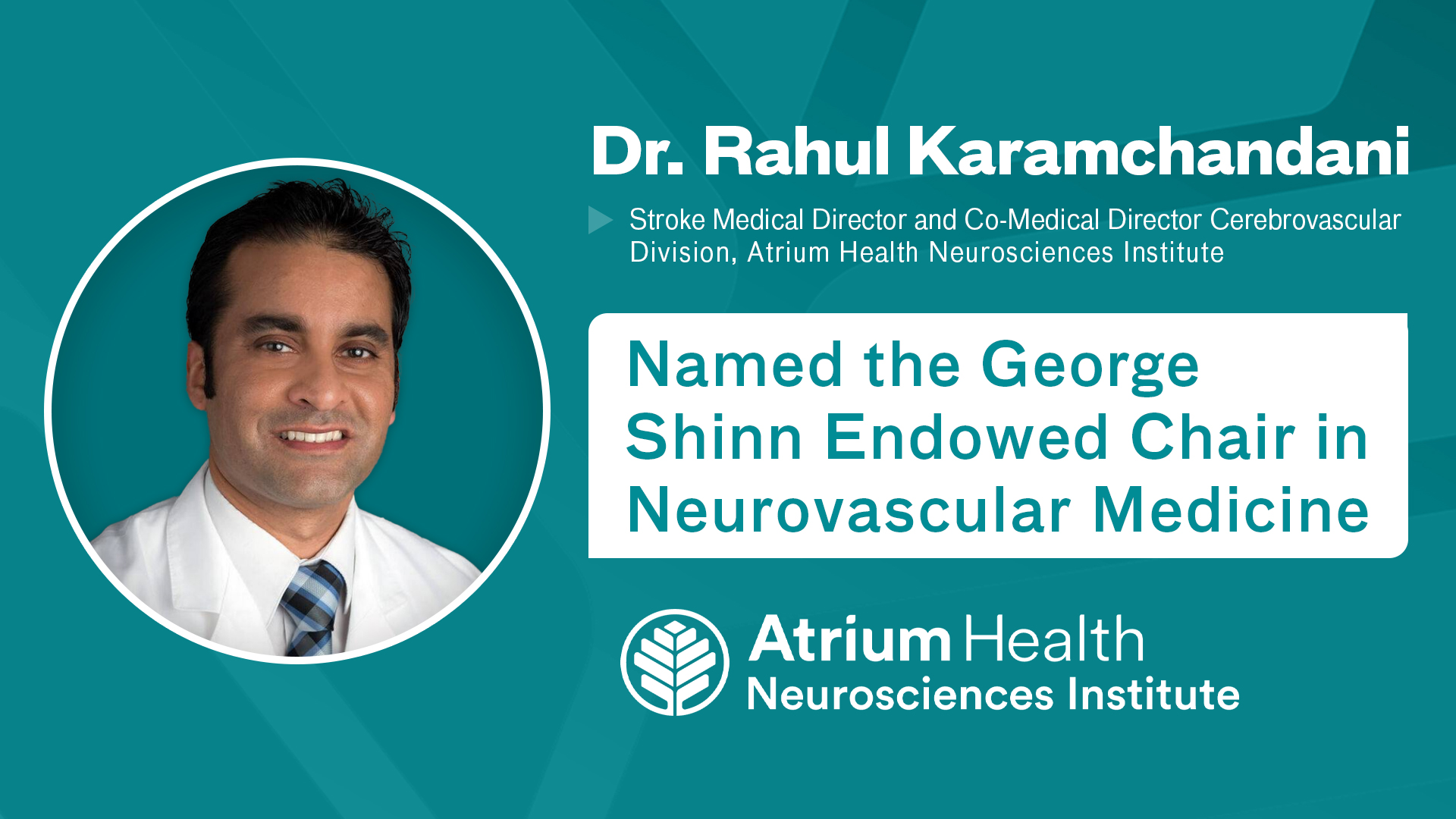 Dr. Rahul Karamchandani named George Shinn Endowed Chair of Neurovascular Medicine
08.04.2022
Atrium Health News
Atrium Health is pleased to announce that Dr. Rahul Karamchandani has been named the inaugural George Shinn Endowed Chair of Neurovascular Medicine.
The George Shinn Endowed Chair in Neurovascular Medicine was founded in 2020, as part of a $7.5 million transformational gift from George Shinn in support of Atrium Health's regional stroke network. This faculty position promotes neuroscience presence, expertise and research across the country.
In his new role, Karamchandani will serve as the senior leader of the Atrium Health cerebrovascular program for the greater Charlotte region. He will be responsible for providing stewardship over the continuum of stroke care, including, but not restricted to, the coordination of preventive care services, acute care services, transition of care services and post-acute care services, along with associated continuous quality improvement and academic efforts. Additionally, he will have responsibilities for informing our strategic direction for the Cerebrovascular Program across the Atrium Health enterprise.
"I am truly honored to lead such a talented team at one of the nation's premier stroke centers," said Karamchandani. "We are incredibly grateful to Mr. Shinn, the Shinn Family and the Shinn Foundation. I look forward to continuing to expand our capabilities and serve patients within our community and beyond."
Leading the Way
Karamchandani has been with Atrium Health since 2017. Among numerous other accomplishments, Karamchandani led the creation and implementation of stroke guidelines during the COVID-19 pandemic, drafted and implemented system endovascular thrombectomy guidelines, helped develop protocols for pediatric stroke and medical management of basilar artery occlusions and also helped institute a standardized screening protocol for patients suspected of having a large artery occlusion. During his time with Atrium Health, he has participated in multiple research projects and authored or co-authored several publications. One of his recent publications, "A Tool to Improve Stroke Outcomes Prediction: The Charlotte Large Artery Occlusion Endovascular Therapy Outcome Score," was published in Journal of Stroke and Cerebrovascular Diseases and helps risk stratify large artery occlusion stroke patients before endovascular intervention.
"Dr. Karamchandani has been a tremendous asset to the Neurosciences Institute since joining Atrium Health," said Dr. Tony Asher, president and enterprise service line leader of Atrium Health Neurosciences Institute, Atrium Health Wake Forest Baptist and interim chairman, Department of Neurological Surgery at Atrium Health's Carolinas Medical Center. "He has been instrumental in the growth of our cerebrovascular program, serving as stroke medical director at Carolinas Medical Center and, more recently, co-director of the cerebrovascular program."
Karamchandani completed his undergraduate training at the University of Michigan, earning a Bachelor of Science degree in biochemistry, with distinction and honors. After completing medical school at Wayne State University School of Medicine, in Detroit, he returned to the University of Michigan for neurology residency, where he served as co-chief resident during his final year. He completed his training as a vascular neurology fellow at the University of Texas Health Science Center, in Houston.
Expert Stroke Care at Neurosciences Institute
As the largest stroke network in the region, the Comprehensive Stroke Center at Atrium Health Carolinas Medical Center offers patients access to life-saving treatments closer to home. With one of the most experienced teams in the region, the center treats over 4,000 strokes each year. The program emphasizes prevention, rapid response and treatment, and support for patients and families, post-acute care.
The donation from George Shinn will also provide extra support the center needs to innovate and enhance its services to provide cutting edge technology and new research opportunities across its network of more than 30 sites. Funds will also augment support services for stroke survivors and their caregivers – such as psychosocial testing and patient and family education – for up to one year after discharge from an acute hospital stay.