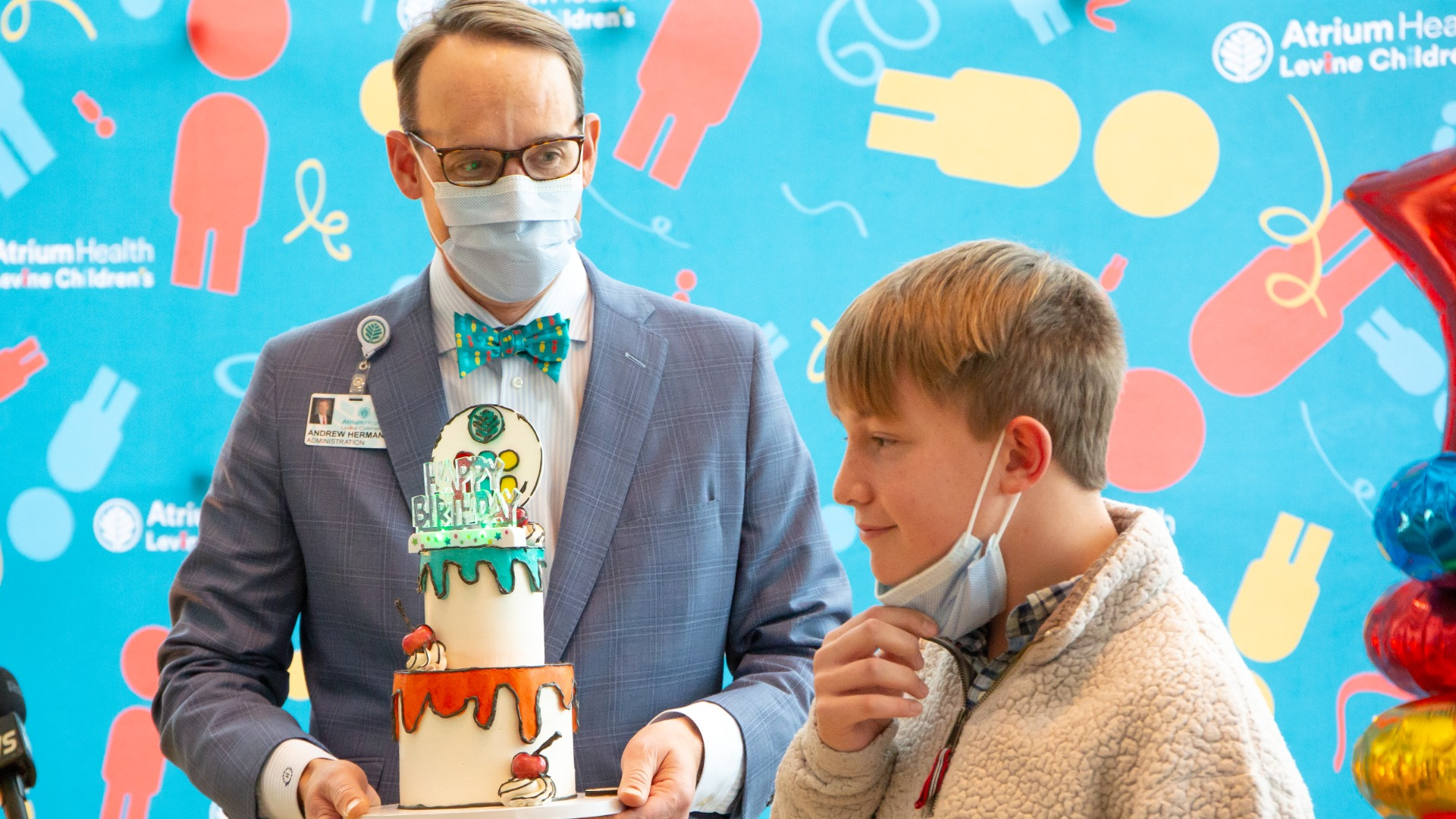 Atrium Health Levine Children's Hospital Celebrates 15 Years of Serving Community and Beyond
12.05.2022
Atrium Health News |
Levine Children's
World renowned children's hospital commemorates caring for over 12,000 patients over last 15 years
CHARLOTTE, N.C., Dec. 5, 2022 – In December 2022, Atrium Health Levine Children's Hospital is celebrating 15 years of serving the Charlotte region with the most comprehensive and compassionate children's care.
Atrium Health Levine Children's Hospital began full operation in December 2007 after lead donors Sandra and Leon Levine and community members came together to raise the necessary funds to provide the best care for children.
Now, 15 years later with over 12,000 annual patient encounters, the hospital provides an unmatched level of expert care in more than 30 areas of pediatric medicine, including the only Level I pediatric trauma center in the region.
"When Levine Children's Hospital opened in 2007, I was working as a nurse in the neonatal intensive care unit," said Callie Dobbins, senior vice president of Atrium Health Levine Children's. "Since then, I've had the privilege of watching this hospital achieve new levels of clinical excellence and achieve great milestones, like being named a U.S. News & World Report's 'Best Children's Hospital' every year since our inception. From our first day to present day, we are humbled by the support of our community, and we remain steadfast in our commitment to provide the highest quality care, in the most compassionate way, to all children who need it."
With a vision to consistently expand and improve care available to patients, Atrium Health Levine Children's Hospital has been recognized for outstanding clinical care and achieving many remarkable milestones, including:
performing nearly 300 pediatric transplants as the region's only pediatric transplant center, over 100 of which were heart transplants, including a record breaking 19 in 2021, the most on the East coast;
establishing the region's only pediatric heart surgery program and pediatric cardiovascular intensive care unit;
establishing a best in the nation Nephrology Center of Excellence that has performed more than 100 pediatric kidney transplants;
providing care for over 300 pediatric cancer patients each year through a destination center for pediatric cancer research and headquarters to the Beat Childhood Cancer Consortium, as well as offering one of the only MIBG therapy suites in the region to provide targeted radiation to cancer patients;
being home to the region's only accredited Cystic Fibrosis Center;
adding an additional 81 pediatric bed spaces to increase the facility's total bed capacity to 247;
operating one of only 11 Ryan Seacrest Studios in the country to provide unique therapeutic distractions for patients; and,
developing an entire network of care with over 150 primary care pediatricians across North Carolina and South Carolina who have a direct line to Levine Children's Hospital should a child need specialized level of care.
"The medical milestones we have achieved over the past 15 years were fulfilled with the sole purpose of providing families peace of mind that their children are receiving the best care at Levine Children's Hospital," said Dr. Stacy Nicholson, president of Atrium Health Levine Children's. "While we are proud to provide many of the region's top, innovative technologies and therapies, what remains most important is the opportunity to provide each child with individualized, friendly care close to home, as well as being a destination hospital for national and international patients."
That customized care is shown through the dedicated team of providers – including experienced pediatricians, renowned pediatric specialists, specially trained nurses and child life specialists – who develop a care plan beyond medical practices. Levine Children's contributes to the holistic care of patients through personal touches like gifting stuffed animals, distributing blankets, making holidays at the hospital special with an appearance from Santa Claus, and recurring visits from the tooth fairy and superheroes.
As a highly sought-after destination for care that specialists from all over the region, nation and even the world refer patients to, Atrium Health Levine Children's Hospital is proud to be a world class destination for all children's health care needs- a privilege we look forward to expanding upon for years to come.
Follow us on Facebook, Instagram and Twitter to be part of the 15th year celebration honoring Atrium Health Levine Children's Hospital.
About Atrium Health
Atrium Health is a nationally recognized leader in shaping health outcomes through innovative research, education and compassionate patient care. Based in Charlotte, North Carolina, Atrium Health is an integrated, nonprofit health system with more than 70,000 teammates serving patients at 40 hospitals and more than 1,400 care locations. Atrium Health is part of Advocate Health, the fifth-largest nonprofit health system in the United States, which was created from the combination with Advocate Aurora Health. It provides care under the Atrium Health Wake Forest Baptist name in the Winston-Salem, North Carolina, region, as well as Atrium Health Navicent and Atrium Health Floyd in Georgia and Alabama. Atrium Health is renowned for its top-ranked pediatric, cancer and heart care, as well as organ transplants, burn treatments and specialized musculoskeletal programs. A recognized leader in experiential medical education and groundbreaking research, Wake Forest University School of Medicine is the academic core of the enterprise, including Wake Forest Innovations, which is advancing new medical technologies and biomedical discoveries. Atrium Health is also a leading-edge innovator in virtual care and mobile medicine, providing care close to home and in the home. Ranked nationally among U.S. News & World Report's Best Hospitals in eight pediatric specialties and for rehabilitation, Atrium Health has also received the American Hospital Association's Quest for Quality Prize and its 2021 Carolyn Boone Lewis Equity of Care Award, as well as the 2020 Centers for Medicare & Medicaid Services Health Equity Award for its efforts to reduce racial and ethnic disparities in care. With a commitment to every community it serves, Atrium Health seeks to improve health, elevate hope and advance healing – for all, providing $2.46 billion last year in free and uncompensated care and other community benefits.