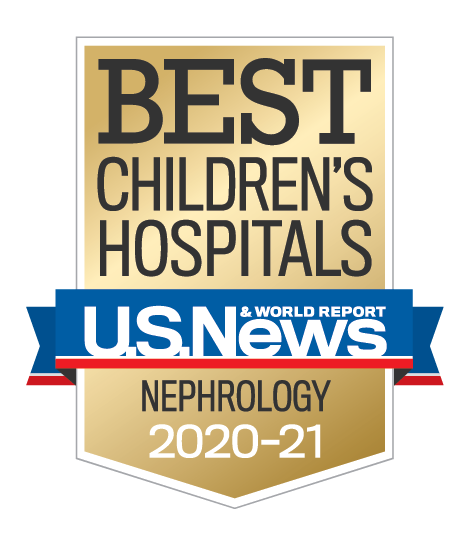 When your child is living with a kidney condition, we give them the compassionate, expert care they need to feel and be their best. From advanced diagnosis and treatment options to nation-leading transplant outcomes, Levine Children's Hospital's pediatric nephrology team delivers best-in-class kidney care for your child.
Ranked by U.S. News & World Report as one of the country's top destinations for pediatric kidney care, we offer an expert team of doctors, nurses and around-the-clock specialists dedicated to getting your child back to good health. And we combine this nationally renowned expertise with Levine Children's Hospital's child-focused care and amenities to bring you care that's both leading-edge and kid friendly.
Pediatric Nephrology Conditions
Our pediatric nephrologists diagnose and treat a variety of conditions, including:
Kidney failure (acute and chronic)
Nephritis (inflammation of the kidneys)
Cystic kidney disease
Acid-base and electrolyte disorders
Autoimmune disorders
Disorders of calcium and phosphorus
Genetic kidney disorders
Glomerular diseases
Hematuria
Hemolytic uremic syndrome
Hypertension (high blood pressure)
Lupus nephritis
Nephrotic syndrome
Osteogenesis imperfect
Osteoporosis in children
Proteinuria
Renal calculi
Tubular disorders
Urinary tract infections
Pediatric Nephrology Services
We offer the full range of evaluation and treatment services for pediatric kidney conditions, including:
Dialysis from one of the largest pediatric dialysis centers in the country, and the only one in the Carolinas
Kidney transplant
Kidney stone testing
Kidney biopsy
Kidney imaging (including ultrasound, MRI and CT scan)
24-hour blood pressure monitoring
Biophosphonate therapy
Bone mineral densitometry
Interventional radiology
Urinalysis
Pediatric Kidney Transplant
For children with end-stage kidney disease, we offer nationally recognized kidney transplant care from a large team of specialists. Your child's care team includes transplant surgeons, transplant nephrologists, pediatric intensive care nurses and staff, pediatric dialysis nurses and child life specialists.
The transplant process includes the following steps:
Our specialists evaluate your child and complete all necessary testing
Your child's doctors review and help you understand your donor options
Once a kidney becomes available, our team performs transplant surgery
Your child recovers in the hospital, receiving follow-up evaluation and care
We monitor and manage your child's condition to ensure their long-term health
Meet a Patient
James and His Newfound Freedom
Since his kidney transplant, James has more energy and freedom to go to school and be a kid. Watch to learn more.
More Than His Chronic Disease
Kyle has battled with chronic kidney disease for most of his life. See how the right care and attitude help him stay positive. Read about Kyle.
Pediatric Nephrology Location
Dialysis is offered on an outpatient basis at Levine Children's Hospital.
We offer pediatric kidney care at Levine Children's Hospital as well as the following Levine Children's Specialty Center location:
Medical Center Plaza
1001 Blythe Blvd., Suite 200-E
Charlotte, NC 28203
Phone
: 704-381-8840
Get Directions