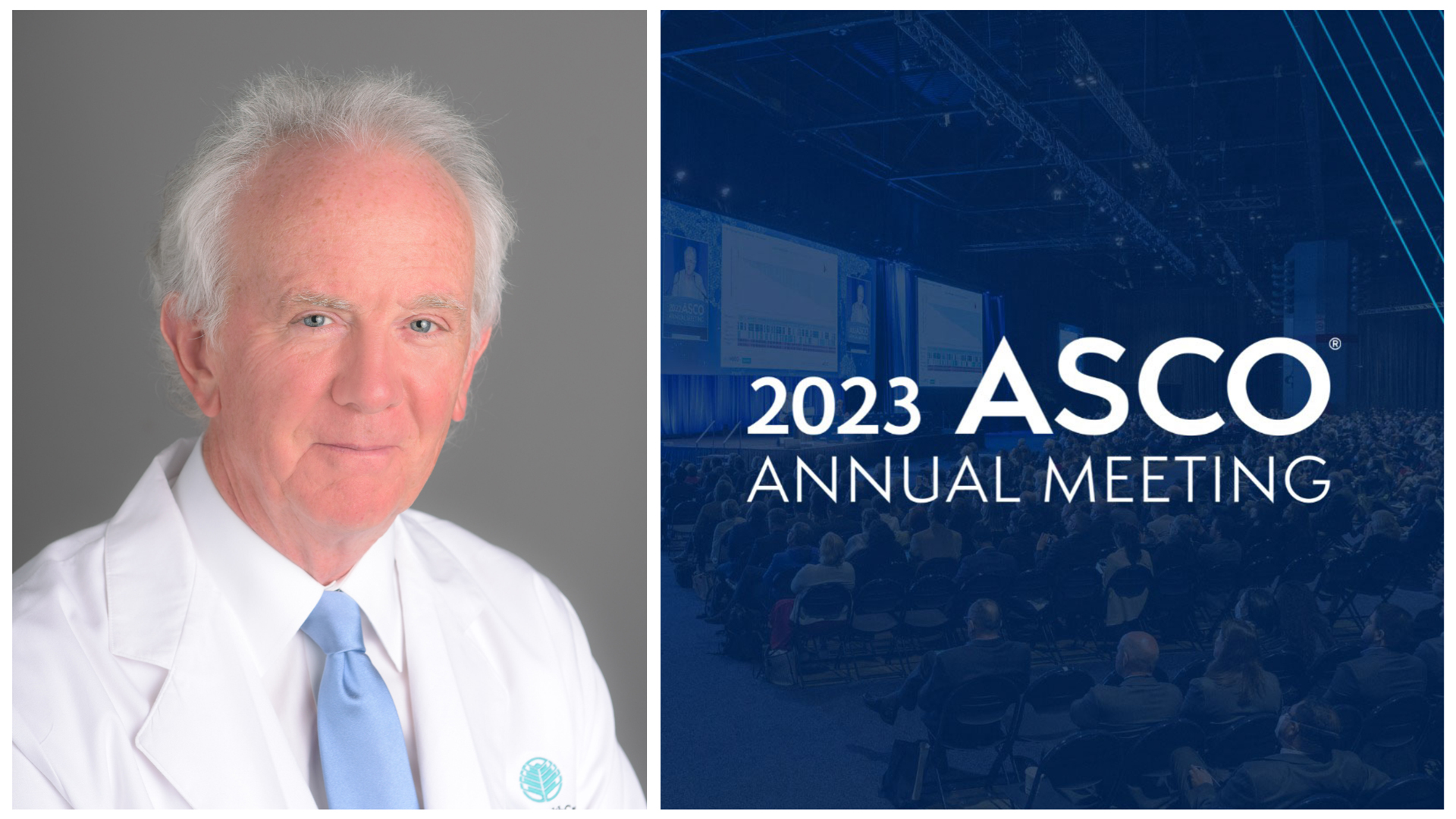 Atrium Health Levine Cancer Institute Physician to Receive Prestigious Award
06.05.2023
Levine Cancer Institute
2023 Walther Cancer Foundation Endowed Supportive Oncology Award Presented to Dr. Declan Walsh
CHARLOTTE, N.C., June 5, 2023 – Dr. Declan Walsh, Hemby Family Endowed Chair in Supportive Oncology at Atrium Health Levine Cancer Institute, is set to receive the prestigious 2023 Walther Cancer Foundation Endowed Supportive Oncology Award at the American Society of Clinical Oncology (ASCO) Annual Meeting June 2-6, in Chicago. This esteemed honor recognizes distinguished leaders who have made significant contributions to palliative and supportive oncology care.
As a strong advocate for supportive oncology, Walsh's work has focused on improving the quality of life for cancer patients by managing treatment-related suffering. His pioneering efforts in integrating various supportive services, including palliative medicine, cancer rehabilitation and psycho-oncology into a single department, has markedly transformed cancer patient care.
"In our department, we recognize that every patient is an individual with unique needs and concerns," said Walsh. "We've aimed to create an environment that offers comprehensive support, addressing everything from malnutrition to psycho-oncological needs. This recognition from the Walther Cancer Foundation highlights the significance of our mission, inspiring us to further innovate and enhance patient care."
In 1987, Walsh launched the first palliative care program in the U.S. at the Cleveland Clinic Taussig Cancer Center. There, he developed acute care and home care services to assist patients and their families with decision-making, complication management and symptom control.
His significant work in palliative care served as a springboard to address the more complex challenges faced by cancer patients. By 2017, with support from Atrium Health Levine Cancer Institute, he created the first-ever department of supportive oncology that integrates services such as rehabilitation, nutrition, surgical oncology prehabilitation and survivorship.
"Dr. Walsh's visionary leadership and dedication to patients' well-being has put Atrium Health Levine Cancer Institute on the map as a paragon of integrated cancer care," said Dr. Ruben A. Mesa, president and executive director of Levine Cancer Institute and Atrium Health Wake Forest Baptist Comprehensive Cancer Center. "Dr. Walsh's research on malnutrition, a pervasive, yet underrecognized problem among cancer patients, is paving the way for more effective interventions to improve patients' nutritional status."
At Levine Cancer Institute, patients with cancer undergo comprehensive distress screening at the time of diagnosis, facilitating early intervention and tailored care from specialists within the department of supportive oncology. This proactive approach has enhanced patient outcomes, demonstrating the significant benefits of integrated cancer care.
"Looking toward the future, our goal is to share the lessons we've learned and the model we've created with health care systems, both in the U.S. and globally," said Walsh. "We want to see this type of comprehensive, supportive care become the standard for cancer treatment worldwide. This award propels us forward in that endeavor."
Atrium Health Levine Cancer Institute and Atrium Health Wake Forest Baptist Comprehensive Cancer Center are poised to play a significant role in the 2023 ASCO conference, where physicians will share groundbreaking research findings on the latest diverse cancer studies, which could lead to improved treatments and enhanced patient care. The involvement of these esteemed institutes underscores Atrium Health's commitment to advancing cancer care, sharing its knowledge and driving meaningful discussions within the global oncology community.
---
About Atrium Health
Atrium Health is a nationally recognized leader in shaping health outcomes through innovative research, education and compassionate patient care. Based in Charlotte, North Carolina, Atrium Health is part of Advocate Health, the fifth-largest nonprofit health system in the United States, which was created from the combination with Advocate Aurora Health. A recognized leader in experiential medical education and groundbreaking research, Wake Forest University School of Medicine is its academic core. Atrium Health is renowned for its top-ranked pediatric, cancer and heart care, as well as organ transplants, burn treatments and specialized musculoskeletal programs Atrium Health is also a leading-edge innovator in virtual care and mobile medicine, providing care close to home and in the home. Ranked nationally among U.S. News & World Report's Best Hospitals in eight pediatric specialties and for rehabilitation, Atrium Health has also received the American Hospital Association's Quest for Quality Prize and its 2021 Carolyn Boone Lewis Equity of Care Award, as well as the 2020 Centers for Medicare & Medicaid Services Health Equity Award for its efforts to reduce racial and ethnic disparities in care. With a commitment to every community it serves, Atrium Health seeks to improve health, elevate hope and advance healing – for all, providing $2.46 billion last year in free and uncompensated care and other community benefits.
About Advocate Health
Advocate Health is the fifth-largest nonprofit integrated health system in the United States – created from the combination of Advocate Aurora Health and Atrium Health. Providing care under the names Advocate Health Care in Illinois, Atrium Health in the Carolinas, Georgia and Alabama, and Aurora Health Care in Wisconsin, Advocate Health is a national leader in clinical innovation, health outcomes, consumer experience and value-based care, with Wake Forest University School of Medicine serving as the academic core of the enterprise. Headquartered in Charlotte, North Carolina, Advocate Health serves nearly 6 million patients and is engaged in hundreds of clinical trials and research studies. It is nationally recognized for its expertise in cardiology, neurosciences, oncology, pediatrics and rehabilitation, as well as organ transplants, burn treatments and specialized musculoskeletal programs. Advocate Health employs nearly 150,000 team members across 67 hospitals and over 1,000 care locations and offers one of the nation's largest graduate medical education programs with over 2,000 residents and fellows across more than 200 programs. Committed to equitable care for all, Advocate Health provides nearly $5 billion in annual community benefits.