Building Healthier Communities
Advocate Health Southeast Region President Ken D. Haynes told the Board of Commissioners at its first meeting of the year on Feb. 14 that the new health system is already uniting around one key question: How will our communities be healthier because of our combination?
It comes just over two months after Atrium Health announced it was combining with Midwest-based Advocate Aurora Health to form Advocate Health. It is another bold move and, according to Haynes, it's on the right track.
Haynes told the board that key leaders are working together, focusing on what they can learn from each other as Advocate Health continues developing its full leadership team and integrating its Midwest and Southeast region operations.
"I think I speak for the entire leadership team when I say how gratifying it has been to see the enthusiasm for the new Advocate Health," Haynes said, "as we work to become one organization, bringing together our shared strength, expertise, values and vision to better serve the nearly six million patients across six states who trust their care to us, which is very, very important."
Under the Advocate Health structure, patient care will still be delivered under the Atrium Health brand in the Southeast U.S.
Growing Strong Already in 2023
Atrium Health has long been known for its award-winning care and groundbreaking medical advancements, as well as its ambitious plans to meet the needs of a growing population while improving health equity and providing better access to better care for more people. This is, after all, a health system that made it its mission to improve health, elevate hope and advance healing – for all. And they're making good on a lot of those ambitions.
It may only be February, but it's already been a landmark year for Atrium Health. Haynes listed off a string of accomplishments, including the groundbreaking of Wake Forest University School of Medicine Charlotte and its surrounding innovation district, "The Pearl," a mixed-use development featuring education, retail and other amenities available to the entire community – plus living space set aside for affordable housing. It is, in essence, an area specifically designed to be a place where people from all walks of life will feel welcome and grow together. It's going to change the landscape of Charlotte – both literally and figuratively.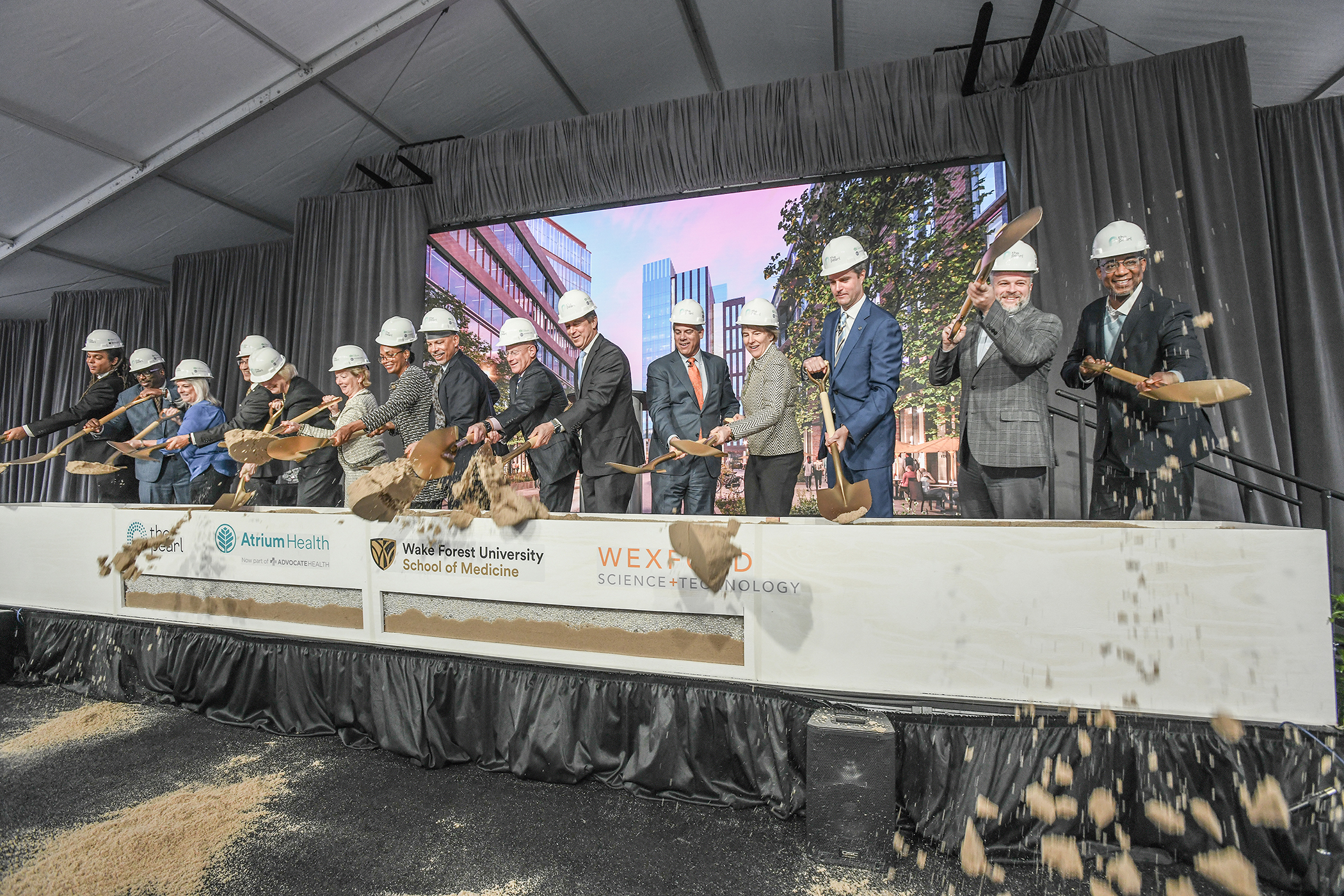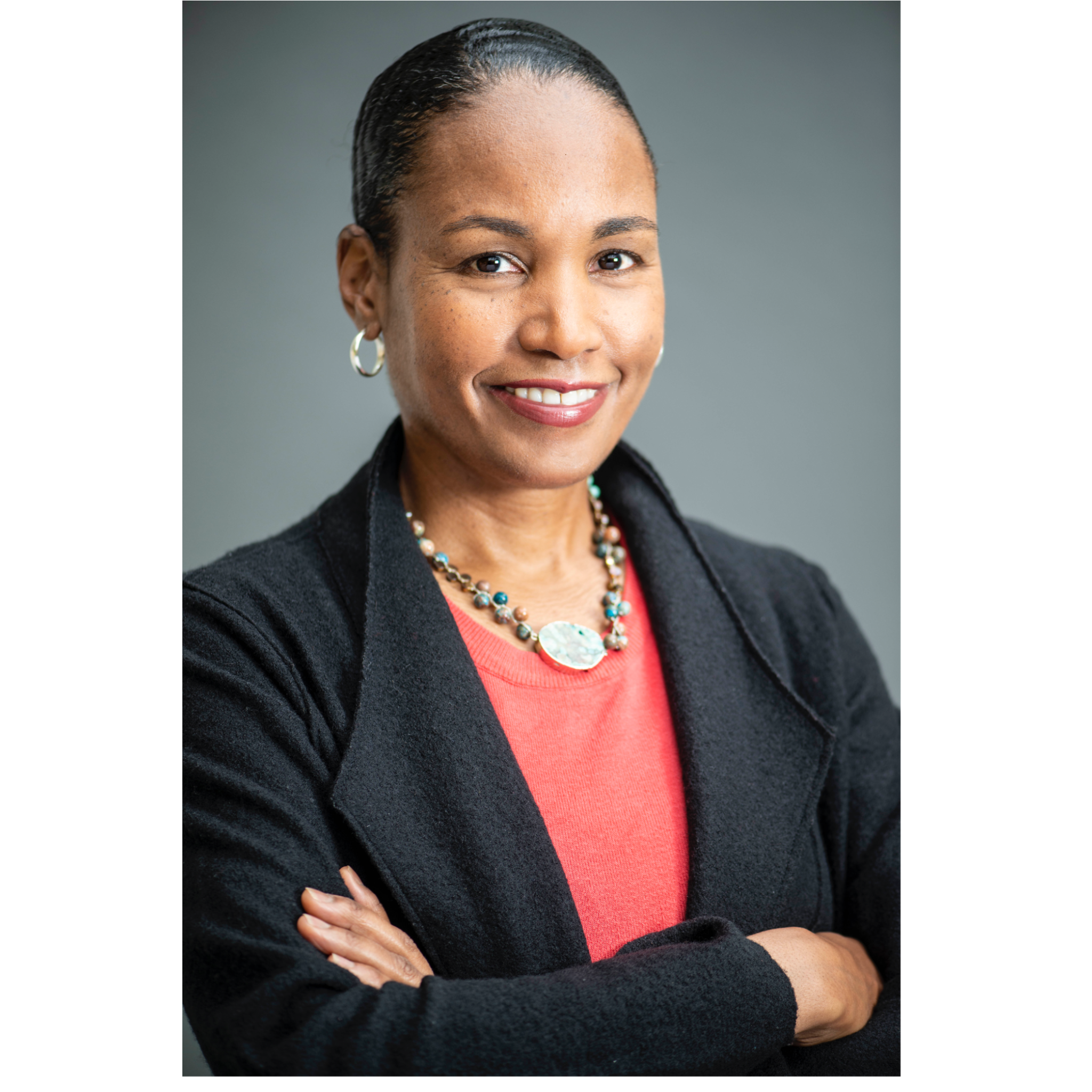 At left: Leaders from Atrium Health and the Charlotte community break ground on The Pearl; At right: Dr. L. Ebony Boulware, is the new dean of the Wake Forest University School of Medicine
Haynes also noted that the day of the groundbreaking marked the first day for Dr. Ebony Boulware, the new dean of Wake Forest University School of Medicine, who is also chief science officer and vice chief academic officer at Advocate Health. Boulware will lead all aspects of the medical school, including programs to advance the clinical, research, education, innovation and community engagement missions.
Meanwhile, Atrium Health also welcomed the first patients at the new David L. Conlan Center at Atrium Health Carolinas Rehabilitation last month. Haynes told the board the new center in Charlotte specializes in personalized therapy for common to complex conditions due to injury or illness and is meeting yet another growing need in the community.
Meeting the Needs of the Community – and Beyond
It's common knowledge and part of the general, local conversation that Charlotte and its surrounding areas are booming. The population growth has led to significant increases in demand for health care across the region. What's remarkable is how Atrium Health continues meeting those demands – and is preparing for more growth in the future.
Haynes noted that it's now been a year since the opening of Atrium Health Union West, the system's first new hospital in 30 years, as well as the Atrium Health Mountain Island Emergency Department, a facility of Atrium Health University City, which provides 24-hour emergency medical services to the Northwest Charlotte area. The two facilities were designed specifically to accommodate the growing needs of the communities they serve.
"At Mountain Island, the access to care has improved dramatically," Haynes said. "Since our grand opening it has grown faster than any Atrium Health free-standing emergency department to date. The team has also offered exceptional patient experience with survey results in the top 25% nationally."
"We saw over 18,000 patients in 2022," Haynes said, noting it was more than twice the expected number of patients.
Which brings us to even more growth coming in the system's future. Haynes announced Atrium Health has completed the design phase for its Lake Norman hospital with plans to break ground in spring 2023 and open in 2025. If the growth rates of the Mountain Island facility are any indication, Atrium Health Lake Norman will provide a welcome resource for that community.
Meanwhile, Haynes said he anticipates serving the first patients at the new Charlotte Center for Advanced Radiation, which is being constructed near Atrium Health Levine Cancer Institute, by the end of this year. The center will offer two treatment options that are new to the Charlotte area – proton beam therapy, a form of highly precise radiation therapy, and gamma knife radiosurgery, a non-invasive treatment for brain lesions.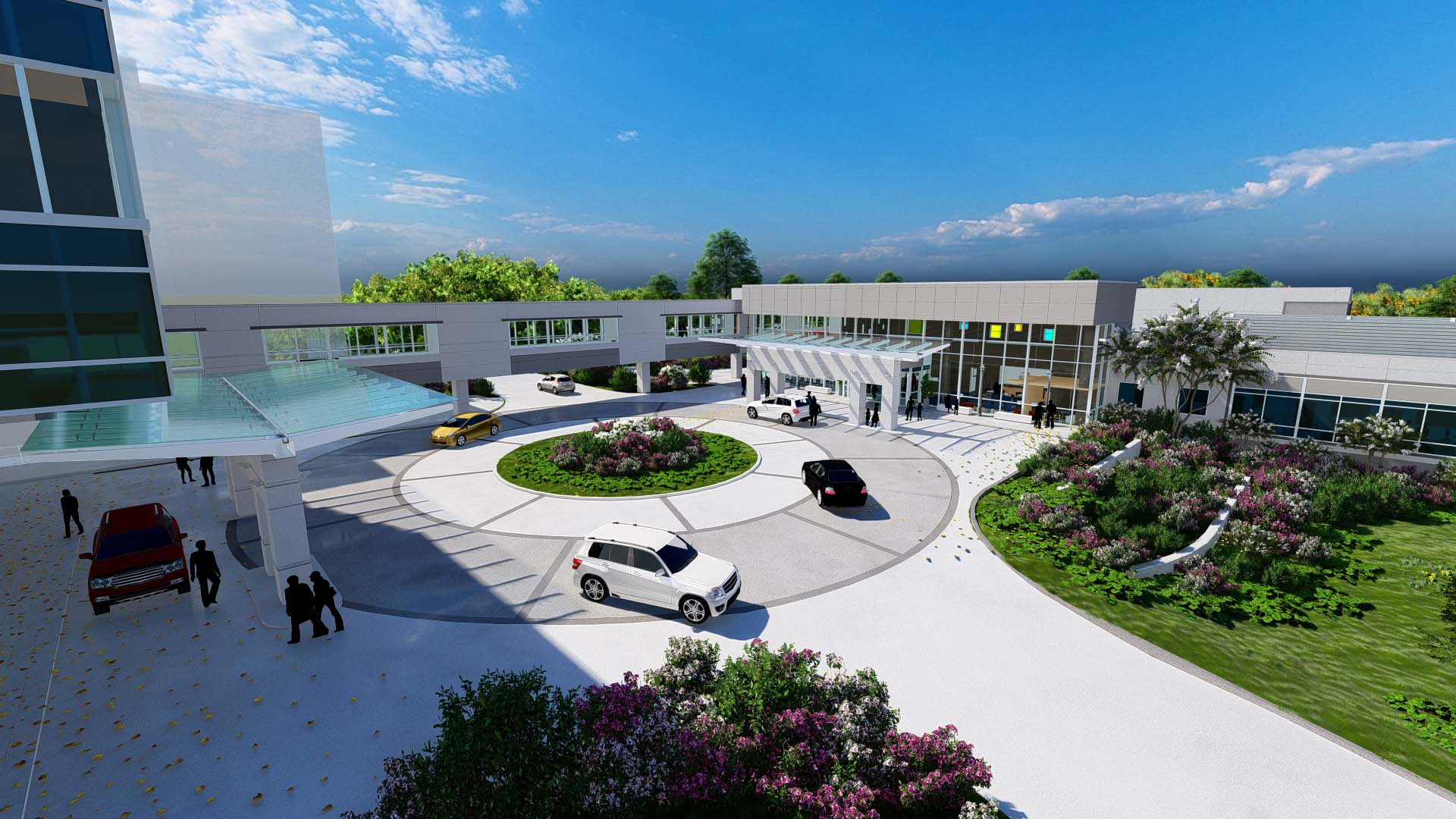 The Charlotte Center for Advanced Radiation is expected to open by the end of 2023
And progress continues on the construction project surrounding Atrium Health Carolinas Medical Center, with groundbreaking on a new bed tower slated for summer of 2023. That includes a lot of heavy demolition expected in mid-April. The new bed tower is expected to fully open in 2027.
Changing the Response to a Changing Workforce
Meanwhile, Atrium Health is working to overcome the nationwide situation regarding a shortage in the health care work force. It's no secret the last few years have been challenging for health care workers. Many have left the field altogether, leaving shortages in critical areas, and creating more stress for those who remain. But Atrium Health has a multi-faceted plan to help.
New Advocate Health Chief Nursing Officer Mary Beth Kingston told the board that Atrium Health's efforts to recruit and retain the best nurses have led to a 4.6% reduction in workforce turnover.
"Many of our efforts right now are focused on the nursing workforce," she explained. "We need to continue to strengthen that workforce to deliver that care our patients and communities need and deserve and we are making progress."
Those efforts include a $180 million investment into Atrium Health's current teammates through base-pay compensation increases and financial awards, as well as providing up to $25,000 in sign-on bonuses in specific areas to help attract top talent. Kingston told the board Atrium Health hired an additional 940 registered nurses in 2022.
Additionally, the organization has expanded its highly successful virtual patient observation program by 20%.
All this is making a difference for nurses across the system. Kingston told the board nursing engagement outcomes have improved and exceed the national benchmark.
The Best Heart Care – FOR ALL
On Valentine's Day in the heart of … heart month, Haynes highlighted some of the success of Atrium Health Sanger Heart and Vascular Institute, home to the only heart transplant program in the Charlotte region. For more than 35 years, Sanger Heart and Vascular Institute has been performing heart transplants and, last year, the team performed 51 of the life-saving transplants – more than any other year before.
"It's truly a testament to how our world-class teams work together for patients and their families every step of the way," Haynes said.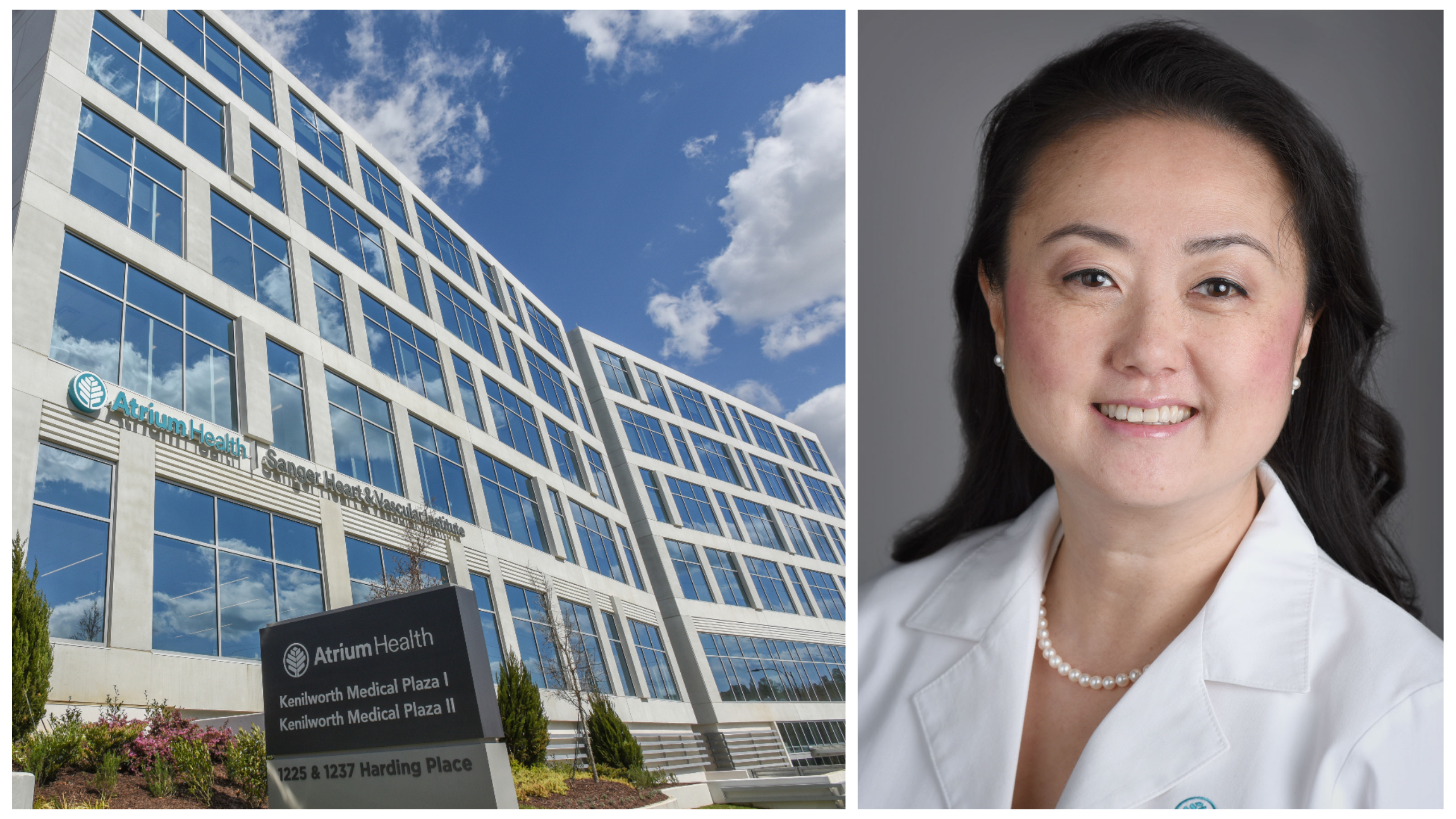 Atrium Health Center for Women's Cardiovascular Health, led by Dr. Esther (Soo Hyun) Kim is the first of its kind in the region
Medical Staff President Dr. Jonathan McKinsey told the board that Sanger Heart and Vascular Institute recently established a Center for Women's Cardiovascular Health, led by Dr. Esther (Soo Hyun) Kim, a nationally known cardiologist and vascular medicine specialist. It's the first center in the greater Charlotte region to offer treatment for spontaneous coronary artery dissection and fibromuscular dysplasia, important causes of heart attack and stroke in women. In addition, Kim and colleagues will care for women with the full range of heart and vascular disease concerns, including heart attacks and aneurysms, as well as for patients at high risk for heart disease due to family history or risk factors affected by lifestyle, such as high blood pressure and high cholesterol. Women nationwide are diagnosed with heart disease and treated at a later stage than men. With the new center's focus on the needs of female patients, the goal is to eliminate that discrepancy and provide timely care.
Sounds like another bold plan, but one that has great promise for success.
How will the communities be healthier because of Atrium Health, now part of Advocate Health? Stay tuned. Thanks to years of work from Atrium Health and its teammates, it seems like they're on their way to a healthier future already.