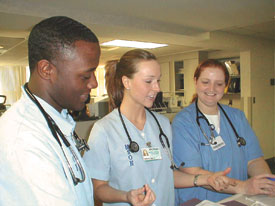 We consistently evaluate our programs to identify ways to improve value of care delivery, to develop efficiencies in our processes and to ensure patients receive the best possible care. This ongoing process recently has included a review of our educational programs to understand how to best meet the demands of an evolving healthcare system and changing needs of patients.
Following this evaluation, the organization has made the decision to restructure its nursing education programs and to continue to enhance the education provided at Carolinas College of Health Sciences and Cabarrus College of Health Sciences, a facility of Atrium Health Cabarrus. As such, Mercy School of Nursing ceased operations on May 30, 2016.
This decision is in no way a reflection of the educational excellence delivered by Mercy School of Nursing faculty or of the outstanding care delivered by its teammates or alumni. Providing quality education through our schools remains a priority for Atrium Health, and we will continue to offer among the best nursing education and training in the region and in the nation.
For more information about the nursing programs at Atrium Health contact Cabarrus College of Health Sciences at 704-403-1555 or Carolinas College of Health Sciences at 704-355-5051.
Degree Verification
Mercy School of Nursing has authorized the National Student Clearinghouse to provide enrollment and degree verifications. The National Student Clearinghouse can be contacted at:
Web:

www.degreeverify.org

Mail: National Student Clearinghouse, 2300 Dulles Station Blvd., Suite 300, Herndon, VA 20171