Mercy School of Nursing alumni have always embodied the school's spirit and tradition that spanned throughout its 110-year history. Despite all of the changes that have occurred over the years, our alumni are still a vital part of the school's rich history - alumni services and coordination will continue for Mercy School of Nursing alumni. For more information, contact Ruthie Mihal at 704-609-1542 or via email Ruthie.Mihal@AtriumHealth.org.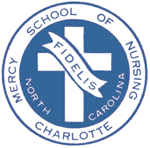 We love hearing from our alumni and encourage you to stay in touch. If you've lost contact with MSON or if your mailing information has changed, we want to know so we can send you information about upcoming alumni events. Send your changes by mail to the address below or e-mail Ruthie Mihal, alumni relations manager at ruthie.mihal@atriumhealth.org. If you would like to access your profile to make changes to the online directory, let Ruthie know and she will send you the website address and access codes.
Contact Us
Mercy School of Nursing Alimni Relations
c/o Carolinas College of Health Sciences
PO Box 32861
Charlotte, NC 28232
Please stay in touch and send success stories for our newsletter. The alumni have always been, and will continue to be, an important part of keeping the MSON tradition alive.