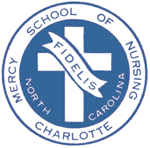 Atrium Health Mercy, a facility of Carolinas Medical Center, formerly Mercy Hospital, and Mercy School of Nursing were established together in 1906 by the Sisters of Mercy of North Carolina. The original hospital was a 25-bed wooden frame building located on E. First Street in downtown Charlotte. In 1916, Mercy Hospital opened on its present site between E. Fifth Street and Vail Avenue, with the Mercy School of Nursing facilities added in 1922. In 2006, the school moved to its present location on Forest Point Circle.
With several expansion programs, the hospital grew in bed capacity and services. Mercy Hospital South, located in Pineville, NC, opened in 1987. On June 5, 1995, the Charlotte-Mecklenburg Hospital Authority acquired Mercy Health Services, Inc., including the Mercy School of Nursing. In June 1996, the name of the Hospital Authority was changed to Atrium Health. Mercy Hospital was renamed Atrium Health Mercy and Mercy Hospital South was renamed Atrium Health Pineville.
Mercy School of Nursing graduated its first class of four students in 1908. Since that time, more than 2,000 Mercy graduates have entered the nursing profession and are serving in varied roles and settings. The first male students were enrolled in 1966. Originally, the Mercy School of Nursing was a three-year diploma program. In 1993, the school became a two-year diploma program. Full accreditation by the Accreditation Commission for Education in Nursing (ACEN) has continued since 1966. Carolinas College of Health Sciences offers general education courses for Mercy students.
The first student nurse uniforms were made of blue-striped material with long sleeves and an ankle-length skirt. A white bib and apron was worn with this uniform. The uniform style has changed over the years. The current uniform, adopted in 2013, consists of a ceil blue scrub top and navy uniform pants. The first caps were designed and worn by members of the 1908 graduating class. In 1967, the official Mercy cap was adopted. In 1990, the wearing of the nursing cap became optional.
The current pin was designed in 1922 with a cross bearing the word FIDELIS to signify loyalty and faithfulness. The school seal is a replica of the design on the current pin.