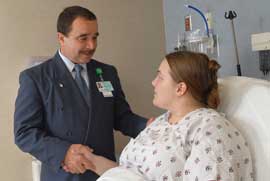 Our chaplains provide support and spiritual counsel to patients and their families. Here, one of our chaplains counsels a patient.
The Department of Spiritual Care and Education spiritually supports patients, families and teammates by offering ministries of health, hope and healing.
Chaplains
Chaplains are on-call 24 hours a day, and are an essential part of the healthcare team. Please feel free to call them for prayer, help with spiritual and emotional concerns or simply to listen. Chaplains respond to people of all faiths. Chaplains can be contacted by calling the hospital operator at 704-355-2000 or by asking your nurse or another member of the clinical staff.
Chapel and Worship Services
Ecumenical and Interfaith Worship Services are offered regularly at each facility.
Department of Spiritual Care and Education offerings: