The Clinical Pastoral Education (CPE) Program at Atrium Health began in 1982. Our program is the only healthcare-based pastoral education program in Charlotte that is accredited by the Association for Clinical Pastoral Education (ACPE).
The National Office of ACPE
1549 Clairmont Road, Suite 103
Decatur, GA 30033
(p) 404-320-1472
(f) 404-320-0849
www.acpe.edu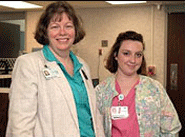 The CPE Program provides interfaith professional training for clergy and lay people. This exciting type of adult learning combines the action of ministry with reflection through diverse seminars, individual supervision and conceptual material. The focus is on pastoral identity, pastoral authority and pastoral functioning in the midst of a supportive, structured and compassionate setting. In this unique type of theological education, the adult learner has the opportunity to integrate knowledge from medicine, psychology and spirituality into pastoral theology.
The essentials of clinical pastoral education include:
Actual practice of ministry
Reporting of visitation
Pastoral supervision
Process model of learning
Theoretical presentations
Small group of peers
Specific time period of 400 hours including 100 hours of structured group and individual education
Individual learning contract
CPE Program under the auspices of an ACPE-certified supervisor at a ACPE-accredited center
The Atrium Health Department of Pastoral Care and Education is accredited as a system center and is made up of five component sites.
Atrium Health's Carolinas Medical Center offers Level 1 CPE, Level II CPE, Supervisory Education. Residency Program, Summer Unit (10-12 weeks, full-time) and Extended Unit (26 weeks, part-time)
CHS faculty located at CMC:
David Carl, M.Div., Executive Director, ACPE Supervisor
Malu Fairley, M.Div., Faculty, ACPE Supervisory Candidate
Angela Janssen Keenan, M.Div., Assistant Director for Education, ACPE Associate Supervisor
David Johnson, D.Min., Assistant Director for Pastoral Operations, ACPE Supervisor
CHS faculty located at Atrium Health Cabarrus:
Beth Jackson-Jordan, M.Div., Director, ACPE Supervisor
Greg Hathaway, M.Div., Assistant Director, ACPE Associate Supervisor
CHS faculty located at Atrium Health Mercy, a facility of Carolinas Medical Center:
Terri Bolotin, M.Div., Director, ACPE Supervisor
CHS faculty located at Atrium Health University City:
Rebekah Ramsey, M.Div., Manager, ACPE Supervisory Candidate
All applications are sent to the CPE Secretary located at Carolinas Medical Center and all educational files are housed in the CPE education building (see FERPA).