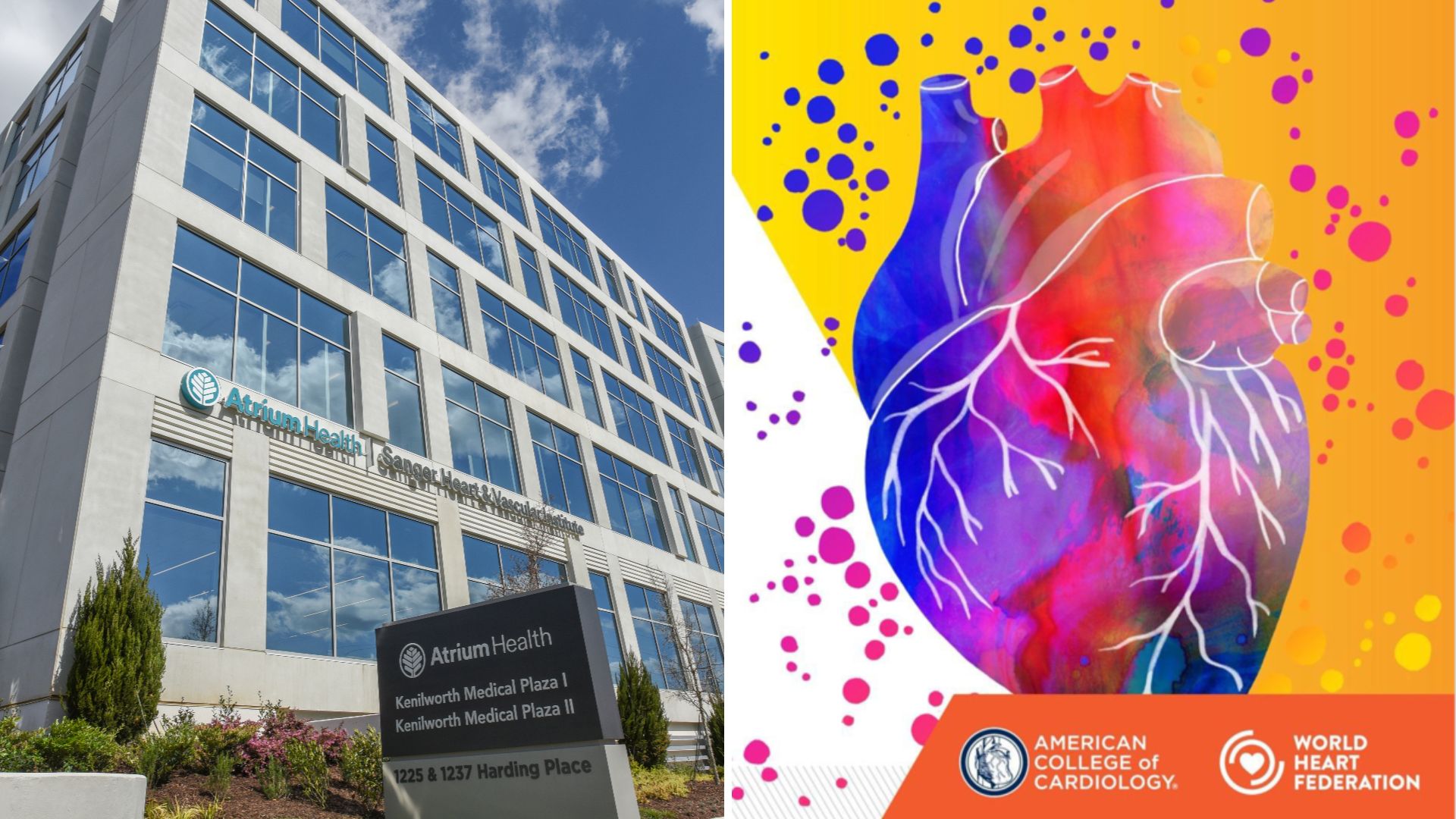 Atrium Health's Cardiovascular Research to be Highlighted at Preeminent Global Conference
03.03.2023
Atrium Health News |
Sanger Heart & Vascular Institute
Dr. B. Hadley Wilson to be inducted as president of American College of Cardiology
CHARLOTTE, N.C., March 3, 2023 – Researchers and physicians from Atrium Health Sanger Heart & Vascular Institute will be prominently featured at the American College of Cardiology (ACC) Annual Scientific Session & Expo, in New Orleans, Saturday, March 4, through Monday, March 6. Sanger Heart & Vascular Institute researchers led or contributed to more than 20 studies that will be highlighted at the conference.
In addition, at the conclusion of the conference, Dr. B. Hadley Wilson, executive vice chair for Atrium Health Sanger Heart & Vascular Institute, will be inducted as president of ACC for 2023-2024. ACC selected Wilson for the prestigious post last August.
"Atrium Health Sanger Heart & Vascular Institute is dedicated to researching disparities in cardiovascular care and developing innovative solutions that will improve heart health for all – a mission that we share with the American College of Cardiology," Wilson said. "I am honored and excited to begin my tenure as ACC's president and to contribute to Atrium Health's presentations at the conference, many of which are focused on achieving health equity in the diagnosis and treatment of cardiac diseases."
During the conference, Wilson will participate in a symposium about optimizing cardiovascular care worldwide, during which he will discuss results from the ACC's Global Heart Attack Treatment Initiative (GHATI). The GHATI initiative aims to improve the treatment of a type of heart attack known as an ST elevation myocardial infarction (STEMI) in low- and middle-income countries. Over the last three years, the GHATI sites that have improved heart attack care have reduced mortality rates by about 2%.
Among the other highlights of Sanger Heart & Vascular Institute's participation at the ACC conference will be poster presentations describing disparities in the diagnosis and treatment of two common heart conditions: aortic stenosis and atrial fibrillation. The research goes beyond demonstrating disparities exist by describing where in the patients' journeys from symptom to definitive treatment the disparities arise. This creates the foundation for designing interventions to eliminate these gaps in care, improving cardiovascular outcomes for all.
"We want to ensure that all people in the communities we serve receive world-class care," said Dr. William Downey, vice chair of quality and care transformation at Atrium Health Sanger Heart & Vascular Institute, who led the research being presented at the ACC conference.
Dr. Esther (Soo Hyun) Kim, director of the Center for Women's Cardiovascular Health at Atrium Health Sanger Heart & Vascular Institute, is the senior author on a poster presentation surrounding patients who have had a heart attack because of spontaneous coronary artery dissection (SCAD) and factors that may help predict healing of the heart after the heart attack.
Sanger Heart & Vascular Institute will also play a prominent role in presenting late-breaking clinical trials at the conference. The data from these trials will inform the use of devices and treatment regimens to improve the quality of life for patients with heart disease.
As Wilson moves into his role as ACC president, he said he looks forward to elevating the role of Atrium Health's physicians and cardiovascular team leaders, in an effort to improve equity in heart health worldwide.
"Cardiovascular death is now the No. 1 killer among non-communicable diseases across the world, and part of the problem is social determinants of health," Wilson said. "With global education and improved protocols for optimal care, we can change that."
---
About Atrium Health
Atrium Health is a nationally recognized leader in shaping health outcomes through innovative research, education and compassionate patient care. Based in Charlotte, North Carolina, Atrium Health is an integrated, nonprofit health system with more than 70,000 teammates serving patients at 40 hospitals and more than 1,400 care locations. Atrium Health is part of Advocate Health, the fifth-largest nonprofit health system in the United States, which was created from the combination with Advocate Aurora Health. It provides care under the Atrium Health Wake Forest Baptist name in the Winston-Salem, North Carolina, region, as well as Atrium Health Navicent and Atrium Health Floyd in Georgia and Alabama. Atrium Health is renowned for its top-ranked pediatric, cancer and heart care, as well as organ transplants, burn treatments and specialized musculoskeletal programs. A recognized leader in experiential medical education and groundbreaking research, Wake Forest University School of Medicine is the academic core of the system, including Wake Forest Innovations, which is advancing new medical technologies and biomedical discoveries. Atrium Health is also a leading-edge innovator in virtual care and mobile medicine, providing care close to home and in the home. Ranked nationally among U.S. News & World Report's Best Hospitals in eight pediatric specialties and for rehabilitation, Atrium Health has also received the American Hospital Association's Quest for Quality Prize and its 2021 Carolyn Boone Lewis Equity of Care Award, as well as the 2020 Centers for Medicare & Medicaid Services Health Equity Award for its efforts to reduce racial and ethnic disparities in care. With a commitment to every community it serves, Atrium Health seeks to improve health, elevate hope and advance healing – for all, providing $2.46 billion last year in free and uncompensated care and other community benefits.
###