Notice of unauthorized access that may involve personal information | Learn more: English - Español
Child visitor restrictions now in place. Learn more.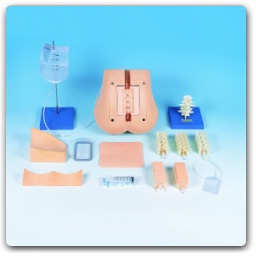 This simulator, manufactured by Limbs and Things Ltd., is designed to teach the lumbar puncture and epidural procedures, allowing hands-on training without the need for direct patient contact.
Skills
Patient position management
Skin preparation can be practiced
Palpation of pelvic landmarks
Palpation of lumbar spinous process
Needle positioning and insertion
Collection of cerebrospinal fluid (CSF)
CSF pressure measurement
Epidural
Features
Lifelike lower torso
Realistic tissue resistance
Puncture sites not visible on skin
Skin is quick and easy to remove using magnetic clips
Puncture Block is transparent to allow viewing of the vertebrae (L2-L5) and the associated puncture sites
Puncture Block is quick and easy to replace
Large Puncture Block is available which features whole vertebral bodies and costal processes (must be ordered separately)
Each vertebral space can be punctured up to 30 times
Easy maintenance
Additional support base supplied for 2 person training
User refillable fluid reservoir
A comprehensive guide to the relevant anatomy, physiology, indications and performance of the lumbar puncture procedure is included
A guide to CSF fluid analysis and lumbar puncture risk management is included
Separate articulated Lumbar Spine model (L2-L5) is supplied to aid anatomical understanding
Epidural procedure can be practiced
Variations of puncture pads: adult normal, adult obese, elderly, ederly obese and epidural
Three different support bases for lateral and sitting positions, and team teaching