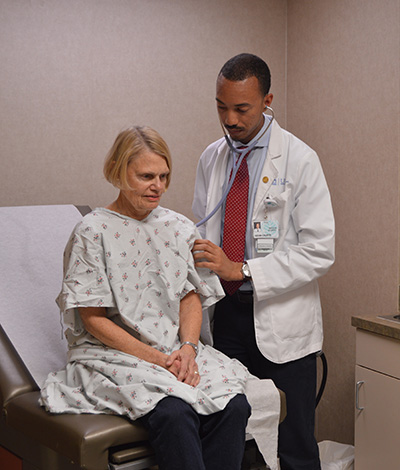 At Carolinas Simulation Center, Simulated Participants (SPs), sometimes also referred to as Standardized Patients, help with the training and evaluation of healthcare professionals in medicine, nursing, and other programs. A SP is a person who has been coached to accurately and consistently recreate the history, personality, physical findings, and emotional state of an actual patient. They can also portray the role of a family member of a patient or another health care professional such as a nurse or technician.
Simulated Participants provide valuable opportunities for learners to practice clinical skills in an environment that is both safe and supportive to the learning process. By practicing their skills with SPs, our learners have the opportunity to develop and refine their interpersonal skills and professionalism in a safe environment without putting actual patients at risk.
To find out more information related to our simulated participant program, please email Leslie Giles or call 704-355-0902.
All applicants must be 18 years or older to be considered for the position.
Frequently Asked Questions
What will I have to do as a SP?
First and foremost, we ask our SP's to take their role seriously because they are impacting patient care through education of healthcare providers so we need your commitment to be prompt, reliable, quick to learn and adapt to different situations, and continuously seek to improve. Responsibilities of our SPs vary from day to day. There are many different roles and needs, but you may be asked to participate in focused physical exams such as knee and shoulder joint assessments or ultrasound exams of your abdomen and chest. Our SPs also have the opportunity to portray a patient with complaints such as abdominal pain or a headache and portray family members whose loved one is the patient.
Will I be trained?
Yes. Training varies depending on the role of the SP, experience of the SP portraying a case, and objectives or requirements of the session. You will have multiple opportunities to ask questions, review the case requirements, and practice as needed with scripts that are written by our faculty.
Do I need to be an actor or have gone through acting training?
While acting skills or experience are always helpful, it is not a requirement. In fact, many of our current SP's have no acting experience.
How do I become a SP?
If you are interested in participating as a SP, please fill out the online application and we will contact you with further information.