Carolinas Surgical Skills Center at Carolinas Medical Center-Mercy, located at 2001 Vail Ave., Charlotte, offers participants the opportunity to train in a state-of-the-art cadaveric laboratory.
Carolinas Surgical Skills Center opened at CMC-Mercy in April 2010 with a commitment to providing an advanced learning environment for new medical techniques and cutting-edge innovations.
CMC-Mercy is conveniently located close to Charlotte's Center City and near Carolinas Medical Center and Cannon Research Center facilities.
Carolinas Surgical Skills Center
CMC-Mercy
2001 Vail Ave.
Charlotte, NC 28207
Phone: 704-304-0176
Email: Surgical Skills Center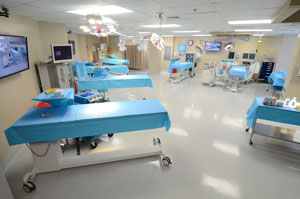 CMC-Mercy observed its 100th anniversary in 2006. In 2009, the facility became the first N.C. hospital to adopt the Planetree model of healthcare.