Carolinas Surgical Skills Center at Atrium Health Mercy, a facility of Carolinas Medical Center, located at 2001 Vail Ave., Charlotte, offers participants the opportunity to train in a state-of-the-art cadaveric laboratory.
Carolinas Surgical Skills Center opened at Atrium Health Mercy in April 2010 with a commitment to providing an advanced learning environment for new medical techniques and cutting-edge innovations.
Atrium Health Mercy is conveniently located close to Charlotte's Center City and near Carolinas Medical Center and Cannon Research Center facilities.
Carolinas Surgical Skills Center
Atrium Health Mercy
2001 Vail Ave.
Charlotte, NC 28207
Phone: 704-304-0176
Email: Surgical Skills Center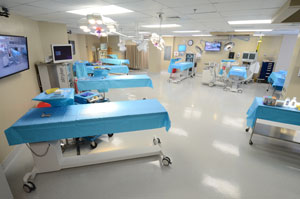 Atrium Health Mercy observed its 100th anniversary in 2006. In 2009, the facility became the first N.C. hospital to adopt the Planetree model of healthcare.