FLU ALERT: Child visitor restrictions now in place.
Learn more
.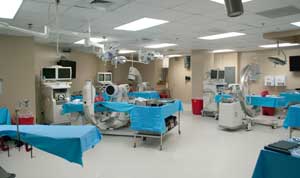 Located on the campus of CMC-Mercy, Carolinas Surgical Skills Center features state-of-the-art equipment in its training laboratories and conferencing facilities, enabling participants to gain valuable hands-on training in a safe environment.
CEI staff will assist your practice, department or organization to coordinate and schedule your training programs to meet your educational objectives.
Lab Facility
The Carolinas Surgical Skills Center provides:
Six station operating suite
Radiolucent tables
Instrumentation for orthopedic procedures involving foot and ankle and hip and knee
Videoconferencing capabilities between lab, conference rooms and operating suites
Fluoroscopy
Flat screen wall monitors