FLU ALERT: Child visitor restrictions now in place.
Learn more
.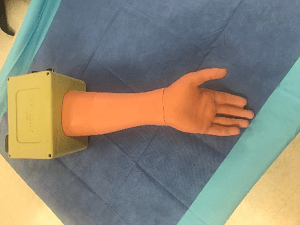 The
Simulab
Ultrasound ArteriaLine and ABG trainer allows learners to practice arterial lines and ABG blood draws.
Features:
Ultrasound or blind palpation technique
Artery is palpable at wrist and descends as it travels towards the elbow
Self-priming artery with adjustable pulse and fluid strength
Realistic resistance of tissue and artery wall during injection
Distinct pop of the artery wall during insertion
Natural flashback of simulated fluid into needle can be observed
Arterial Puncture Trainer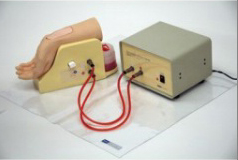 Radial artery puncture is a common approach for blood collection and artery catheterisation, and this simulator manufactured by Limbs & Things, provides realistic training in this skill.
Skills:
Palpation of radial artery
Needle insertion
Blood collection
Features:
Arterial pulse is palpable
Speed of pulse is variable
Soft tissue and artery wall provide realistic needle resistance
'Flash back' can be observed