FLU ALERT: Child visitor restrictions now in place.
Learn more
.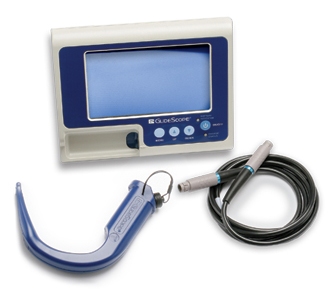 The GlideScope GVL® (reusable) video laryngoscope, Manufactured by Verathon Medical, provides a consistently clear, real-time view of the airway and tube placement, enabling quick intubation.

Benefits Include:
Designed especially for difficult airways: convenient for routine airways
Provides a consistently clear view, enabling quick intubation in unpredictable conditions
Operational in seconds
Optimized for demanding OR, ED, and ICU settings
Reusable blades
Choice of four sizes to simulate patients from small children to morbidly obese patients.
Features Include:
Color monitor
With anti-reflective screen
With NTSC video output to facilitate recording
Reusable blades
With high-resolution camera for real-time view of the airway and tube placement
Anti-fogging mechanism resists lens clouding and secretions
Unique angulation
For small child to morbidly obese patients
Choice of four sizes (GVL® 2, 3, 4)
GlideRite® Rigid Stylet included which complements the angle of GlideScope video laryngoscopes to facilitate quick intubation
Applications Include:
First-use intubations, replacing direct laryngoscopy (DL)
Difficult airways
Airway management in morbidly obese patients
Normal or restricted oropharyngeal views/visualization and assessment of the oropharynx
Cormack-Lehane Grades I-IV laryngeal views
Trauma airways -- excellent when dealing with blood and secretions in the airway
Patients requiring cervical spine immobilization
Re-intubation and endotracheal tube exchange in Intensive Care Unit (ICU) settings
Nasal tracheal intubation
Insertion of transesophageal echocardiac probes
Larynogoscopic foreign body removal
Awake intubation for difficult airway management
Insertion of double lumen tubes (DLTs)
Teaching the anatomy of the airway
Video-guided tube exchange in the ICU