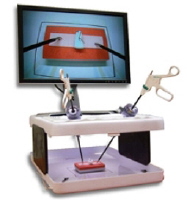 The FLS Laparoscopic Trainer Box is a device for surgical residents and practicing surgeons that facilitates the development of psychomotor skills and dexterity required during the performance of basic laparoscopic surgery.
The Trainer Box includes a set of accessories used to simulate specific surgical techniques that have been validated by Dr. Gerald Fried through the MISTELS Program at McGill University. The FLS Trainer Box was developed in collaboration with Venture Technologies, Inc.
Manual Skills Set:
Transferring
Precision cutting
Placement and securing of ligating loop
Simple suture with intracorporeal knot
Simple suture with extracorporeal knot
The FLS program may be effectively used to teach and assess both cognitive and technical skill aspects related to laparoscopic surgery. Over the past two years, SAGES FLS committee members have developed a technical skills curriculum specifically designed for use in residency training programs. The curriculum is proficiency-based, whereby trainees are oriented to the materials and self-practice until expert-derived performance levels are reached.
Residents may practice as much or as little as needed in order to acquire the validated skills incorporated into the FLS modules. The video materials serve as a robust source of feedback for the learner and additional proctoring is considered optional. This protocol ensures that all trainees achieve an excellent level of performance, and have correlated with a uniform successful passing score according to the FLS technical skills testing criteria. We recommend this curriculum for all resident levels. Surgery interns may benefit by mastering these skills early in their training, such that they are better prepared for opportunities in the operating room and can undergo additional training throughout their residency as needed. Similarly, mid-level and senior residents may benefit by ensuring that all trainees have suitable skills to perform a wide array of laparoscopic procedures. We have partnered with other ongoing national initiatives, and this curriculum is now part of the Basic and Advanced Laparoscopic Skills Modules included in the ACS/APDS National Skills Curriculum Project.