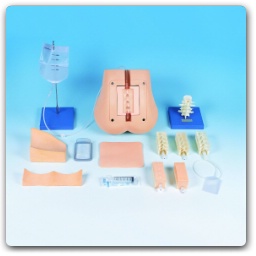 This simulator, manufactured by Limbs and Things Ltd., is designed to teach the lumbar puncture and epidural procedures.
Skills
Patient position management
Skin preparation
Palpation of pelvic landmark
Palpation of lumbar spinous process
Needle positioning and insertion
Collection of cerebrospinal fluid (CSF)
CSF pressure measurement
Epidural
Features
Realistic tissue resistance
Variations of puncture pads: adult normal, adult obese, elderly, elderly obese, and epidural
Three different support bases for lateral and sitting positions, and team teaching
Simulab Lumbar Puncture Trainer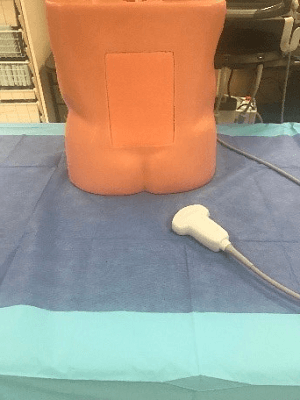 The Simulab Lumbar Puncture Trainer is designed for learners to practice techniques for spinal epidural insertion and catheterization. The trainer supports ultrasound compatible tissue blocks that allow users to experience variances in disc thickness and soft tissue depth on top of the vertebrae. The simulator can sit upright or in a lateral decubitus position and features the lumbar vertebrae, iliac crest, spinous process, ligamentum flavum, epidural space, and dura.