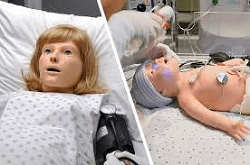 The NOELLE® with Newborn TORY® package from Gaumard® Scientific is designed to help learners develop the skills to manage antepartum complications, routine and high-risk deliveries, and postpartum emergency scenarios as well as neonatal assessment, resuscitation, and stabilization.
Noelle is a wireless and tetherless maternity simulator. She remains fully responsive even while being transported and can be controlled at distances of up to 300 feet. While Noelle is primarily used for Labor and Delivery scenarios, she can function outside of that realm as a high-fidelity adult manikin.
The wireless and tetherless Newborn TORY® represents a 40-week full-term newborn. Tory® displays realistic physical and physiological features ideal for learners practicing APGAR evaluation and physical examination scenarios.