Sim Baby™
The SimBabyTM simulator, manufactured by Laerdal Corporation, represents an 18 to 24-month-old infant and is a lifesize intubatable manikin with a computerized graphical user interface.
SimBaby can be very effectively used to teach clinical and decision-making skills during realistic patient care scenarios.
Among the features are:
Immediate feedback to interventions
Software that generates automatic debriefing based on an event log
Realistic airway that can be intubated, allowing accurate simulation of all relevant difficult infant airway management and patient care
Realistic visible chest excursion, breathing patterns and complications
IV training arm and IV/IO legs for peripheral intravenous/intraosseus therapy
Palpable pulses
Lung sounds that can be auscultated
Realistic patient monitor
Vocalizations, including grunting, coughing and crying
SimNewB®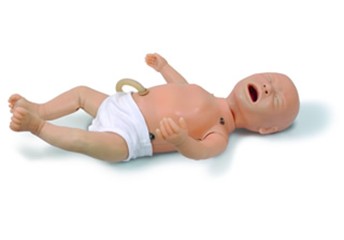 SimNewB simulator, manufactured by Laerdal Corporation, helps enhance the educational environment by providing highly realistic patient simulation training experiences for the practice of teamwork, leadership and communication skills with the care of a newborn.
SimNewB is designed to be easily integrated into all neonatal training programs. Scalable training enables instructors to vary simulations from the delivery room to the NICU.
SimNewB's Features include:
Accurately represents a full-term, 50th percentile newborn female, measuring 21 inches and weighing 7 lbs
A wide variety of patient conditions can be simulated ranging from a limp, cyanotic newborn with no vital signs, to a moving, crying, vigorous newborn
The airway is designed to allow for training in all aspects of newborn airway management, including the use of positive-pressure airway devices, and the placement of ET Tubes and LMAs
The patent umbilicus has a life-like pulse that can be assessed, cut and catheterized for IV access
Pre-programmed scenarios provide standardized training while customizable scenarios and real-time instructor control allows adaptation to meet individual student's needs