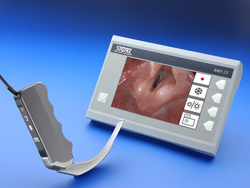 The C-MAC Video Laryngoscope, manufactured by Karl Storz is the result of uniting various technical disciplines. Strict attention was paid to hygiene, mobility, universality, robustness and system integratability. The system was designed for both routine hospital use in the OR, intensive care in the emergency room and for pre-hospital use in road and air ambulances.
The C-MAC system is lightweight and has a battery life of more than two hours (corresponding to approx. 200 intubations). The system is ready to use within a few seconds. The laryngoscopes are made from stainless steel and feature a well-established ergonomic handle.
The laryngoscopes have been significantly flattened at the proximal end, resulting in major additional ergonomic advantages during use. The blade shape corresponds to the English Macintosh blade size 3 and 4 and thus exhibits a curvature of approx. 60°. The laryngoscope corresponds to the European closed version and thus meets the strictest hygienic demands. The CMOS chip angle of view is approx. 80°. Illumination consists of a high power LED. Its warmth practically prevents fogging of the telescope. The blade tip can always be seen during use for optimal navigation. Freeze-frame images and video sequences from the laryngoscope can be stored.
The monitor is made of impact-resistant ABS plastic and is splash-proof (IP41); the connectors are located on the back side such that they cannot be knocked off and additional accessories can also be attached here. The monitor is characterized by its high speed with a resolution of 800 x 640 pixels. The data are stored on a SD CARD both in JPG and MPEG 4 format. Menus are not required.