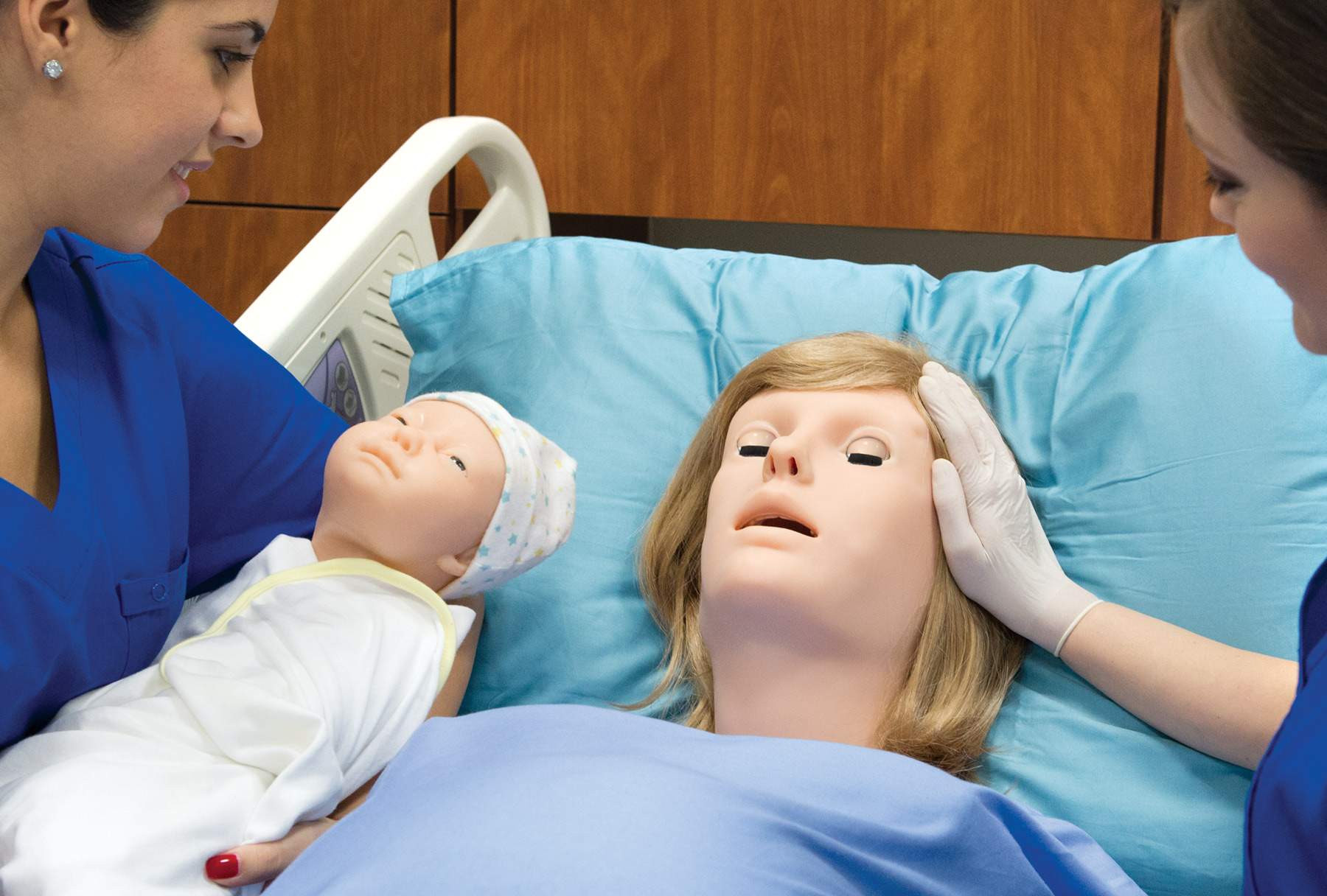 The NOELLE® S2200 Victoria™
Victoria is the newest member of the NOELLE family of birthing simulators from Gaumard® Scientific. Victoria is a tetherless maternal and neonatal simulator that can last up to 8 hours on battery. Victoria can simulate low and high risk deliveries including normal, breech, C-section, shoulder dystocia, and assisted deliveries. Victoria's abdomen realistically relaxes and firms with contractions which allow providers to palpate contractions during assessment. You can attach a real fetal monitor directly to the abdomen to track the fetal heart rate and contraction frequency, intensity, and duration.
Victoria has programmable bleeding for a postpartum hemorrhage that can be relieved through fundal massage or the insertion and inflation of a balloon tamponade device. She has a realistic placenta and umbilical cord for simulating various complications such as nuchal cord, cord prolapse, placenta previa, and retained fragments. Victoria delivers a tetherless, lifelike newborn that can present healthy or have signs of distress. Features include movement, cyanosis, heart and lung sounds, auscultation, and crying.
Features include:
Victoria
Full-term mother with realism and lifelike appearance
Anatomically correct with realistic proportions
Human-like articulation
Fully operational for up to 10 hours while untethered
Administer epidurals
Wireless speech
Monitoring
Use real medical equipment to monitor mother and fetus
Fetal heart tones and contractions
ECG monitor
Defibrillator
Pulse oximeter
Automatic blood pressure cuff
Perform Leopold maneuvers and external version exercises
Palpate realistic contractions
Delivery
Natural fetal movement during birth
Amniotic fluid reservoir provides realism and lubrication during delivery
Perform the following delivery scenarios:

Normal delivery
Breech
Shoulder Dystocia
C-section
Assisted deliveries with forceps or vacuum devices
Birthing Baby
Full-term baby with realism and lifelike appearance
Anatomically correct with realistic proportions, size and weight
Realistic newborn articulation
Baby can present the following signs of health or distress:

Heart and lung sounds
Movement
Crying
Cyanosis
Postpartum
Realistic postpartum hemorrhaging with programmable flow control
Perform fundal massage or the insertion of a balloon tamponade device
Repair 1st to 4th degree episiotomies using real surgical equipment
Realistic placenta and umbilical cord can be delivered normally, but also allow for the simulation of various complications including:

Nuchal cord
Cord prolapse
Placenta previa
Retained fragments
Control Software
Control Victoria with a tablet PC from up to 300ft away
Over 30 preprogrammed obstetric scenarios included
Edit or create your own scenarios