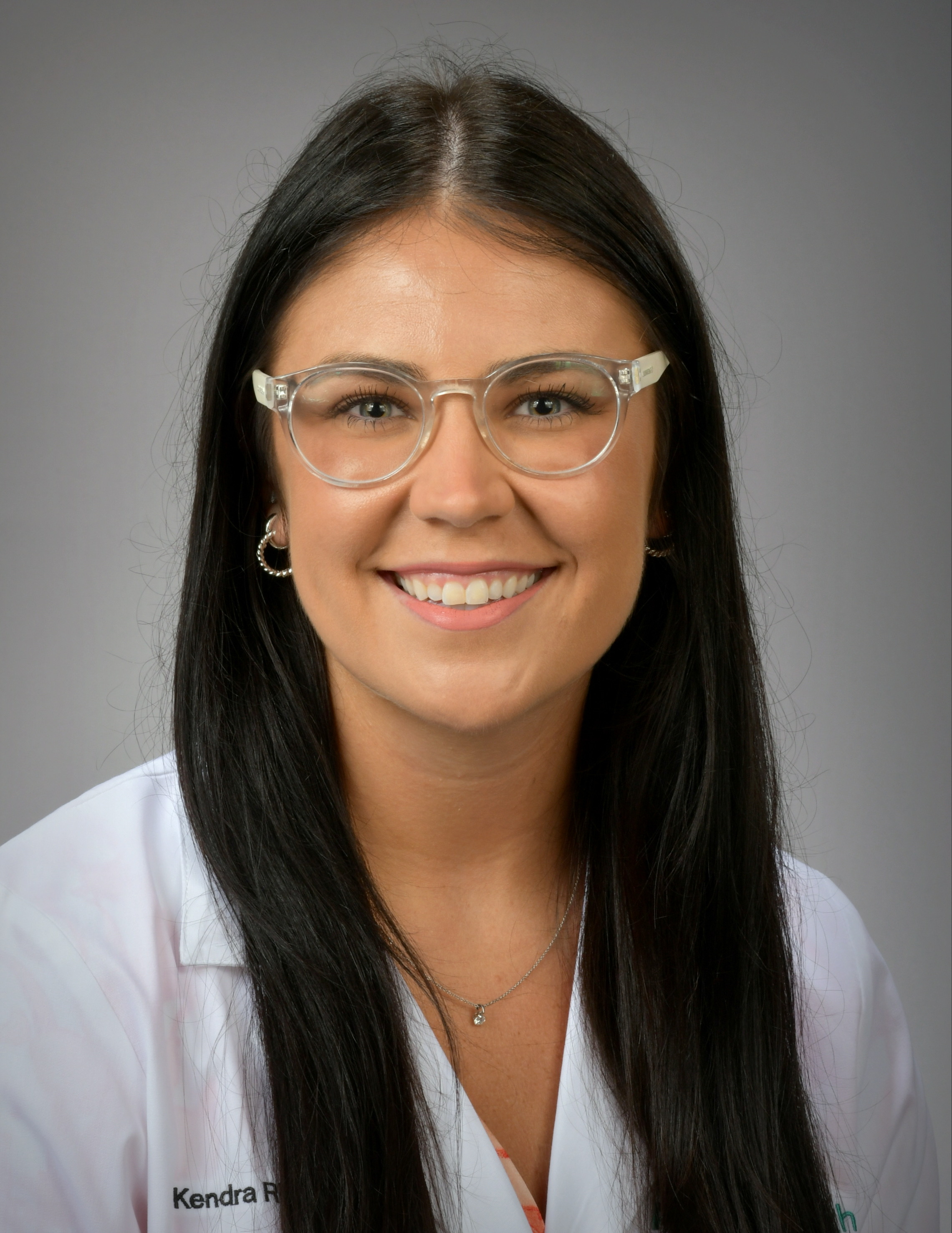 Kendra Rice, PharmD
Undergraduate Institution: Wingate University – Wingate, NC
Pharmacy School: Wingate University School of Pharmacy – Wingate, NC
Why Atrium Health? I was a part of the ambulatory care scholars student program at Atrium Health Cabarrus, so most of my fourth-year rotations were within the Atrium Health organization. Throughout my fourth year, I was able to learn about the culture and environment that Atrium Health promotes and fosters. There is significant importance placed on employee well-being and mental health. In addition, Atrium Health values the role of a pharmacist and encourages the expansion of pharmacist-led services to better serve our patients. The relationships our pharmacy team has built with a vast network of providers within Atrium Health organization is truly remarkable. 90% of the pharmacists that precept for this residency program are clinical pharmacist practitioners (CPPs) and work under a collaborative practice agreement (CPA) with a supervising physician. Through these agreements, CPPs are able to intervene on medication-related problems for specific disease states outlined in their agreement. This allows a lot of face-to-face time between the pharmacist and patient; something that I wanted a lot of when searching for the right program. Another characteristic that I weighed heavily when reviewing programs was the ability for the residents to make an impact. I knew I wanted to leave as big of a mark on the program as it would leave on me. Previous residents have created new electives (such as the cystic-fibrosis elective), new positions, and have even had policies implemented based on the results of the resident's prospective research projects. Atrium Health places importance on the voice of the resident and are consistently asking for feedback to improve the program. For me specifically, our RPD, Paige Carson, knew that I had a strong interest in academia. Rather than having me complete the standard ASHP teaching certificate, I have been enrolled in High Point University's teaching certificate which has a focus on academia. Paige has also provided me with several other opportunities to teach, including providing a lecture to the Atrium Health Cabarrus medical residents. I know that by the end of my residency journey, I will have become a confident, well-equipped, efficient pharmacist. I am so grateful to be spending my first year of residency with Atrium Health Cabarrus.
Primary Site: Concord Internal Medicine

Research Project: MUE: SGLT-2 Inhibitors for Non-Diabetic Indications; Research Project: Pharmacist-Led Home Blood Pressure Monitoring Within an Internal Medicine Practice
Post-Residency Interests: Academia, Infectious Disease, Chronic Care Management; obtain my CPP, BCACP, and CDCES; become an adjunct clinical professor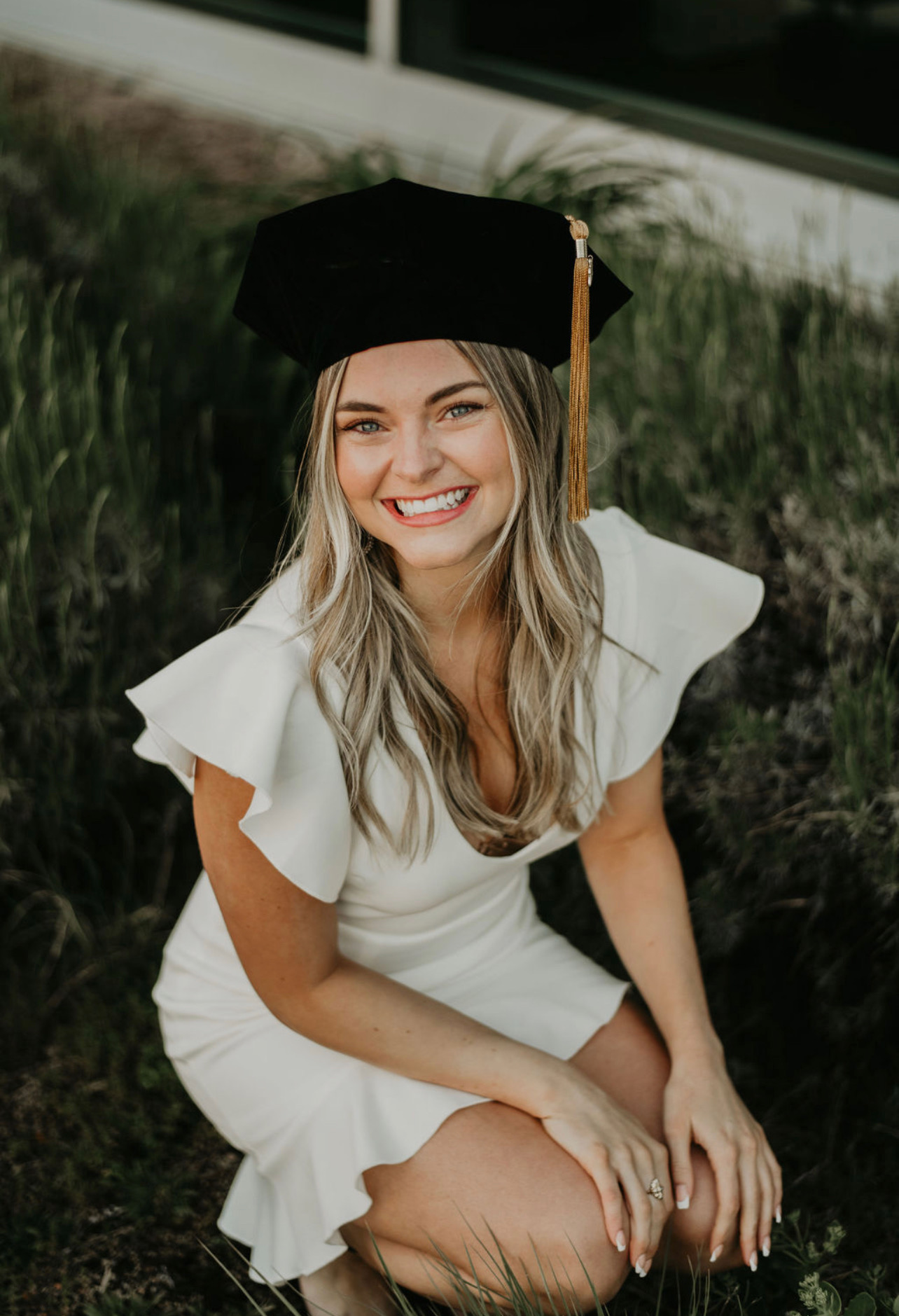 Laurie Pennell, PharmD
Undergraduate Institution: Wingate University- Wingate, NC
Pharmacy School: Wingate University School of Pharmacy- Wingate, NC
Why Atrium Health? Atrium Health's PGY1 Pharmacy Residency Program offers a vast array of opportunities for me to explore my passion of direct patient care in the ambulatory care setting while also expanding my passions outside of the clinic including leadership exploration, project creation, and research endeavors. During my fourth year of pharmacy school, I was able to obtain a student scholar position to complete my fourth-year rotations with Atrium Health in Concord, NC. I loved all the people I met and gained experiences. After working and being a student at 10+ different pharmacy organizations, the environment and people at Atrium was what I always looked for and dreamed of for a work/learning setting. When going through the residency interview process, I kept thinking about my interview with Atrium and the training I had obtained throughout the year so far. I knew that Atrium was home and I still had so much to learn from this organization. Thankfully, the program agreed and I was able to continue my training as one of the PGY1 residents! I have felt endless support from my many mentors and preceptors that I have had thus far with Atrium and I continue to be excited for all the opportunities that will continue to come my way. My main goal for residency is to build confidence in my clinical decision making and I have already seen that growth in confidence in just a few short months here thus far. I am excited for the year for continued growth in the areas that I knew I wanted to expand on, but also to challenge me and allow growth in areas that I did not recognize prior to starting the year. I want to be the best clinical pharmacist I can be in whatever setting that I practice in. I am confident Atrium Health is an immense component that is helping shape me into that exact pharmacist I strive to be!
Primary Site: Ardsley Internal Medicine

Research Project: Evaluation of the impact on weight loss with glucagon-like peptide-1 receptor agonists (GLP-1 RA) or glucose-dependent insulinotropic polypeptide/glucagon-like peptide-1 receptor agonist (GIP/GLP-1 RA) at doses not indicated for obesity; Research Project – Implementation of TOC PharmD services for ED-identified patients
Post-Residency Interests: Ambulatory Care; Obtain CPP (Clinical Pharmacist Practitioner) License, BCACP (Board Certified Ambulatory Care Pharmacist), CDCES (Certified Diabetes Care and Education Specialist)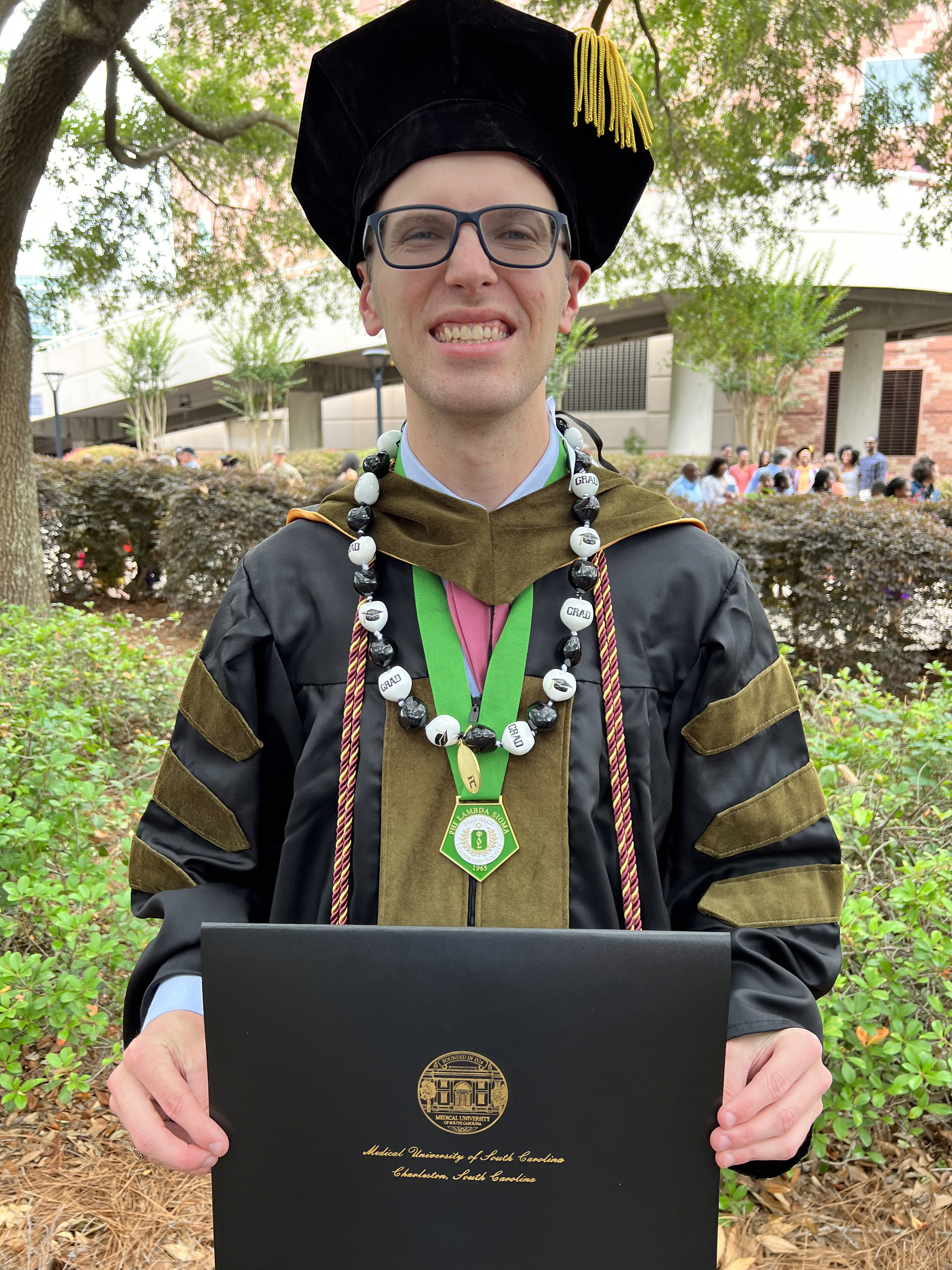 Luke Nesbitt, PharmD
Undergraduate Institution: Clemson University – Clemson, SC Pharmacy School: Medical University of South Carolina – Charleston, SC Why Atrium Health? Simply put – the people, opportunities, and culture. The Pharmacists are kind, intelligent, patient, and amazing teachers. From the moment I got here, I felt welcomed into the team. Paige Carson (RPD) and Nick Wilkins (Pharmacy Director) are incredible leaders and support us in our growth and development. The opportunities provided were what drew me in initially. I knew I wanted to practice where I could obtain a Clinical Pharmacist Practitioner License. I also had a strong interest in Ambulatory Care and wanted to get as much experience in my PGY1 with it as possible! We are able to do 4 dedicated months to Primary Care/Anticoagulation as well as choose 3 electives in areas of interest. These gave me opportunities to learn about Specialty Pharmacy, HIV/HepC, and Transitions of Care. Additionally, we do both a Medical Use Evaluation (retrospective) and Research Project (prospective) which allow me more opportunities to contribute to patient care and learn how to do research as this was a new experience for me. The biggest factor for me when looking at programs was culture. I had seen firsthand how a good culture can allow a program/organization to flourish as well as what a bad culture could do to teammate morale and overall patient care. From the moment I first met the residents and preceptors in a virtual meet-and-greet, I was blown away by how much they cared and wanted us to succeed. Since I've been here, that care has only become more evident. In our clinics, interprofessional collaboration is present and thriving. Every person is working together with the same goal in mind – patient care and patient safety. Our colleagues are more than just co-workers, they are family. Pharmacy is supported mightily at Atrium Health which shows through commitment of resources to Pharmacists. Overall, I could not have picked a more welcoming or caring place to be. The culture is one of both support and growth, and I feel like I have grown more than I could have ever imagined!!!
Primary Site: Kannapolis Internal Medicine
Research Project: MUE – SGLT2 Inhibitors for Non-Diabetic Indications; Research Project – Pharmacist Led Telehealth Interventions for Minority Patients with Hypertension
Post-Residency Interests: Ambulatory Care, Infectious Disease, and Pharmacogenomics; Obtain CPP (Clinical Pharmacist Practitioner) License and become a BCACP (Board Certified Ambulatory Care Pharmacist)