Purpose
PGY2 ambulatory care pharmacy residency programs build on Doctor of Pharmacy (PharmD) education and PGY1 pharmacy residency programs to contribute to the development of clinical pharmacists in specialized areas of practice. PGY2 residencies provide residents with opportunities to function independently as practitioners by conceptualizing and integrating accumulated experience and knowledge and incorporating both into the provision of patient care or other advanced practice settings. Residents who successfully complete a PGY2 ambulatory care pharmacy residency are prepared for advanced patient care, academic or other specialized positions, along with board certification, if available.
Program Overview
The PGY2 ambulatory care pharmacy residency program at Atrium Health offers residents a unique and well-rounded experience with ample opportunities for personal and professional development. Residents who successfully complete the program are prepared for advanced patient care, academia, or other specialized positions, along with board certification.
This program is a 12-month residency which offers experiences in a variety of inter-disciplinary practice settings. Learning experiences are longitudinal in nature with built-in time allotted for elective experiences. The vast majority of experiences are completed in outpatient clinics with an incorporation of multidisciplinary teaching and precepting opportunities. Developing leadership, practice management, and teaching skills to provide safe medication use through patient-focused, evidence-based medication management are the foundations and focuses of our training. A fundamental feature of the residency is commitment to regular and extensive interaction between the resident and preceptors.
Residents may select elective rotations based on their interests and specific career goals. Residents will meet quarterly with the residency program director to discuss the resident's individual goals and may tailor their schedule to meet such goals by maximizing opportunities for learning experiences. The resident's training is intensive and rigorous, providing many opportunities for growth of clinical and leadership skills, knowledge base, teaching and precepting abilities, and job management skills.
In addition to developing clinical skills, residents gain experience in clinical research by completing a longitudinal research project with the opportunity to submit the project results for publication. Involvement in P&T committee, as well as completion of medication use evaluations and drug monographs, allow for direct physician interaction and exposure to the medication use process on a system-wide level. Upon completion of the program, trainees are awarded a completion of residency certificate.
Program Structure
There are 7 core components of the curriculum that occur longitudinally throughout the year. The residency year is divided into 4 main blocks, during which the resident will establish and grow their clinical services while honing their clinical and pedagogical skills. The experience is tailored to the resident's interests, career goals, and prior experience. Emphasis is placed on providing the resident with direct patient care responsibilities in various primary care and specialty clinic settings, with a goal of developing exemplary clinical skills, knowledge, and competencies.
1. Chronic Care Clinic
a. Pharmacy residents will fulfill their staffing requirements at Biddle Point (BP) and Elizabeth Family Medicine (EFM)
b. These clinics are high volume and fully established with pharmacist presence and strong interdisciplinary relations
c. Disease states managed include
i. Diabetes
ii. Obesity
iii. Hypertension
iv. Dyslipidemia
v. Asthma
vi. COPD
vii. HIV
d. Residents will also manage visits for Medicare Annual Wellness Visits, medication access, polypharmacy, patient education, and comprehensive medication review
2. Managed Care Population Health
a. Residents will learn about managed care and population health principles
b. Residents will engage in longitudinal management of insured, at-risk populations within the accountable care organization
c. Residents will be responsible for tracking and working towards pharmacy quality metric goals through targeted/individual interventions, global strategies, and pilot programs
d. Residents will conduct One-on-One Rx MTM appointments for CarolinaCARE members every other Saturday morning in the spring months
3. Resident Service
a. Residents will develop clinical pharmacy services within a medical practice with or without existing pharmacy services
b. A new clinical service area is identified each year for establishment during the residency year
c. Residents will work as Clinical Pharmacist Practitioners (CPPs) with collaborative practice agreements with their physicians
d. The goal is for the resident to create a sustainable full-time position over the course of the year
4. Internal Medicine
a. Residents will develop rapport with the interdisciplinary care team through rounding with the internal medicine team weekly
b. Residents will manage care transitions and understand the continuum of care
c. Residents will maintain an inpatient pharmacy skillset alongside a focused training into ambulatory care pharmacy practice in order to better see the big picture of healthcare
5. Academia
a. Pharmacy residents will represent pharmacy on an interdisciplinary team during rounding
b. Pharmacy residents will teach and help medical residents with medication related problems as they see patients
c. Teaching responsibilities include
i. FNP Pharmacotherapy didactic lectures at UNC-Charlotte
ii. CRNA Pharmacology didactic lectures at the College of Health Sciences
iii. Didactic lectures for the UNC School of Medicine
iv. In-services for physician residents
v. Precepting of students and residents
vi. Mentoring opportunities
d. Residents will participate as preceptors for the hotspotting program every other Tuesday evening in the fall and winter months
e. Residents will attend the ASHP Midyear Clinical Meeting
f. Residents will obtain the ASHP Teaching Certificate if a teaching certificate has not previously been completed
6. Electives
a. Specialty Pharmacy (general and multiple specialties available)
b. Behavioral Health (inpatient & outpatient)
c. Cardiology (inpatient & outpatient)
d. Advanced Diabetes
e. Oncology (inpatient & outpatient)
f. Antimicrobial Stewardship Network
g. Others
7. Administration experiences built into the above 6 components
a. Residents will apply leadership theory and skills to their practice and professional life
b. Residents will participate as leaders and team members in a variety of longitudinal leadership activities to strengthen leadership skills in practice, teaching, and advocacy
c. Personal leadership development will be facilitated through longitudinal leadership coaching with a leadership coach and leadership didactics/cases and reflection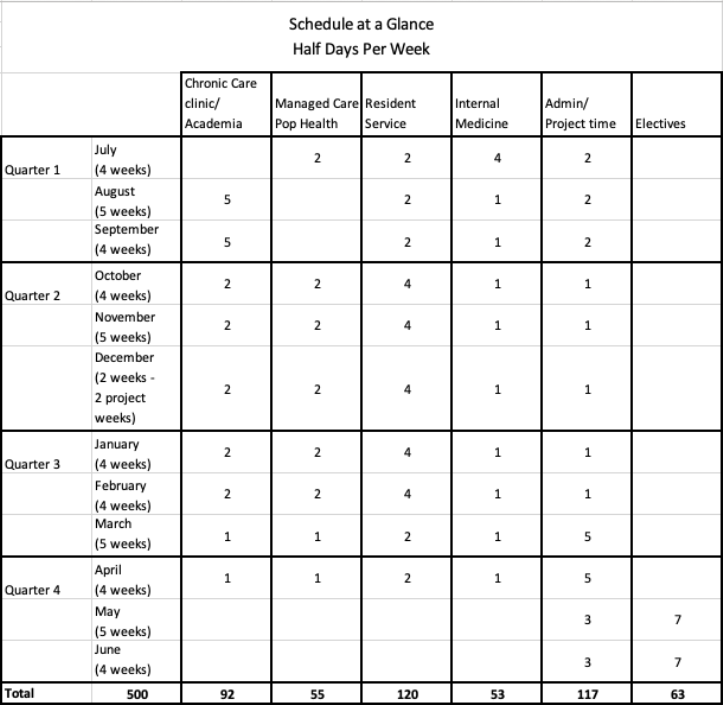 **Disclaimer: Schedule above is a sample and subject to change based on availability**
Benefits
In addition to the full benefits of an Atrium Health employee, residents will have medical and dental coverage premiums paid by the employer. Ten paid days off are available for vacation or sick time and five additional days for professional interviews if needed. A travel allowance will be provided to attend the ASHP Midyear Clinical Meeting and either a regional residency research symposium or other national conference (ACCP Annual Meeting, APhA Annual Meeting, AMCP Nexus, etc.). The resident is provided with office space containing an individual double monitor desktop computer, phone, storage/filing space, as well as a shared printer. In addition, the resident receives remote access to the hospital network, comprehensive drug information resources, three lab coats, a laptop, a daily meal allowance, and free parking.The Department of Pharmacy also has an active continuing education program with opportunities offered on a routine basis.
Pharmacy Residency
Estimated start date: July 5
Estimated stipend: $50,000

National Matching Service Program Code: 605565