Charlotte Pediatric Clinic recognizes the importance of infant feeding and are pleased to offer comprehensive lactation services at all four of our locations.
Jan Ellen Brown, IBCLC, RLC, joined Charlotte Pediatric Clinic in May 2008 and is available by appointment at our SouthPark location. She is board certified in lactation and co-authored "25 Things Every Nursing Mother Should Know," with Kathleen Higgins (Harvard Common Press, 2009).
Jan Ellen has been involved in the field of lactation for nearly 20 years and has assisted countless Charlotte families. She is a frequent conference speaker and sits on the board of directors of BELLAS (Breastfeeding Encouragement Learning Liaison and Support), a breastfeeding advocacy group. She is also a past board member of the North Carolina Chapter of the Cystic Fibrosis Foundation.
Her clinical interests include low milk supply, nursing multiples, adoptive nursing and dental issues. The mother of two daughters, Jan Ellen enjoys writing, reading, and going to the beach in her spare time.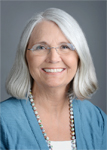 Anne Elam, RN, IBCLC, joined Charlotte Pediatric Clinic in April 2014. She is available by appointment at the Matthews, SouthPark and Steele Creek locations. Anne is a graduate of CMC nursing school and has been board certified in lactation for more than 15 years, assisting mothers and babies in the Charlotte area.
Her clinical interests include the late pre-term infant, cleft lip and palate and helping mothers achieve their breastfeeding goals.
Anne grew up in Charlotte and has 2 daughters and 1 grandson.

Lia Benton, IBCLC, MAT, first joined Charlotte Pediatric Clinic in September 2008 and rejoined the practice in September 2019 after caring for family. She is available by appointment at the Steele Creek office. Board certified in lactation, Lia also holds a masters degree in Teaching.

Empowering women and families to care for their precious child is Lia's chief interest. Clinical interests include tongue tie, low milk supply and late pre-term babies.

Married and the mother of three teenagers, Lia enjoys reading, writing, sewing ballet costumes and traveling.
Contact Information
SouthPark
Phone: 704-367-7400
Fax: 704-367-7555
Matthews
Phone: 704-512-6820
Fax: 704-512-6821
Steele Creek
Phone: 704-512-6100
Fax: 704-587-7601
Hours of Operation
Monday - Friday, 8 a.m. - 5 p.m.
Walk-in weekend sick clinic hours for established patients from 8:30 to 11:45 a.m. on Saturday and Sunday at our SouthPark location.