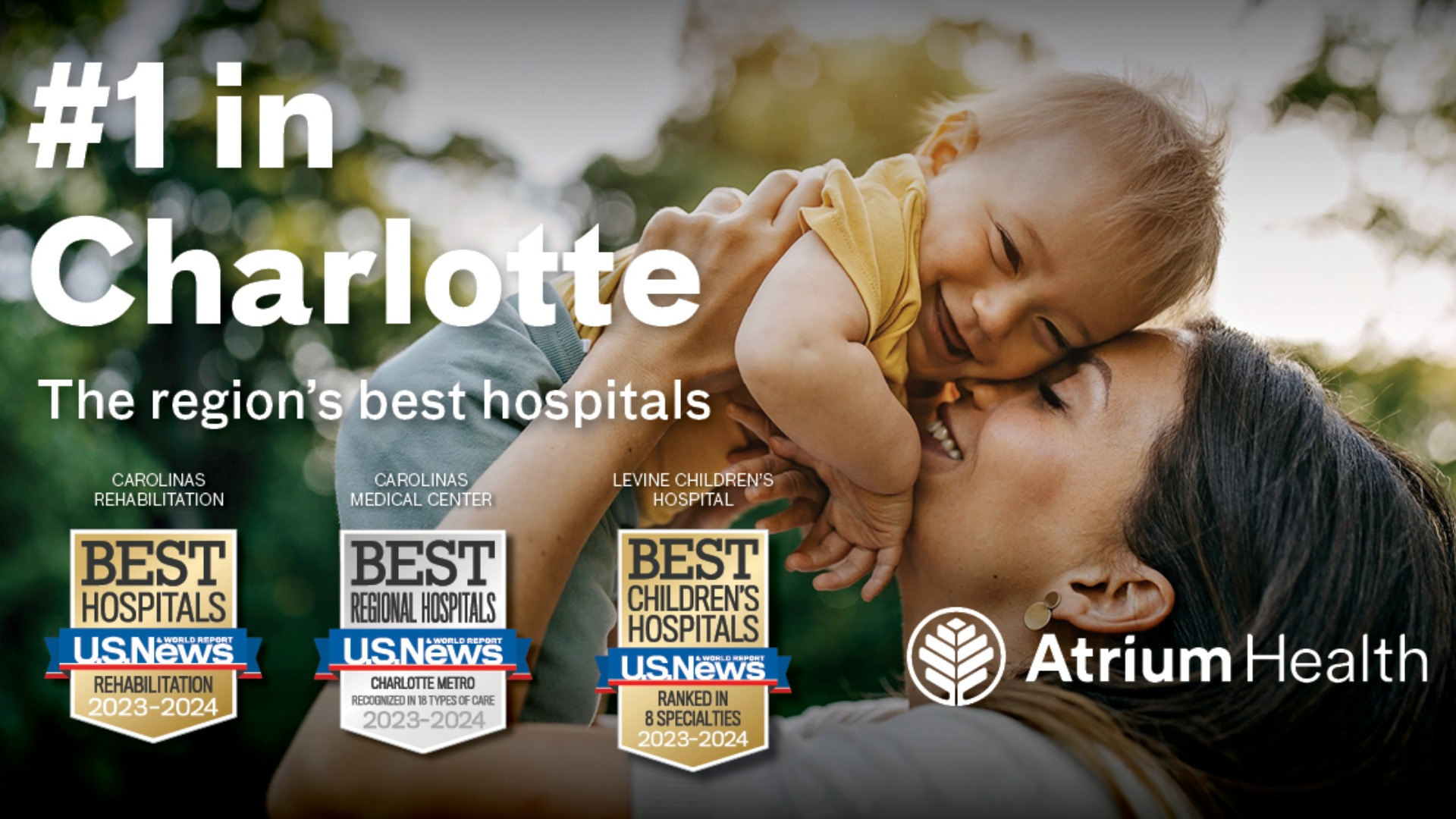 Atrium Health Earns Multiple U.S. News & World Report Honors
08.01.2023
Atrium Health News
Advocate Health system has 32 award-winning hospitals on 'Best Hospitals' list
CHARLOTTE, N.C., Aug. 1, 2023 – One of the nation's most respected news outlets is again recognizing Atrium Health as a national leader in health care. In new rankings released today U.S. News & World Report has ranked Atrium Health Carolinas Rehabilitation at No. 9 on the "Best Hospitals for Rehabilitation" list. This put Carolinas Rehabilitation among the top 1% of rehabilitation hospitals in the nation, as well as being the highest-ranking rehabilitation hospital in the Southeast and the only ranked hospital in the Charlotte region.
Atrium Health Carolinas Medical Center is being recognized as the "Best Hospital" in the Charlotte metro region for the seventh consecutive year. Across the Advocate Health enterprise, of which Atrium Health is a part, the health system has 32 award-winning hospitals on U.S. News & World Report's 2023-24 "Best Hospitals" list.
"This year, U.S. News & World report has recognized 32 of our Advocate Health system hospitals among the nation's very best – that's almost half of our hospitals across our entire enterprise representing the level of excellence we deliver for all every single day," said Eugene A. Woods, CEO of Advocate Health, of which Atrium Health is a part. "From the Southeast to the Midwest, life-changing patient stories, unwavering teammate dedication and powerful community impact are reflected in these recognitions, and I am so proud of our Advocate Health family as we strive to lead and transform health care."
Atrium Health Carolinas Rehabilitation: Among the Best, Nationwide
This year marks the third consecutive appearance among the top spots for Atrium Health Carolinas Rehabilitation on U.S. News & World Report's national "Best Hospitals for Rehabilitation" list. This follows recognition last month where Carolinas Rehabilitation was announced as the only U.S.-based rehabilitation hospital granted membership into the World Rehabilitation Alliance, which is affiliated with the World Health Organization, and dedicated to addressing the increasing unmet needs for rehabilitation and the importance of strengthening health systems to better provide rehabilitation around the world.
"For the past decade, Carolinas Rehabilitation has strengthened our commitment to expert clinical care to become the best choice for rehabilitation care in the Carolinas and among the best in the nation," said Robert Larrison, president of Atrium Health Carolinas Rehabilitation. "We are honored to be recognized again by U.S. News & World Report for our unwavering standard of excellence. The care we can now provide in our new hospital will ensure we can continue to innovate and lead the way for decades to come to serve our patients."
The new David L. Conlan Center at Atrium Health Carolinas Rehabilitation opened earlier this year to better serve patients from across the country – and worldwide – with innovative, personalized therapy for common to complex conditions due to life-altering injury or illness. Made possible, in part, by a generous $30 million gift from Howard C. "Smoky" Bissell, his wife Margaret, and Bissell Ballantyne, the Conlan Center features 72 private patient rooms, private treatment spaces, a therapy garden and 16,000 square feet of inpatient and outpatient therapy space with many unique services, such as certified programs for spinal cord injury, traumatic brain injury and cancer.
Carolinas Rehabilitation admits more than 3,600 patients with life-altering injuries and diseases annually. In addition, Carolinas Rehabilitation outpatient therapy clinics provide approximately 200,000 therapy visits per year. The hospital is an integral part of Atrium Health world class service lines, including Atrium Health Levine Cancer Institute, Atrium Health Levine Children's Hospital, Atrium Health Musculoskeletal Institute, Atrium Health Neuroscience Institute and Atrium Health Sanger Heart & Vascular Institute.
Atrium Health Carolinas Medical Center: Best Hospital in Charlotte, Seven Years Running
In addition to once again being named the "Best Hospital" in Charlotte, Atrium Health Carolinas Medical Center is being recognized for high-performing programs in cancer, gastroenterology & gastrointestinal surgery, orthopedics and urology. Carolinas Medical Center is the largest hospital in the Charlotte region, serves as the region's only Level I trauma center and is an approved transplant center for heart, kidney, pancreas and liver, performing more than 200 transplants annually.
"We are delighted to once again be named to best choice for adult care in Charlotte," said Chan Roush, vice president and facility executive for Carolinas Medical Center. "Our entire Atrium Health Carolinas Medical Center team is committed to delivering compassionate care and improving the lives of patients, as we have done on this campus for 80 years. From the expertise and experience of our physicians and clinical staff, to the nurses, allied health and support teams – the credit for achieving the 'Best Hospital' ranking seven years running belongs to our patient-centered care teams who ensure our patients have the best possible experience."
Last month, Atrium Health broke ground on a new, 12-story, state-of-the-art, advanced care facility on the Carolinas Medical Center campus. Upon completion, it is slated to house 448 patient rooms, 38 operating rooms, 16 procedure rooms and a new emergency department with 62 exam rooms. It is scheduled to open in 2027.
In all, Charlotte-based Advocate Health has 32 award-winning hospitals on U.S. News & World Report's 2023-24 "Best Hospitals" list – 30 adult hospitals plus Advocate Children's Hospital, in Chicago, and Atrium Health Levine Children's Hospital, in Charlotte, which were recognized earlier this summer. The enterprise has earned 10 national badges – awarded to those ranked among the Top 50 nationally – for adult ranked specialties, adding to the nine national badges for pediatric specialty earned by our children's hospitals. Thirteen adult hospitals are designated a best regional or specialty hospital and the enterprise has 214 high-performing marks across the adult common procedures and conditions categories.
Each year, U.S. News & World Report evaluates more than 5,000 hospitals across the nation, assessing objective measures in most areas of care, such as risk-adjusted survival, readmission rates, volume, patient experience, patient safety and quality of nursing, among other care-related indicators. According to the publication, the annual "Best Hospitals" rankings are designed to assist patients and their doctors in making informed decisions about where to receive care for life-threatening conditions or for common elective procedures. For the full list of rankings, visit USNews.com/Best-Hospitals.

To learn more about Atrium Health's U.S. News & World Report 2023 rankings, please visit