Notice of unauthorized access that may involve personal information | Learn more: English - Español
Child visitor restrictions now in place. Learn more.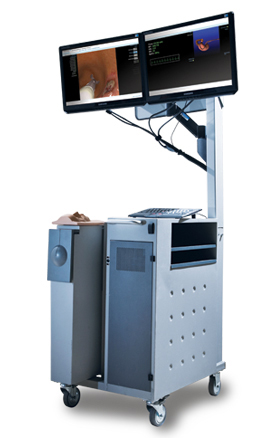 The EndoscopyVR simulator, manufactured by CAE Healthcare, supplies a realistic training environment for both gastrointestinal and bronchoscopy procedures. A modular approach to learning allows students to practice skills and gain confidence in a safe environment prior to advancing to more difficult procedures. The EndoscopyVR simulator offers force feedback sensation, physiological and anatomically correct simulation, didactic aids, metrics reports, vital signs and ability to administer drugs.
Key Features include:
Dynamic force feedback
Appropriate physiological response and tool behavior
Normal and pathological anatomical variations derived from actual patient data
Extensive bronchoscopy didactic content, including EBUS-TBNA module
Easy course planning and setup for individuals and groups
Virtual aids assist in better understanding of anatomy
Comprehensive metrics for evaluation of performance
Bronchoscopy modules:
Bronchoalveolar Lavage
Endobronchial Sampling
Transbronchial Needle Aspiration (TBNA)
Pediatric Difficult Airways
Endobronchial Ultrasound (EBUS)
Gastrointestinal Endoscopy modules:
EGD
ERCP
Flexible Sigmoidoscopy
Colonoscopy