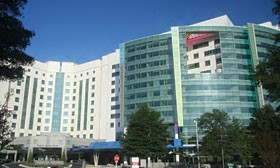 Carolinas Medical Center (CMC) is an 874-bed academic teaching hospital with residency programs in pharmacy as well as medical and dental specialties. Along with Carolinas College of Health Sciences, it provides an educational environment for more than 1,000 residents, medical students, pharmacy students, physician extenders, nursing students and other allied health professionals annually.
With its updated facilities, sophisticated technology, and advanced basic science and clinical research, CMC is an exciting place for future medical professionals. This degree of technology does not replace compassion, as we emphasize human values and a spirit of caring for all who need care, regardless of status or financial ability.
In 2021, CMC received the distinguished designation as an IDSA Center of Excellence for its efforts in optimizing antimicrobial use, aligning with evidence-based national guidelines, and combating antimicrobial resistance.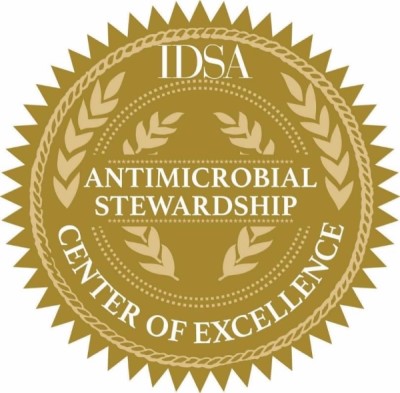 Facts about Carolinas Medical Center
Largest hospital within Atrium Health
Seven intensive care units (ICUs)
Level I trauma center
One of five academic medical teaching hospitals in NC
24-hour emergency care
MedCenter Air
Levine Cancer Institute
Transplant Center (liver, pancreas, kidney, heart)
Sanger Heart & Vascular Institute
Levine Children's Hospital
Carolinas Poison Center
Maternity Center
James G. Cannon Research Center
Carolinas Neuromuscular/ALS Center
Program Structure
The Carolinas Medical Center PGY2 Pharmacy Residency in Infectious Diseases is an ASHP-accredited 12-month intensive learning program focused on training residents to become independent clinicians and leaders in infectious diseases and antimicrobial stewardship. CMC is the flagship hospital in Atrium Health, which maintains an extensive stewardship program known as the Antimicrobial Support Network (ASN). The ASN serves nine acute care facilities, one critical access hospital and four rehabilitation facilities. It is made up of 16 dedicated pharmacists and is led by the ASN medical director, Lisa Davidson, MD. The ASN is a multi-disciplinary group that incorporates pharmacists, physicians, infection preventionists and microbiologists to improve antimicrobial use on a patient-level throughout the system. CMC is a Level I trauma center with seven ICUs, transplant center and a large cancer center providing bone marrow transplantation. There is a diverse patient population including high acuity and immunocompromised patients.
The resident will have 8 to 10 months of required one-month rotations, depending on their previous experiences and interests. Elective and required rotations will be tailored to suit the resident's career goals and areas of interest. The resident will also be responsible for covering the Rapid Diagnostics ASN pager on a rotating basis and staffing in ASN every third weekend.
Additional experiences will include conducting a clinical research project and a quality improvement project. The resident will also serve on various committees, participate and present at journal club and have the opportunity to co-precept pharmacy students and PGY1 residents.
Benefits
In addition to the full benefits of a Atrium Health employee, residents will have medical and dental coverage premiums paid by the employer. Ten paid working days are available for vacation or sick time. Additional time off is provided for professional interviews. A travel allowance will be provided to attend the ASHP Midyear Clinical Meeting and either a regional residency research symposium or national infectious diseases conference (MAD-ID, IDWeek, or ASM Microbe). The resident is provided with office space containing an individual double monitor desktop computer, phone, storage/filing space as well as a shared printer. In addition, the resident receives remote access to the hospital network, comprehensive drug information resources, three lab coats, a laptop, a daily meal allowance and free parking.