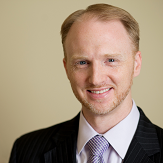 Sean Fox, MD
Congratulations! You have the wisdom to have selected Emergency Medicine as your specialty! Now, the next question you have to answer is, "Which Emergency Medicine training program is right for me?" While all accredited programs will help you on your path toward becoming an outstanding physician, I believe that our program at Atrium Health's Carolinas Medical Center has some very unique assets that can truly help you excel on your specific path of mastery of caring for people in their time of need.
One of the most important of these assets is our unique perspective and mission. At Carolinas Medical Center, we perceive all of our residents as being leaders today: not just potentially in the future, but currently. It has been said that the defining characteristic of all leaders is courage. Regardless of the career path a physician chooses for herself or himself, she or he will be seen as a leader. Our mission is to promote the development of physician leaders who have the courage to care for all patients everywhere. As emergency physicians, it takes courage to direct a resuscitation, to perform emergent procedures, and to take action when uncomfortable. It also takes courage to ask why, to look for answers, and to be questioned. Most importantly, it takes courage to advocate for a patient, to hold a hand, and to protect the disenfranchised. It takes courage to set the example of how to care for others. It is with this courageous approach that all of the residents and faculty at Carolinas Medical Center (CMC) care for their patients daily.

During residency, every asset and aspect of our team and program is directed toward this mission. Through superior research, education, innovation and clinical practice, we will support the development of physicians in emergency medicine who have the courage to care for their unique and diverse communities around the globe. Here are some, but not all, of our unique attributes:
We care for a lot of patients. These patients represent diverse populations with expansive problems and concerns. We have an 874-bed hospital that is the regional Level 1 trauma center for adults and children with an emergency department that sees more than 115,000 patients annually, including over 30,000 in Levine Children's Hospital's emergency department which is managed by our Department of Emergency Medicine and is housed within the main hospital.
We have one central location. All clinical rotations, didactic conferences, simulation experiences, research facilities and faculty offices are conveniently located on one campus. There is no need to travel to remote sites to enhance your educational experience.
We are the central hub of a very large network. Carolinas Medical Center is the flagship of Atrium Health, one of the largest public, nonprofit healthcare organizations in the United States, with more than 35 affiliated hospitals referring their most interesting and challenging cases for definitive care. CMC serves as the safety net for the community and welcomes "all comers" from Charlotte and surrounding areas.
We are dedicated to education! Educational conferences are provided during protected time (Thursdays from 8 a.m. to noon) via a stimulating mix of traditional lecture, small group interactive discussions, hands-on-skills stations, and adult and pediatric M&M conference. Lecture-based learning is supplemented by online multimedia offerings and monthly experience at the Carolinas Simulation Center.
We leverage technology to enhance education. Conferences use a variety of engaging tools like audience response systems, social media, and weekly recaps of didactic material. Our Carolinas Electronic Compendium provides full-text access to carefully selected high yield educational materials, organized by rotation. You'll spend your time reading, not figuring out what to read. The team is also very invested in generating educational content for the next generation and utilizes the J. Lee Garvey Innovation Studio to produce EMGuideWire podcast and website and CMCECGMaster.com. Our residents are the focus of these publications!
We are all part of the team! Our emergency medicine residents work side by side with leaders in the field. Our internationally renowned faculty are very present and enjoy caring for patients. Residents are able to enjoy open and meaningful conversations in real time with experts at the bedside. These experts are national and international leaders in emergency ultrasound, sepsis care, trauma, therapeutic hypothermia, airway management, emergency stroke care, EMS, disaster management and pediatric emergency medicine. Your mentors are ACEP speakers, recipients of NIH grants and recipients of numerous institutional and national teaching awards. Faculty have open-door policies so residents can easily avail themselves of the knowledge and experience of contributors to peer-reviewed journals and textbooks such as Rosen's Emergency Medicine, Pediatric Emergency Medicine, and Barkin's Textbook of Pediatric Emergency Medicine. CMC faculty occupy key roles across the institution, including medical director of the Medical Intensive Care Unit, medical director of the Carolinas Poison Center and medical director of the Center for Prehospital Medicine and the Mecklenburg EMS Agency (MEDIC). Interdepartmental initiatives such as Code Stroke, Code Cool, Code Sepsis, and Code STEMI, instituted under the expert guidance of EM faculty, have improved patient outcomes and decreased mortality in these key areas. CMC faculty are also very involved with national organizations like ACEP, SAEM and AAEM.
We have a rich prehospital experience and opportunities. During their ED rotations PGY2 and PGY3 residents routinely provide online medical control for the county EMS system (MEDIC). The Center for Prehospital Medicine welcomes those with a passion for teaching at the EMT-basic and EMT-paramedic level. In addition to a dedicated month with MEDIC, voluntary participation in aviation medicine is offered via MedCenter Air, which operates four helicopters and four fixed-wing aircraft stationed at three operational bases across the state. In the event of natural disasters and mass casualty events, Carolinas MED-1 is a one-of-a-kind mobile intensive care treatment facility and field hospital that can deploy with faculty and resident emergency physicians within hours to areas where local medical resources are obliterated or overburdened.
We are dedicated to ensuring children receive excellent care. Our pediatric emergency department is staffed by faculty from the department of emergency medicine. Uniquely, the Division of Pediatric Emergency Medicine includes providers who are trained from diverse backgrounds including Pediatric-PEM, Emergency Medicine-PEM, Dual Boarded Pediatric & Emergency Medicine, as well as Ultrasound and Toxicology. The Pediatric EM Morsels provides weekly educational pearls dedicated to pediatric emergency care. Pediatric care is so important to us, that the Program Director and the Associate Program Director of the EM residency are actually also Pediatricians!
We have extensive experience in bedside ultrasound. Our emergency department has seven state-of-the art ultrasound machines that are in continual use. The annual volume of emergency ultrasounds performed has grown each year to an ultrasound procedure census in excess of 13,000 per year. Attending physicians are credentialed and a quality assurance program audits every ultrasound that is performed and provides feedback. Ultrasound is used extensively for resuscitation (both medical and traumatic), pregnancy, abdominal evaluation, cardiovascular evaluation, soft-tissue, musculoskeletal, ocular, thoracic, venous and for procedural guidance. Our ultrasound machines wirelessly transmit digital images and videos to our QA software and management system. Our emergency department is accredited by the ACEP Clinical Ultrasound Accreditation Program. In addition, there is opportunity for leadership in ultrasound medical education, ultrasound research and international ultrasound experiences. The EM department supports a post-graduated 1 year US fellowship, a UNC medical school integrated ultrasound curriculum, US preceptorships for practicing physicians, CME US education, and US education for nursing.
We have a strong background in the evaluation and treatment of toxicologic emergencies. At CMC, five board-certified emergency physician toxicologists and one toxicology trained PharmD provide a dedicated one-month rotation in addition to numerous didactic presentations on various aspects of toxicology. The Carolinas Poison Center, is currently one of 60 poison centers in the United States and is certified by the American Association of Poison Control Centers.
We take research seriously! Our research division supports active programs in both laboratory and clinical research. Faculty researchers facilitate intradepartmental, interdepartmental and multicenter clinical studies on various topics with a special emphasis on pulmonary embolism and sepsis. The department enjoys NIH funding for projects related to the diagnosis and treatment of pulmonary embolism, sepsis and acute coronary syndrome. Other departmental research topics include: stroke/TIA, ischemic heart disease, ultrasound, and toxicology. Rapid diagnostic modalities of acute and critical conditions are a particular focus of emergency medicine research at CMC. Emergency medicine faculty participate as members of the Institutional Review Board, the IACUC, and the institutional Research Review Committee, and act as mentors for resident research endeavors.
These attributes, and more, certainly make Carolinas Medical Center a rewarding place to learn and work. That being noted, without question our single most important asset is the strong bond between the residents and faculty. Without being disingenuous, I can assert that being a resident at CMC is like being a member of a large, extended CMC EM family. It is this family who will support you when times are difficult and celebrate with you when they are exciting. It is our CMC family who will help you have the courage to care for all of your patients and inspire you to lead others in doing the same.
Sean M. Fox, MD
Program Director
Professor of Emergency Medicine and Professor of Pediatrics
Carolinas Medical Center