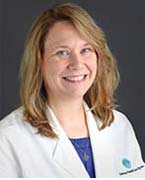 Suzette Caudle,MD
Designated Institutional Official
Welcome! As one of five teaching hospitals in North Carolina, Carolinas Medical Center is an exciting place for future primary care physicians and medical sub-specialists. CMC currently conducts residency programs in 12 medical and dental specialties and fellowships in 14 subspecialties. The residency programs at Carolinas Medical Center, Carolinas Medical Center - Union and Carolinas Rehabilitation offer a strong, diverse and reputable academic center in Charlotte, NC, a region that enjoys an attractive climate and lifestyle.
Carolinas Medical Center is an 874-bed tertiary care center and the core component of Carolinas HealthCare System, a not-for-profit, multifaceted, vertically integrated healthcare system. As the largest healthcare system in the Carolinas, Carolinas HealthCare System offers a wide variety of health and human services to residents of both North and South Carolina and operates on three guiding principles:
To provide the best possible patient care
To share our knowledge and experience in medical education
To learn through research
Designated "Charlotte's Most Preferred Hospital" for 14 years by the National Research Corporation, CMC serves as a major referral center for an eight surrounding counties.
Charlotte area sports franchises and facilities – the Carolina Panthers, the Charlotte Knights and Charlotte Motor Speedway – have all selected Carolinas Medical Center as the official healthcare provider for their players, staff and their families.
The Graduate Medical Education (GME) office is here to assist trainees and programs with the institutional oversight required by the ACGME but also allows the individual program directors' autonomy.
Prospective Trainee Information
2017-2018 Trainee Salary
During the 2017-2018 academic year, salaries for Carolinas Medical Center trainees are as follows:
PGY-1 – $52,764
PGY-2 – $54,443
PGY-3 – $56,215
PGY-4 – $58,967
PGY-5 – $60,691
PGY-6 – $63,531
PGY-7 – $64,430
PGY-8 – $66,684
Resident Benefits
CHS provides the following coverage for the House Staff and their family members (at no charge):
Medical coverage under the CHS LiveWELL Health Plan
Prescription drug coverage with CarolinaCARE/OPTUM
Dental coverage with DELTA Dental
Premiums for medical and dental insurance are paid for House Staff and their families for the CHS LiveWELL Health Plan. House Staff will be responsible for deductibles and co-pays for office visits, prescription and dental expenses.
No premiums for dental coverage for House Staff and family members. Preventive care is covered at 100% and does not apply to coverage maximums. Annual Preventive Dental Care rewards you additional $100 each year added to annual max up to $2,000.
Professional liability, life and disability insurances are provided for House Staff only.
Vision plan and other voluntary benefits are available with premiums being payroll deducted.
Vision plan is administered by Community Eye Care with no copay for eye exams and annual allowance for eyewear up to $200.
Vacation Policy
PGY-1 – 10 days
PGY-2 – 10 days
PGY-3 – 10 days*
PGY-4 – 10 days*
PGY-5 – 10 days*
*5 additional days of vacation to be taken during PGY-3 OR subsequent year (not each year).
At PGY-1 level each intern will receive 5 consecutive days off either surrounding Christmas or New Year's as assigned by the Program Director; PGY-2 level and beyond, holiday break will be set by the Program Director. Fellow vacation may vary per contract.
Continuing Education/Scholarly Activity Funds
$1900 in scholarly activity funds are provided each academic year which may be used for:
Educational trips in the Continental US
Medical/dental professional dues/memberships
Medical/dental texts/periodicals/journal subscriptions/software applications
Registration for USMLE exams and Board Certification exams -

$500 limit

Approved Medical/dental equipment -

$500 limit

Lab coats and scrubs beyond the standard allotment
Purchase of an iPad or other electronic device that is compatible with CHS technologies (EMR) - $500 limit - see below

This is a

one-time

purchase for the length of training
The funds for this device are taxable under federal guidelines
Using this device, resident may seamlessly connect to the hospital network and electronic medical record which makes patient rounding even more efficient
Provision of Meals
Meal points are provided quarterly for use in the hospital cafeterias
Alumni Information
Please update your contact information and stay connected with us.
Update Your Contact Information