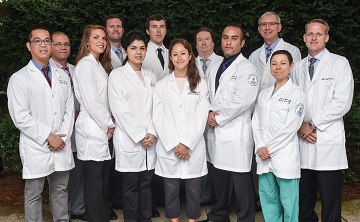 General Practice and Oral Medicine residents
and attendings, 2014-2015
We welcome your interest in the Department of Oral Medicine at Carolinas Medical Center. The following information provides a brief overview of the residency training programs at our institution.
We are currently offering two training programs:
Both the GPR and the OMR programs offer unique opportunities and you are encouraged to choose carefully. Feel free to contact us with any questions that may arise.
Inquiries regarding the General Practice Residency Programs should be directed to:
Robert P. Hollowell, Jr., DDS, MS
Director, General Practice Residency
Department of Oral Medicine
Carolinas Medical Center
1000 Blythe Blvd.
P.O. Box 32861
Charlotte, NC 28232-2861
Phone: 704-355-6034
Fax: 704-355-5301
Email: Robert Hollowell, Jr.
Inquiries regarding the Oral Medicine Residency Program should be directed to:
Joel Napenas, Director, Oral Medicine Residency
Department of Oral Medicine
Carolinas Medical Center
1000 Blythe Blvd.
P.O. Box 32861
Charlotte, NC 28232-2861
Phone: 704-355-6034
Fax: 704-355-5301
Email: Joel Napenas