Carolinas Medical Center
Carolinas Medical Center (CMC) is the flagship hospital of the largest healthcare system in the Carolinas and one of the largest public systems in the nation, Atrium Health. CMC is uniquely qualified to provide an innovative training program in oral medicine because of its facilities, diverse patient population, outstanding faculty, and the other essentials to support our clinical, educational, and research activities.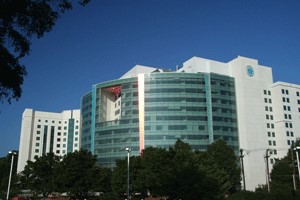 Carolinas Center for Oral Health
The oral medicine practice at Carolinas Center for Oral Health (CCOH) sees around 2,000 patient visits annually in the management of patients with mucosal disease (including aphthous stomatitis, pemphigoid, pemphigus, lichen planus), mucosal infections (fungal, bacterial and viral), salivary gland disorders, and TMD and orofacial pain syndromes.