Daily Structure Call Schedule FAQs About Inpatient Months ICUs and ED Consults and Electives
Where Residents Spend Their Time (Months/Year)

Medicine
Wards
MICU
CCU

Electives/Specialty
Consults

ER



Night
Float
PGY1
5
1
0
4

1

1
PGY2
3
1
1
6.5

0

0.5
PGY3
2
1
1
7.5

0

0.5
Emergency Department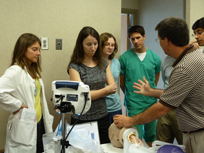 Interns have the opportunity to work with faculty and residents in the Department of Emergency Medicine, which has a strong national reputation for excellence. On this rotation, they will work under the supervision of board-certified Emergency Medicine attendings, seeing adults with major and minor emergencies.
There are ample opportunities for a variety of minor procedures, including suturing and incision and drainage. Opportunities for more invasive procedures exists as well for interested residents. This rotation is one month in length; vacation cannot be taken during this experience. During the month, interns typically work twenty 10-hour shifts.
Coronary Care Unit (CCU)
Second- and third-year residents are assigned to one-month rotations on this 20-bed unit, also known as the Dickson Heart Unit (DHU).In the CCU, our residents work with cardiologists from the Sanger Clinic, a large multi-specialty cardiology practice that is part of Atrium Health. A very select number of the group's partners are extended the opportunity to attend on the resident teaching service.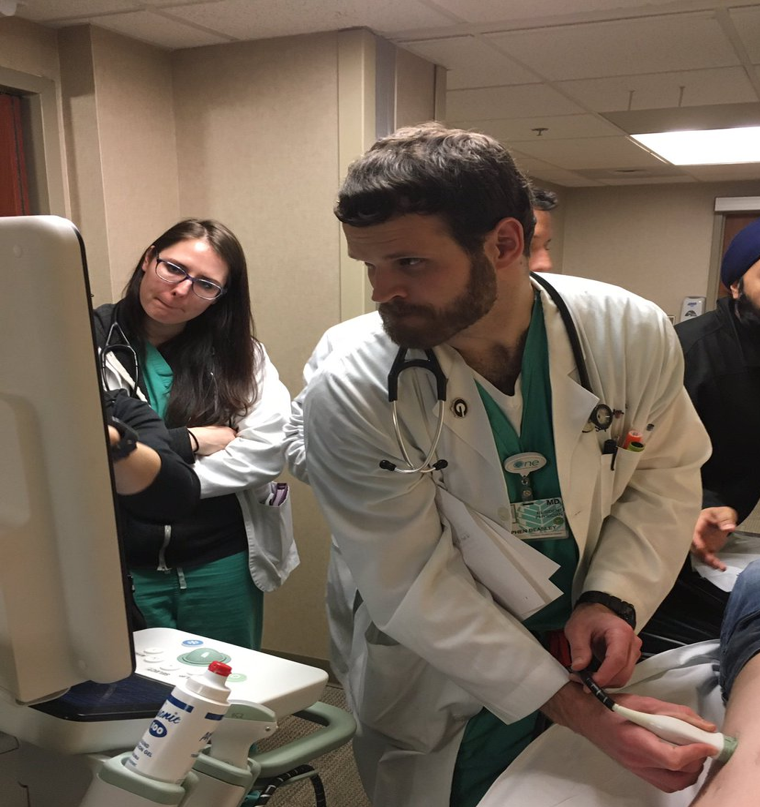 In the Dickson Heart Unit, residents assist the cardiologists in the care of patients with acute cardiac illnesses. Residents are also part of the CODE STEMI team, which is the early response team for ST-elevation Myocardial Infarctions. Residents have the opportunity to hear about these patients en-route, see them as they arrive in the Emergency Department, and then follow them through the cardiac catheterization lab to the CCU. This is a very unique opportunity as typically residents do not get to be part of the initial evaluation of patients with acute ST elevation MI's during training.
Residents will also be part of the CODE BLUE team and assist with responding to all cardiac arrests in the hospital. The CCU is a completely daytime rotation experience with no overnight call, and shifts are no longer than 16 hours duration.
A board-certified faculty cardiologist is assigned full-time to the CCU for teaching purposes. A doctor of pharmacology, nurse practitioners, and a registered critical care dietitian are part of the CCU team as well.
Medical Intensive Care Unit (MICU)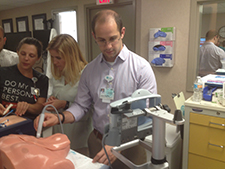 The MICU is a 30-bed state-of-the art unit supervised by full-time critical care faculty. All residents complete a month-long rotation in the MICU during each year of training. Residents participate in a formal curriculum during the rotation which includes an introduction to ventilators, reviews of critical articles on the management of sepsis, and instruction with performing invasive procedures.
We own our own Sono-Site™ ultrasound machine that residents use for line placement without needing to involve the radiology department. We also own our own GlideScope™ that is used to help residents become trained in intubation skills.
A doctor of pharmacology and a registered critical care dietitian are part of the ICU team. Board-certified Critical Care attending physicians are in-house 24 hours a day for assistance with critically ill patients. In addition, residents may receive assistance in critical care management from the Atrium Health Virtual Critical Care service line physician.