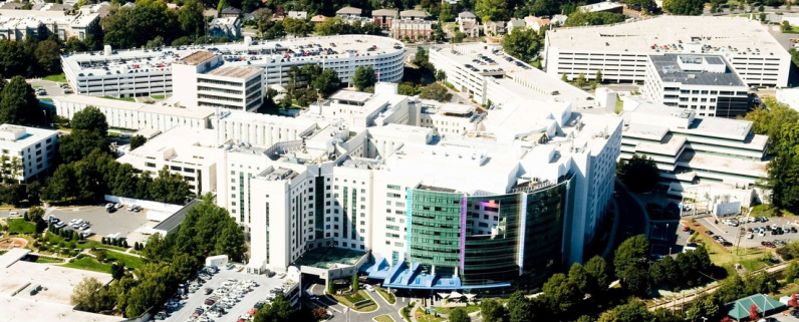 Welcome to the Department of Internal Medicine at Carolinas Medical Center (CMC) in Charlotte, North Carolina. CMC offers a unique residency training experience of a smaller program class size within a large academic medical center. This allows our residency program to offer the "best of both worlds" to our learners by providing a personalized, close-knit and highly supportive program atmosphere within the educational scope of a quaternary referral center. Our location in the city of Charlotte, NC, and our place within the large Atrium Health network offers our learners a wealth of clinical material and case mix diversity.
Our residency training program is defined by a focus on clinical medicine, a commitment to underserved care and a culture of teaching and mentorship. Our program features a strong foundation in general internal medicine, but our comprehensive curriculum and abundant opportunities for scholarship allow for tremendous flexibility in a resident's chosen career path.
CMC Internal Medicine ResidencyMission Statement
Our residency program is committed to resident education, wellness, scholarship and excellence in clinical training within a supportive, caring community. As a part of this mission, we strive to offer exceptional, comprehensive clinical training in both the inpatient and ambulatory settings combined with opportunities and expectations of resident scholarship. Furthermore, we are committed to providing compassionate care to underserved populations.
We aim to impart a solid foundation of knowledge and clinical skill to our residents that is grounded in general internal medicine and coupled with access and exposure to all subspecialty fields. From this foundation, we seek to encourage and develop a resident physician wherever their interests may be. Finally, we hope to empower our residents to lead the future of healthcare through their active participation in quality improvement, patient safety and value-based care initiatives during their training.
With our mix of autonomy, diverse patient pathophysiology, one-on-one faculty/resident teaching and collegial atmosphere, we hope to provide an ideal environment where you will thrive. Whether your future includes a subspecialty fellowship, general internal medicine practice, academic medicine or a career as a hospitalist, our program provides you with the individual attention and support that you will need to succeed.
Our Residents
Our program is characterized by an exceptional group of residents who are strong clinicians and enthusiastic learners with varied interests. Currently, our 44 residents come from all over the country and represent over twenty outstanding US medical schools.
We offer the following positions in the National Resident Matching Program (NRMP):
Twelve categorical positions/year
Eight preliminary positions/year
Two PGY-4 Chief Resident positions/year
Our house officers are experienced in the management of acutely ill patients common in urban centers, as well as those patients typically referred to tertiary institutions for their "esoteric" diseases. Each house officer, regardless of PGY level, is given as much autonomy as he/she feels comfortable. Full-time faculty backup always is available for prompt consultation. The size of our program allows for a high level of interaction between our residents and the faculty.
Our Hospital
Carolinas Medical Center (CMC) is the flagship hospital of Atrium Health, one of the largest not-for-profit healthcare systems in the United States. CMC serves as the main referral center for critically ill patients in the region and provides opportunities to care for acutely ill patients from our city's urban population. By training at one of the largest independent academic medical centers in the nation, our residents have an extremely broad-based educational experience and diverse patient exposure.
The CMC campus houses over 40 different residency and fellowship training programs and also serves as the largest clinical branch campus for the UNC School of Medicine. In addition, both Carolinas Rehabilitation Hospital and Levine Children's Hospital are located on the campus of CMC along with their respective residency programs.
Finally, the CMC campus serves as the research and administrative headquarters of Levine Cancer Institute. This facility provides access to top-ranked physician expertise, groundbreaking clinical trials and the latest cancer treatments across the Carolinas. Levine Cancer Institute is also the primary clinical teaching site for our fellowship program in hematology-oncology.
Our Clinic: Atrium Health Myers Park, a facility of Carolinas Medical Center
Located less than two blocks from the hospital, Myers Park Internal Medicine Clinic serves as the main ambulatory training site for our learners. Our categorical residents each have a continuity clinic practice at Myers Park, and our preliminary residents participate in general internal medicine clinic by seeing patients for hospital follow-up and urgent care visits. Our residents also spend time in several sub-specialty clinics at Myers Park including endocrinology, gastroenterology, infectious disease, pulmonary, rheumatology, etc.
The Myers Park ambulatory facility also houses clinics in surgery, pediatrics, obstetrics and gynecology, and orthopedic surgery. A pharmacy, phlebotomy lab, pharmacy-run anticoagulation clinic and a radiology suite are available on-site as well. Myers Park Internal Medicine Clinic is certified as a Patient Centered Medical Home (PCMH) with very high patient and employee satisfaction rates. The PCMH is a team-based model of care led by a patient's primary care physician who provides continuous and coordinated care to maximize health outcomes. Please visit the Outpatient Clinics section of our website to learn more about the ambulatory education opportunities in our program.
Residency Program Highlights
Some key features of our program include:
Comprehensive daily educational curriculum
Broad patient base with extremely diverse patient pathology
Warm, friendly, supportive, "family-like" environment
Strong emphasis on one-on-one education from faculty
Ideal balance of service and education allowing ample time to study
Outstanding fellowship match rate for those residents pursuing sub-specialty training
Our ABIM first-time pass rate for the classes of 2008-2020 is 100%, which places us in the top 1% of Internal Medicine residency training programs nationwide
Clinical outcomes research opportunities and project support and through our Center for Outcomes Research and Evaluation (CORE)
Global health elective opportunity in Kenya and/or Cameroon, Africa
Point-of-care ultrasound curriculum with easy access to portable ultrasound devices
ACGME fellowship opportunities in Gastroenterology, Hematology-Oncology, Hospice and Palliative Care, Transplant Hepatology,Geriatrics and Sports Medicine
Diverse curricular options, with flexibility to tailor a residency to your specific needs
A faculty made up of true clinician educators who are devoted to teaching and genuinely invested in the training of our residents