Please use the links above to learn more about the structure of our services and call system.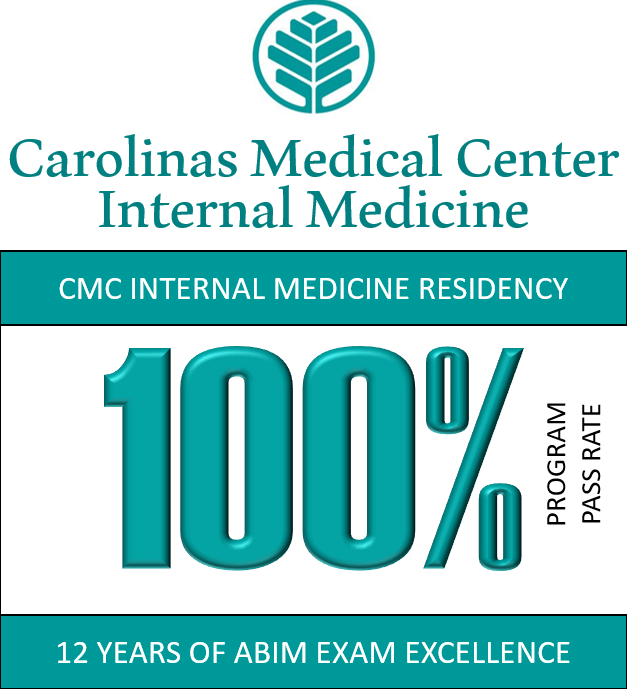 The CMC Internal Medicine Residency Program at Carolinas Medical Center has a rich history dating back to 1968. Our program serves Charlotte and Mecklenburg County as well as the surrounding referring counties, often locally termed the "Metrolina Region." Our referral base consists of approximately 1.5 million - 2 million people and includes western North Carolina and upstate South Carolina. This provides our residents exposure to an exceptionally diverse and complex clinical case mix.
Our department is strongly committed to resident education. We believe that this commitment is reflected in the fact that our program has a 100% ABIM exam pass rate for 12 consecutive years! In fact, we are the only Internal Medicine residency program in the nation (out of over 500 IM programs) who can claim such a streak!
Basic facts: CMC Internal Medicine Residency Program
Inpatient Training
Inpatient training is done exclusively at Carolinas Medical Center's (CMC) 874-bed main facility.
Carolinas Medical Center is the flagship hospital of Atrium Health, one of the largest not-for-profit healthcare systems in the United States.
Our hospital features state-of-the-art Medical Intensive Care and Cardiac Critical Care Units.
CMC is a Level I trauma center, with more than 120,000 ED visits last year.
CMC offers outstanding ancillary services and the highest levels of patient safety and quality which have resulted in our designation as a "Magnet Organization."
We utilize a fully-integrated electronic medical record, including computerized physician order entry and voice recognition technology for daily note writing.
Ambulatory Training
UNC Medical School-Charlotte Branch Campus
CMC serves as the largest clinical branch campus for students from the University of North Carolina School of Medicine.
UNC medical students may apply to be a part of the "Charlotte cohort" in which they will spend their entire third and fourth years of clinical training at CMC.
We also host fourth year students from medical schools across the country for various electives and acting internship rotations.