Global Health Elective – Tenwek Hospital, Bomet, Kenya:
Beginning in 2018, our department created a PGY-3 international medicine elective opportunity through a partnership with Tenwek Hospital in Bomet, Kenya. Tenwek Hospital is one of the largest mission hospitals in Africa and serves as one of the leading teaching and referral hospitals in the region. Tenwek is situated in the Western Kenya highlands at 6,800 feet where the climate is very moderate. Tenwek Hospital offers training for medical students, interns, nursing students, dental technicians, laboratory technicians, pharmaceutical technicians, orthopedics, and chaplains. In addition, Tenwek Hospital provides advanced training for doctors in family practice and surgery.
During this global health elective, residents are offered a crash course in rare and tropical diseases and have an opportunity to hone their teaching skills by serving as a "junior-attending" for the local house staff. Residents participate in teaching conferences and multi-disciplinary rounds with a team that consists of interns, residents, medical students, and nurse practitioners. On-site supervision and instruction are typically provided by one of our Department of Internal Medicine faculty members, Dr. Chuck Barrier, who has extensive experience in global health. Our residents are provided all meals and dormitory-style housing on the campus throughout the rotation. Moreover, our residents may use their CME stipend fund to cover associated travel expenses. Every resident that has participated in this global health elective has reported that it was an incredible experience!
Global Health Elective – Mbingo Baptist Hospital, Cameroon, Africa:
Beginning in 2015, our department partnered with Mbingo Baptist Hospital in Cameroon, Africa to offer our PGY-3 residents a month-long global health elective opportunity. Mbingo is an academic teaching hospital that serves as a cornerstone for population health for citizens of the stunning mountainous region of northwest Cameroon. Similar to our other global health experience, our residents are provided dormitory-style housing and all meals on the Mbingo campus throughout the rotation. Residents may use their CME stipend fund to cover associated travel expenses.
Resident Testimonials: Global Health Electives
"During the month of October, I traveled to Kenya to work as a short-term medical missionary at Tenwek. Dr. Barrier and my wife, Dr. Elizabeth Gunn, accompanied me. The overall experience was much more impactful to my professional and spiritual development than I had ever imagined.
My initial impression of the community and the hospital was that there was clearly a major need for healthcare resources and providers. The hospital doorsteps were crowded with hundreds of
people hoping to be seen for their various illnesses. The hospital staff were very welcoming. We were greeted each morning with local bread and chai tea. I was able to work alongside other missionaries and medical professionals from all over the globe. We individually led a group of medical and clinical officers in caring for our patients in the medical wards and intensive care unit. I helped care for patients with tuberculosis, advanced AIDS, parasitic infections, and various toxidromes. Despite the overall mortality rate of 30% of those admitted to the medicine service, we saw many patients fully recover. There was no shortage of gratitude. Our work was very much appreciated, and we all felt the impact of our service.
Despite most of our time being spent at Tenwek, we were able to explore the beautiful landscape of Africa. On my first weekend there, we traveled to Mount Longanot, a stratovolcano with a trail along its crater. Most of the medicine team traversed around the volcano and recorded a 14-mile hike. Later in the month, my wife and I traveled to the Masai Mara to go on safari where we saw lions, cheetahs, hippos, and even rhinos. We visited with local communities and tried many new foods (which were all delicious). Lastly, we invested time in developing relationships with our Tenwek community which was truly the most impactful. We all had a great experience, and my time in Africa will never be forgotten."
-Dr. Cory Gunn, Class of 2019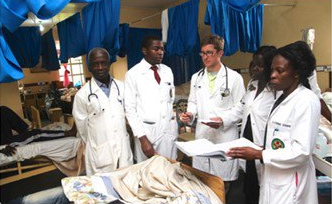 "Having a longstanding interest in global health, I had hoped that this elective would provide an opportunity to expand my medical knowledge base, learn the basics of practicing medicine in a resource poor country, gain exposure to rare and tropical diseases, experience a foreign culture, help to further the education of foreign medical students and residents, and allow me to travel this beautiful and diverse planet that we call home. Needless to say, my experience at Mbingo did not disappoint!
Our program's partnership with Mbingo Baptist Hospital offers a unique opportunity to experience global health at its finest. The hospital and its infrastructure allow even short term medical missionaries to have lasting impacts on the local medical community and population. Most importantly, the experience forces us to remove our rose-colored glasses, dive head first into a foregin culture, expand our knowledge base, and challenge our understanding of the world in which we live and our individual role within it."
-Dr. Todd Gandy, Class of 2016