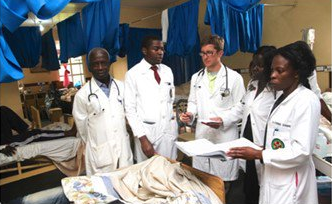 Global Health Elective – Mbingo Baptist Hospital, Cameroon, Africa:
Beginning in 2015, our department partnered with Mbingo Baptist Hospital in Cameroon, Africa to offer our PGY-3 residents a month-long global health elective opportunity. Mbingo is an academic teaching hospital that serves as a cornerstone for population health for citizens of the stunning mountainous region of northwest Cameroon.
During this global health elective, residents are offered a crash course in rare and tropical diseases and also have an opportunity to hone their teaching skills by serving as a "junior-attending" for the local house staff. Residents participate in teaching conferences and multi-disciplinary rounds with a team that consists of interns, residents, medical students, and nurse practicioners. On-site supervision and instruction are provided by one of our faculty members, Dr. Chuck Barrier, who has extensive experience in global health and a longstanding relationship with Mbingo Baptist Hospital. Our residents are provided dormitory-style housing and all meals on the Mbingo campus throughout the rotation. Moreover, our residents may use their CME stipend fund to cover associated travel expenses. Every resident that has participated in this global health elective has reported that it was an incredible experience!
Resident Testimonial: Global Health Elective
"Having a longstanding interest in global health, I had hoped that this elective would provide an opportunity to expand my medical knowledge base, learn the basics of practicing medicine in a resource poor country, gain exposure to rare and tropical diseases, experience a foreign culture, help to further the education of foreign medical students and residents, and allow me to travel this beautiful and diverse planet that we call home. Needless to say, my experience at Mbingo did not disappoint!
Our program's partnership with Mbingo Baptist Hospital offers a unique opportunity to experience global health at its finest. The hospital and its infrastructure allow even short term medical missionaries to have lasting impacts on the local medical community and population. Most importantly, the experience forces us to remove our rose-colored glasses, dive head first into a foregin culture, expand our knowledge base, and challenge our understanding of the world in which we live and our individual role within it."
-Dr. Todd Gandy, Class of 2016