Internal Medicine Resident Applying and Interviewing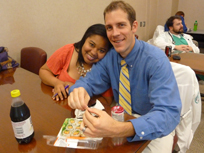 We accept applications beginning in mid-September. We accept applications ONLY from participants in the National Resident Matching Program (NRMP) through the Electronic Residency Application Service (ERAS) which is available through your Dean's Office. Invitations for personal interviews are granted after a review of your application materials from ERAS. We require a complete ERAS application, three letters of recommendation (including your Dean's letter), a personal statement as well as your medical school and USMLE transcripts. An additional curriculum vitae is not required.
Our interview season runs from late October through early January. Typically, we conduct residency interviews on Mondays, Thursdays, and Fridays. We host a combination of categorical and preliminary applicants on each interview day.
The interview day includes a tour of the hospital and observing a resident "Noon Report" conference. Applicants have an opportunity to meet and spend time with the Chairman, Program Director, Associate Program Directors, and Chief Resident. Each applicant interviews with approximately three different faculty members. Lunch is provided with our residents. There is an optional dinner with a group of internal medicine residents the night before the interview which we encourage applicants to attend if possible.
Interview Day Itinerary
| | |
| --- | --- |
| 7:00 AM | Breakfast at hotel/Shuttle to CMC available |
| 7:30 AM | Meet program representative in CMC-Main Lobby |
| 7:40 AM - 8:30 AM | Program overview led by program leadership |
| 8:40 AM - 10:00 AM | Faculty Interviews or Hospital Tour |
| 10:05 AM - 10:25 AM | Group meeting with Departmental Chair/Vice-Chair of Education |
| 10:30 AM - 11:50 AM | Faculty Interviews or Hospital Tour |
| 12:00 PM - 12:45 PM | Attend resident "Noon Report" conference/box lunch served |
| 12:45 PM - 12:55 PM | Wrap-up |
| 1:00 PM | Depart |
View a PDF version of this map
Other FAQ
How are applicants ranked?
We conduct a holistic review of all applicants, and our rank order list in the NRMP is based on a combination of academic scores and grades, an applicant's recommendation letters, personal statement, scholarship, evidence of leadership and service, and interview.
Do you require a letter from the Chair of Internal Medicine?
No, but if you have worked closely with your Chair in a clinical or research setting, it would be appropriate to include a letter from him/her.
Do all of my letters of recommendation need to be from internists?
No. We encourage you to ask for letters from faculty with whom you have worked closely and who will best be able to assess your clinical and/or research abilities. However, it is recommended that at least one of your letters come from an internist.
Is there a maximum number of letters of recommendation you will accept?
ERAS allows as many letters of recommendation as you feel are necessary. However, no more than four letters may be sent to any individual program.
How will I be notified if I am offered an interview?
Applicants will be notified by email via ERAS when they have been offered an interview. The process of scheduling an interview is done through ERAS and will be detailed in the email that you receive. We recommend scheduling an interview as soon as possible as dates fill up quickly.
How are interview dates assigned?
Interviews are held from late October through early January. Dates are assigned on a first-come, first-served basis. We will do our best to accommodate your schedule, but we cannot guarantee availability of the dates you request, as each day has a limited number of spots available.
What is the approximate schedule for the interview day?
The interview day begins at approximately 7:30 a.m. and typically concludes around 1:00 p.m. There is an optional dinner with residents on the evening prior to the interview day which we encourage applicants to attend if possible.
Do you provide overnight housing for interviews?
We provide hotel accommodations in uptown Charlotte at a highly-discounted rate for applicants on the night before the interview. Hotel reservation information will be included in the interview invitation email.
Is there a dinner the night before my interview?
Yes. You will be invited to an informal dinner with several residents the night prior to your interview. This is a casual gathering for applicants and their significant others. You will be notified by email prior to your interview regarding timing, location and directions.
Do I need to do a "Second Look" Interview to be favorably considered?
Absolutely not. "Second Look" visits are not at all required. We can arrange a second visit, however, for those who would like to see the program and/or certain aspects of it on a one-on-one basis. We are happy to arrange them on request, but they are not in any way a prerequisite.
Do you currently have any residents who are International Medical Graduates, and do you accept applications from International Medical Graduates?
We do not currently have any residents in the program that are International Medical Graduates. We will review applications from International Graduates who meet all the following four criteria: [no exceptions here]
Must have graduated from medical school within the last two years.
Must have passed both USMLE exams on the first attempt.
Must be ECFMG certified at the time of application submission.
Carolinas Medical Center can sponsor only J1 or H1B visas, and all petition fees must be paid for by the applicant.
Do you accept International Medical Graduates for observerships or rotations in your department?
No. [No exceptions here]
I am a student from an osteopathic (D.O.) medical school. Do I need to take the USMLE or is the COMLEX alone acceptable?
We accept applications from students who have taken only the COMLEX exams, but we do find it additionally helpful if you have taken at least one of the USMLE exams.
For more information, please contact:
J. Matthew Blackwell, MD, FACP, Residency Program Director
Ashley Clark, Residency Program Coordinator II
Jeni Magness, Residency Program Coordinator I
E-mail: int.med@atriumhealth.org
Address: P.O. Box 32861
Department of Internal Medicine
Medical Education Building, 5th floor
Charlotte, NC 28232-2861
Phone: 704-355-0221