Atrium Health Levine Children's Hospital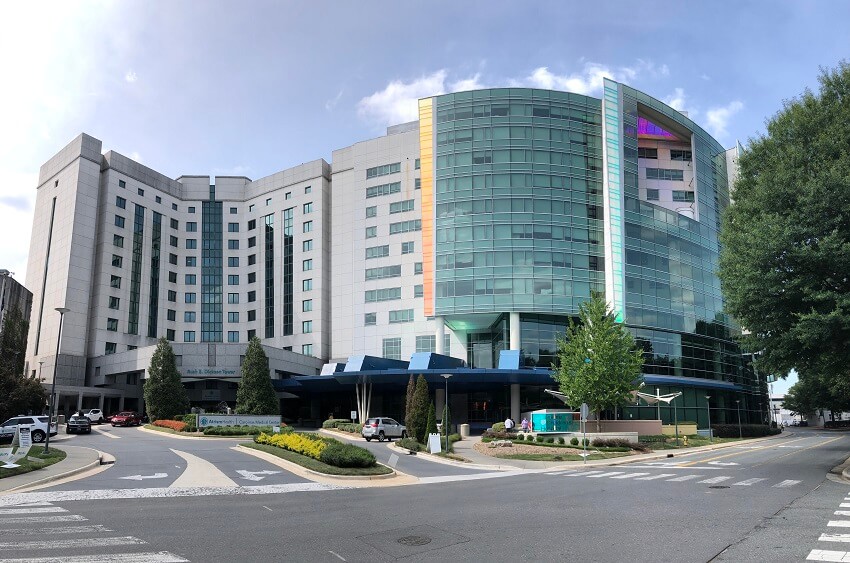 Atrium Health Levine Children's Hospital (LCH) is located on the campus of Carolinas Medical Center. We are very much a freestanding children's hospital; except for the cafeteria and the laboratory, all services are pediatric-specific. We have Child Life specialists, pediatric phlebotomy, pediatric medical assistants and medical interpreters assigned solely to the children's hospital. LCH serves as a primary and secondary source of healthcare for children in the city of Charlotte. The hospital also acts as a tertiary care regional referral center for the greater Charlotte metropolitan area which has a population of over one million people. We are the busiest children's hospital in the Carolinas, located in the biggest city in the Carolinas.
Children's Hospital Inpatient Pediatric Specialists (CHIPS)
Our Children's Hospital Inpatient Pediatric Specialists (CHIPS) teams see over 11,500 patients annually. Two of the teams are staffed by pediatric residents. These teams consist of one PL-2 overseeing two interns (either family medicine, pediatrics or emergency medicine). Admissions are alternated between all teams and each team can accept patients with any sort of subspecialty or general pediatrics diagnosis. The most common diagnoses we see on CHIPS are BRUE, neonatal fever, bronchiolitis, asthma, seizure, suicidal ideation, suspected child abuse and hyperbilirubinemia. Our teams also care for patients admitted with DKA to the floor and patients requiring complex coordination of care. Third-year pediatric residents serve on an admitting team during the day and cover subspecialty teams at night (Heme/Onc, Nephrology, Gastroenterology and Newborn Nursery). Residents currently complete 8 months of CHIPS: 3 as a PL-1, 3 as a PL-2 and 2 as a PL-3.
Pediatric Intensive Care
The Ricky Hendrick Center for Intensive Care is a combined PICU/CVICU with 1500 annual admissions. We have a Level I Pediatric Trauma designation and see all pathophysiology, including traumatic brain injury, multisystem organ failure, solid organ transplant, bone marrow transplant, severe septic shock, ARDS and renal failure, utilizing all methods of critical care support including ECMO, high frequency oscillatory ventilation (HFOV), neutrally adjusted ventilatory assist (NAVA), and continuous renal replacement therapy (CRRT). We are ranked in the top 5% nationally for severity of illness seen in our PICU. There is 24-hour in-house attending coverage of the PICU. The CVICU is staffed by CVICU-trained intensivists and an Advanced Practice Provider (APP).
The PICU team is comprised of two pediatric residents, one or two emergency medicine residents, medical students and an attending ICU physician. PICU Rounds are multidisciplinary featuring the intensive care physician, charge nurse, respiratory therapist and pharmacist as well as the bedside nurse and the patient's family. Our residents complete 2 months of PICU, one as a PL-2 and one as a PL-3.
Newborn Care
There are approximately 7,000 deliveries at CMC each year. Our newborn nursery team consists of 2 attending physicians, a pediatrics PL-3, a pediatrics PL-1, a family medicine intern and 3 advanced practice providers. Residents attend low-risk deliveries in the mornings along with the NICU delivery team.
The 53-bed Neonatal Intensive Care Nursery (NICN) admits about 1,000 infants each year. The nursery serves as a regional referral center for the subspecialty care of all newborns, including those who have need for ECMO, pediatric surgery and pediatric cardiology evaluation and surgery. NICU infant care is provided by a team of neonatal nurse practitioners (NNPs) and a team of residents, each supervised by neonatologists. The PL-1 and PL-2 function independently and typically carry 8-10 patients. One of residents' favorite educational experiences is the morning lecture. The residents are usually outnumbered by NICU attendings, and they cover topics including an orientation to the delivery room, congenital anomalies, metabolic disorders, genetic syndromes, neonatal circulation and the transition to extrauterine life.
The 32-bed Neonatal Progressive Care Nursery (NPCN) serves as a "step down" unit for the NICN and provides care for growing neonates who no longer need intensive care. This is staffed by NNPs.
Outpatient Pediatric Care
Atrium Health Myers Park Pediatrics
Serving as the site for the of our Pediatric Residency's continuity clinic, Myers Park Pediatrics is the largest safety net provider in the region. Our patient base is primarily Medicaid and Self pay, and we see patients from birth until 18 years of age. Providing both well-child preventive care and acute care visits, Myers Park averages approximately 27,000 visits per year and provides approximately 41,000 immunizations per year. Support services include on-site social workers, a nutritionist, in house Spanish interpreters, clinical pharmacists and community case managers.
The continuity clinic experience is an important part of the residency curriculum. Each resident is assigned to a team and will see their own panel of patients one half day per week. This allows for the opportunity to establish and maintain relationships with their patients and families. Ambulatory months are spent seeing a combination of acute care visits and visiting different subspecialty clinics.
The residents in our program make a significant contribution to the many quality initiatives going on at Myers Park Pediatrics. This includes projects such as Reach Out and Read, Toxic Stress and Resilience, Blood Pressure Monitoring, The Basics Mecklenburg and Firearm Safety among others. Residents also have the opportunity to participate in programs such as 5210 Childhood Healthy Habits Clinic, Asthma Clinic, Medical Legal Partnership, Integrative Behavioral Health and more.
Children's Specialty Center
Atrium Health Levine Children's Subspecialty Center is the located on the campus of Carolinas Medical Center. While all of our pediatric clinics have satellite locations in greater Charlotte, this is the central location for most of our subspecialty clinics. Cardiology, Gastroenterology, Genetics, Infectious Disease, Nephrology, Orthopedics, Pulmonology, Rehabilitation, Rheumatology and Surgery hold clinic in the subspecialty center. In addition to elective opportunities, our residents rotate through select subspecialties as part of their ambulatory clinic months.
Teen Health Connection
Teen Health Connection is the leading provider of specialized medical and mental healthcare for adolescents and young adults, ages 11-25, in the Charlotte region. Our fellowship-trained and board-certified adolescent medicine physicians provide comprehensive, integrated care with the help of social work and mental health professionals on-site. Teen Health Connection also offers consultative services to help primary care providers in the community offer reproductive healthcare and depression and anxiety medication management.
Teen Health Connection is also the home of the Atrium Health Levine Children's Center for Gender Health. Our physicians and mental health clinicians use an integrative, gender affirming approach to provide quality, comprehensive and compassionate family-centered care to transgender and gender-expansive children, adolescents and young adults up to 25 years old.
Residents complete a month of adolescent medicine as a PL-1 and have the option to complete an office-based longitudinal preceptorship at Teen Health Connection.